Graduate Programs
"THE GLOBAL COMPETITIVENESS OF THE US AND CAPACITY OF INNOVATION HINGES FUNDAMENTALLY ON A STRONG SYSTEM OF GRADUATE EDUCATION."
-Council of Graduate Schools/Educational Testing Service
The HPU College of Business takes this responsibility seriously in its provision of excellent graduate programs. We also recognize that graduate students often work full time or have family responsibilities in addition to school.
To accommodate, we offer degrees are designed specifically for the graduate student of today – with flexibility on scheduled courses and multiple modalities to accommodate the varying lives and responsibilities of our students.
There are three available degree programs: The Master's Degree in Business Administration (MBA), the Master of Arts Degree in Organization Development and Change, and the Master of Science Degree in Information Sciences. 
Graduate students, for example, seeking a traditional MBA degree program can find a full course curriculum with all supportive student activities and organizations. Professional students can enhance their school experience with integrated learning and activities from their work environment, and the online options provide the most versatile learning.
Similar programs are available for our MAODC and MSIS programs.
LOOK INTO HPU'S MASTER'S DEGREES IN BUSINESS:
Professional Development Courses
The College of Business at Hawai'i Pacific University is excited to introduce an extensive array of courses, offered in Spring and Summer 2019, to meet continuing education and professional development goals. The courses below can be completed independently or as a part of a certificate (if applicable) or degree program. These courses are helpful to working adults who would like to expand their education without pursuing an advanced degree, degree-seeking students who would like to compliment their area of study, and individuals who have obtained a graduate degree and wish to return for additional professional development. For more information, please click the link below:
cob/files/graduate-professional-development-courses-2019-spring-and-summer.pdf
Graduate Assistantships
Overview
Graduate Assistantships are available for incoming College of Business graduate students. Assistantships are available to domestic and international students.
A Graduate Assistantship is a merit-based tuition scholarship for eligible graduate students to work directly with a business faculty member and perform academic research.
HPU's Graduate Assistantship program offers a limited number of graduate assistantships each year to qualified students. In the College of Business, students apply for assistantships for the duration of their degree (limited to 2 years – fall/spring semesters only).
Eligibility
• Students must be applying to a COB degree program (graduate certificate students are not eligible to receive assistantships).
• Assistantships are available to domestic and international students.
• Be in good academic standing and maintain a minimum cumulative grade point average of 3.50 from an accredited university.
• Have earned a minimum GMAT score of 550 or minimum GRE score of 154 in verbal and 155 quantitative reasoning
• Full-time course enrollment required during Fall and Spring semesters. Exceptions may be considered for highly qualified candidates.
Apply
For more information about graduate assistantships contact us at (808) 544-0283 or e-mail busadmin@hpu.edu 
Graduate Students Participate in Global Competition, Addressing Real-World Client Issues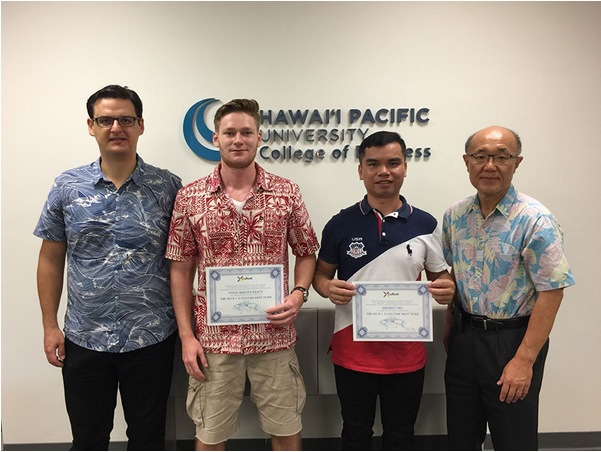 Pictured from left to right: Tolga Ulusemre, Ph.D., Assistant Professor of Management, Marven Steve Kratz, Zhengui Tan and Daewoo Park, Ph.D., Business Department Chair, Professor of Management
Graduate students Paul Hanohano (MBA), Shengui Tan (MBA) and Marven Steve Kratz (MA in Global Leadership and Sustainable Development) received best team certificates in the X-Culture Competition. Kratz said the best part of participating in the competition was "working together with motivated students from all around the globe." Read more here.
HPU Ranked Among Top Universities
US News and World Report ranks HPU in its top tier of best colleges. Find out why. Connect with our alumni in global leadership roles, and with our business partners in the Pacific Rim. Engage in small classes, interact with dynamic professors who have academic and professional backgrounds, and learn with classmates from more than 100 different countries, and through real-world assignments and professional projects. Marketing? Finance? International Business? Technology? Tools for your future…HPU programs are designed to accommodate your own busy schedule.