Request Information
Aloha E Komo Mai - Hello and Welcome to HPU!
Hawai'i Pacifc University (HPU) is proud to provide an off-campus program geared to current and former military service members, retirees, family members, and Department of Defense civilians through our Military Campus Program (MCP). 
HPU's Military Campus Program offers both online and hybrid style classroom instruction in a military friendly environment. Our hybrid classes meet once a week in the evenings on six of Oahu's military bases. HPU understands that our military students have a very busy schedule and we want to accommodate you as best we can.
When it comes to a world-class education, you don't have to go far to see further.
We are here for you and can't wait to assist you with the admissions process. Contact us via chat, email at mcp@hpu.edu, call at (808) 544-0238 or schedule a time to talk below.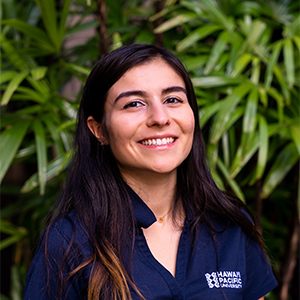 Click here to schedule a zoom meeting with a Military   Campus Programs Admissions Counselor
---
*In-person and walk-in appointments are also available on-site at Hickam, Kaneohe Bay, Tripler, and Schofield. Please schedule appointments at www.hpu.edu/military.

Frequently Asked Questions (FAQs)
HOW DO I APPLY?
Go to www.hpu.edu/apply, and if you intend to take courses through the Military Campus Program, be sure to select "Off-Campus, including military bases" as your campus. 
WHERE DO THE CLASSES TAKE PLACE?
There are two types of classes offered through Military Campus Programs. Either fully online or in hybrid format. Hybrid classes meet in person once a week, and the rest of the classes are online. The in-person classes are on a rotating schedule, taking place on the various bases: Camp Smith, Hickam, Kaneohe, Pearl Harbor, Schofield and Tripler. 
WHAT IS THE DIFFERENCE BETWEEN THE DOWNTOWN CAMPUS AND THE MILITARY CAMPUS?
The military campus classes are offered on our local military bases in the evening and/or online. The downtown campus classes are offered throughout the day at the downtown Honolulu location. 
Click here for more FAQs.