Heather Medicine Bear MPH
School of Nursing - Department of Public Health
EDUCATION:
University of North Dakota, PhD -Indigenous Health In Progress (Projected Graduation – Summer 2024)
2021 Hawaii Pacific University, Master of Public Health
2019University of Hawaii-West Oahu, Bachelor of Arts in Public Administration -Concentration in Disaster Preparedness and Emergency Management
BIOGRAPHY: Heather Medicine Bear is committed to improving the health and well-being of populations through innovative policy, system and environmental approaches. Her main interests lie in health policy, chronic disease prevention, culturally safe research methods, data sovereignty, capacity building and self-determination. Her passion for these issues has driven her to participate in initiatives aimed at improving the health outcomes of marginalized communities through the implementation of evidence based interventions and best practice approaches.
TEACHING INTERESTS: Ms. Medicine Bear has taught courses in foundational concepts related to public health and personal health, drugs and society, culture and health, and the senior capstone seminar focused on an intervention based grant proposal
RESEARCH / SCHOLARSHIP INTERESTS:
● Indigenous Health
● Chronic Disease Prevention
● Maternal/Child Health
AREAS OF SUBJECT MATTER EXPERTISE:
● Indigenous Health Research Methods
● Cultural Competency
● Chronic Disease Prevention
● Evaluation
● Public Health Programming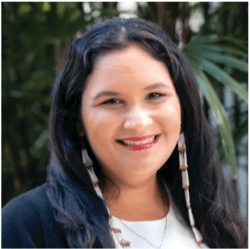 Assistant Professor
MPH
  Send email
  TBD
  TBD TBD