Brenden Bliss 
College of Professional Studies - Department of Public Service
Mr. Bliss is a military and naval historian with primary research interests in the 19th and 20th centuries. He graduated cum laude from Andrews University at extension campus Newbold College, in 2001 with a BA in History. In 2003 he earned a Masters Degree in War Studies with Distinction from King's College, London. His thesis focus was on the use of Coercive Force in Anglo-Hawaiian Relations under the reign of Kamehameha III.
Before joining Hawaii Pacific University, Mr. Bliss guest lectured at Newbold College, located in Berkshire County, United Kingdom. He also worked at the USS Missouri Memorial Association in Pearl Harbor. Brenden joined HPU in 2005 and has been employed in a variety of student service, advising and administrative positions at HPU's Military Campus Programs in addition to teaching as an adjunct instructor, but after six years in those roles he assumed in 2011 a full-time Instructor of History teaching position in what is now the College of Professional Studies. He also is the Curriculum Area Liaison between the Department of History and International Studies and the College of Professional Studies for the History, Diplomacy & Military Studies, International Studies and Political Science programs.
Mr. Bliss's training in War Studies also enhanced his interests in Homeland Security. In 2014 he took responsibility for guiding the creation of an Associate of Science Degree in Homeland Security at HPU. He is a member of The Center for Homeland Defense and Security's University and Agency Partnership Initiative and currently serves as the chair of HPU's Homeland Security program. In consideration of the attention given this program, Brenden shifted his title to an Instructor of Homeland Security in 2018.
As a reflection of Mr. Bliss's diverse interests he actively teaches courses in Military and Hawaiian History, International Relations, Political Science, and Homeland Security. He also served on The State of Hawaii's World War I Centennial Task Force and his expertise has been included in both regionally and internationally broadcast historical documentaries.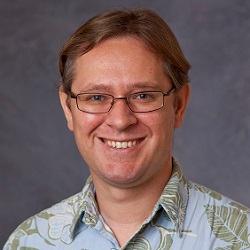 Instructor

  Send email
  (808) 544-0264
  900 Fort Street Mall, PL 200