Quinn Culver PH.D.
College of Natural and Computational Sciences - Department of Mathematics
Assistant Professor of Mathematics
 
EDUCATION:
PhD, Mathematics, University of Notre Dame 2015
COURSES TAUGHT:
Math 1123, Statistics
Math 1130, Precalculus I
Math 3460, Probability
Math 3470, Applied Statistics
RESEARCH INTERESTS:
Algorithmic randomness 
Theory of computation
Mathematical logic
Probability theory
PROFESSIONAL INTERESTS:
Mathematics education
Technology in teaching
Virtual pedagogy
Philosophy of mathematics
PERSONAL INTERESTS:
Fitness (e.g. calisthenics, kettlebell, bicycle)
Carbon footprint minimization
Spearfishing (3-prong)
Literature (e.g. 19th c. Russian)
Poetry (e.g. Whitman, Stevens, Plath)
Philosophy (e.g. Mind, metaphysics, 19th c. German idealism)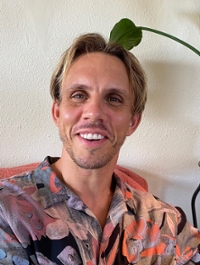 Assistant Professor
PH.D.
  Send email
  (808) 236-5876
  500 Ala Moana Blvd. WP 4-200-B