Allison Gough PH.D.
College of Liberal Arts - Department of History and International Studies
Dean, College of Liberal Arts
Associate Professor of History
Education:
Ph.D History, The Ohio State University
M.A. American History, The Ohio State University
B.A. (HONS) History, University of Durham, England
Dr. Allison Gough is an American historian with interests in American social movements in a global context, particularly the anti-slavery and civil rights movements.  She is currently working on a monograph on the history of African-American troops in the WWII U.S. military and their roles as vangaurds of the modern civil rights movement.  Her teaching interests include U.S., African-American and Women's history as well as the history of the Atlantic World.  Her publications include Messing Up Another Country's Customs: The Exportation of American Racism in World War Two.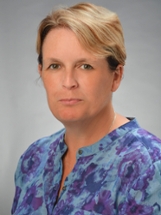 Dean
PH.D.
  Send email
  (808) 544-1109
  WP6- 314