Master of Science in Business Analytics
LEAD THE WORLD IN BUSINESS ANALYTICS TO PRODUCE SOLUTIONS AND CHANGE HOW ORGANIZATIONS FUNCTION
Become a data analyst ready to analyze and to visualize data for strategic decision making 

Study contemporary data analyst skills from content derived from leading, global organizations

Study consumers' buying habits to help businesses make more strategic decisions about how they market their products and services. 

Master the process of gleaning insights from data to inform better business decisions
Did you know?
Business analysts are crucial in assisting businesses in becoming the best versions that they can be. Companies that wish to stay competitive in this era of pandemics, political unpredictability, fierce competition, and quickly developing technology resort to business analysts.  
The Masters of Science in Business Analytics is designed to prepare learners for data analyst careers.  A data analyst finds a solution to a problem or provides an answer to a question.  This career tasks a data analyst to gather, purify, and analyze data sets.  Contemporary data analysts work in a variety of fields, including government, business, finance, law enforcement, and science.

Imagine a career in which you tackle some of the following questions.  What types of clients ought a company to focus on in its upcoming advertising campaign? Which age range is most susceptible to a specific disease? What behavioral trends are associated with financial fraud?
Here's what many data analysts do on a day-to-day basis:
 Gather data: 

Analysts often collect data themselves. This could include conducting surveys, tracking visitor characteristics on a company website, or buying datasets from data collection specialists.

 Clean data:

 

Raw data might contain duplicates, errors, or outliers. Cleaning the data means maintaining the quality of data in a spreadsheet or through a programming language so that your interpretations won't be wrong or skewed. 

 Model data: 

This entails creating and designing the structures of a database. You might choose what types of data to store and collect, establish how data categories are related to each other, and work through how the data actually appears.

 Interpret data:

 

Interpreting data will involve finding patterns or trends in data that could answer the question at hand.

 Present: 

Communicating the results of your findings will be a key part of your job. You do this by putting together visualizations like charts and graphs, writing reports, and presenting information to interested parties.
Length of program: 16 months, 33 credit hours
Entry terms: Fall
Program delivery: on-campus 
Cost of program: $40,390 or $1,200/credit
Job Outlook
The average base salary for a data analyst in the US is $69,517 in December 2021, according to Glassdoor. This can vary depending on your seniority, where in the US you're located, and other factors. Data analysts are in high demand. The World Economic Forum listed it as number two in growing jobs in the US. The Bureau of Labor Statistics also reports related occupations as having extremely high growth rates.
From 2020 to 2030, operations research analyst positions are expected to grow by 25 percent, market research analysts by 22 percent, and mathematicians and statisticians by 33 percent. That's a lot higher than the total employment growth rate of 7.7 percent.
As advancing technology has rapidly expanded the types and amount of information we can collect, knowing how to gather, sort, and analyze data has become a crucial part of almost any industry. You'll find data analysts in the criminal justice, fashion, food, technology, business, environment, and public sectors—among many others.
Data analyst vs. data scientist: What's the difference?
Data analysts and data scientists both work with data, but what they do with it differs. Data analysts typically work with existing data to solve defined business problems. Data scientists build new algorithms and models to make predictions about the future.
What types of jobs can I get with a MSBA degree?
People who perform data analysis might have other titles such as:
Market Research Analyst

Business Analyst 

Operations Research Analyst

Data Analyst

Medical/Health Care Analyst
Management Consulting 
A practical, innovative, and experiential curriculum is the foundation of HPU's Master of Science in Business Analytics program. It blends scientific, analytic, creative, and innovative applications from global organizations with an emphasis on strategic planning, implementation, and skill-based learning. 
In every class, students will be asked to: comprehensively identify problems; create viable solutions, evaluate competing solutions for efficiency, effectiveness, and appropriateness; and implement chosen solutions in a manner consistent with the heuristic of the IS discipline.
Not only is the MSBA curriculum focused on a global marketplace, the learning environment at HPU is truly multi-cultural. Located in the center of the Pacific Rim where the fastest growing economies in the world are located, Honolulu is a cosmopolitan city with a busy, international business community. Students come from all 50 states and more than 80 countries.

At HPU, you will benefit from the focus on advanced problem-solving. Students are asked to comprehensively identify information-related problems, discuss viable solutions, evaluate their options, and then solve the problem in a manner consistent with IS discipline methods.

In addition to being committed teachers, researchers, and scholars, faculty in the MSBA program are also experienced business people. You will benefit from their experience as community leaders, consultants, and members of international organizations.
Individuals wishing to apply to the MSBA program at HPU, are required to submit the following:
Graduate Admission Requirements
Application
Final Official Transcripts showing conferred Bachelor's Degree, Master's if applicable
Personal Statement of Purpose
Resume
Application Fee
International Applicants: the minimum English Proficiency Requirements for the MSBAIS program is a TOEFL (IBT) overall score of 80 with a Writing Score of 25, or IELTS overall score of 6.0 with a Writing Score of 6.5.  See here for additional requirements for International students. 

PROGRAM LEARNING OUTCOMES
Students who complete the Master of Science in Business Analytics will be able to:
Identify the data you want to analyze

Collect the data

Clean the data in preparation for analysis

Analyze the data

Interpret the results of the analysis
The program requires a minimum of 33 semester hours of graduate work. The 33 semester hours are divided into 33 semester hours of core courses and 3 semester hours of capstone course.
Begin your MSBAIS application here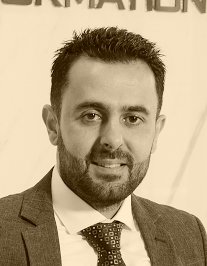 Dr. Ghazwan Hassna is an Assistant Professor of Information Systems at the College of Business of Hawaii Pacific University. Before joining this position, Dr. Hassna, was conducting his research at both EPIC LAB (Enterprise Process Innovation and Computing) and GCIF Lab (Global Center for Internet Finance) at City University of Hong Kong where he obtained his PhD. Dr. Hassna's current research interest includes Big Data and Digital Business Transformation with recent focus on financial services industry in particular. Before doing his PhD, Dr. Hassna had more than 10 years of experience in formulating, planning and managing IT -Enabled Change Initiatives.
Dr. Hassna holds a PhD. in Information Systems from City University of Hong Kong, a master's degree in management and information systems from the University of Manchester in UK, a bachelor's degree in information systems and software engineering from Damascus University in Syria and a certificate in Executive Management from Maastricht School of Management in Netherlands.
Dr. Ghazwan multinational and cosmopolitan approach has been developed and polished through extensive contact with international organizations and personnel, and through overseas education & work in multiple countries including United States of America, Hong Kong, United Kingdom, United Arab Emirates, Dublin, Malta, Bahrain, Netherlands, Serbia, Egypt, Syria, Lebanon, and Oman.
Recent MSBA graduates enjoy rewarding careers at companies around the world, including:
Accenture

HMSA

Amazon

Dell

Microsoft

Charles Schwab

Decision Research Corporation

State of Hawaii

AvePoint

Hawaii National Bank

Bank of Hawaii

Aston Hotels & Resorts

Telenor

Hawaiian Tel

Booz Allen

City and County of Honolulu

BAE Systems

American Savings Bank
Success comes naturally to HPU MSBA alumni, including:
Zach Thorpe – Operations Manager at Amazon Web Services

Sukru Tunca – Business Analyst at HMSA

Farani Lucero – Senior Web Application Developer at eCivis

Francis Montenegro – Associate Software Engineer at Accenture

Manuel Pulido – Lieutenant Colonel, United States Army

Anze Znidarsic – Senior full-stack HTML5, JavaScript, and PHP Engineer at Flycom d.o.o

Mieko Miyazaki – Systems Analyst at Hawaii National Bank

Randy Williams – Director of ACS at AvePoint