Master of Science in Business Analytics and Information Security
The Masters of Science in Business Analytics and Information Security is designed to create a generation of problem solvers and decision makers who are experts in the areas of information, technology, system design, and problem-solving with automated resources. The program intends that students study and become sensitive to the role of information systems in the health and welfare of any organization.
Information systems professionals build a critically important bridge between the technical and management functions of any organization across all industries.
As a graduate of HPU's MSBAIS program, your opportunities are many including the roles of project manager, system creator, strategic planner, system architect, knowledge manager, and innovative leader.

HPU graduates often pursue careers in corporate systems, internet services, cybersecurity, and network security.
The integration of three key ideas from information technology, systems management, and business analytics is the foundation of HPU's Master of Science in Information Systems' cutting-edge curriculum. It blends scientific, analytic, creative, and innovative applications of information with an emphasis on strategic planning, implementation, and communication in a global marketplace.
In every class, students will be asked to: comprehensively identify problems; create viable solutions, evaluate competing solutions for efficiency, effectiveness, and appropriateness; and implement chosen solutions in a manner consistent with the heuristic of the IS discipline.

Not only is the MSBAIS curriculum focused on a global marketplace, the learning environment at HPU is truly multi-cultural. Located in the center of the Pacific Rim where the fastest growing economies in the world are located, Honolulu is a cosmopolitan city with a busy, international business community. Students come from all 50 states and more than 80 countries.

At HPU, you will benefit from the focus on advanced problem-solving. Students are asked to comprehensively identify information-related problems, discuss possible solutions, evaluate their options, and then solve the problem in a manner consistent with IS discipline methods.

In addition to being committed teachers, researchers, and scholars, faculty in the MSBAIS program are also experienced business people. You will greatly benefit from their experience as community leaders, consultants, and members of international organizations.
Individuals wishing to apply to the MSBAIS program at HPU, are required to submit the following:
Graduate Admission Requirements
Application
Final Official Transcripts showing conferred Bachelor's Degree, Master's if applicable
Two Letters of Recommendation


MSBAIS

will allow (1) one military evaluation (dated within the last 2 years) in lieu of (1) one letter of recommendation.

Statement of Purpose
Resume
Application Fee
International Applicants: the minimum English Proficiency Requirements for the MSBAIS program is a TOEFL (IBT) overall score of 80 with a Writing Score of 25, or IELTS overall score of 6.0 with a Writing Score of 6.5.  See here for additional requirements for International students. 

PROGRAM LEARNING OUTCOMES
Students who complete the Master of Science in Business Analytics & Information Security MSBAIS will be able to:
Model business solutions involving people, processes, and information.
Manage, analyze, and report business data.
Develop an information security plan for a business environment.
Create effective oral and written communication.
The goal of the Master of Science in Business Analytics & Information Security MSBAIS program is to produce informed and capable information scientists. Upon completion, students will have demonstrable knowledge of planning, managing, securing and analyzing information in different business scenarios. Students will also have demonstrable knowledge of the organizational, social, political, ethical, and technological implications.
The program requires a minimum of 33 semester hours of graduate work. The 33 semester hours are divided into 33 semester hours of core courses and 3 semester hours of capstone course.
PROGRAM (32 CREDITS)
Term

 

Course ID

Course title

Semester 1

 

1

IS 6006

Information Systems Management

2

IS 6066

Enterprise Data Management

3

IS 6041

Business Analytics for the Big Data Revolution

Semester 2

 

4

IS 6281

Data Mining for Big Data Analytics

5

IS 6341

Security and Privacy

6

Elective

Program approved elective

Semester 3

 

7

IS 6022

Methods in Project Management

8

IS 6351

Information Security Management

9

Elective

Program approved elective

Semester 4

 

10

Elective

Program approved elective

11

IS 7500

MSBAIS Integrated Capstone
HPU Alumni 2nd Place Winner of The Hawaii Annual Code Challenge (HACC) 2019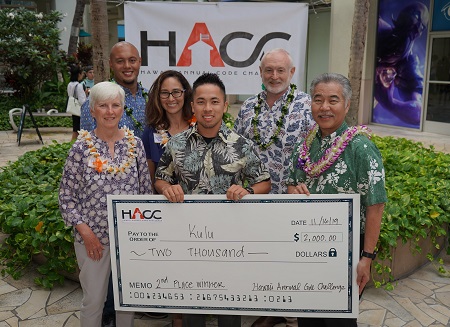 The Hawaii Annual Code Challenge (HACC) final judgement day was on Saturday, November 16, 2019 at ATM.  HPU student teams from three different classes made it to the finals.  Although our current students did not place our alumni Rhema Kishida won the 2nd place prize and $2000.
Rhema was on a winning HACC team last year as well.  He just graduated in Spring 2019 with a graduate certificate in IS.  He is also an MBA alumni from Fall 2018. Previously he completed a BS in Advertising and Public Relations and a BA in Communication at HPU as well.  
Congrats to Rhema for winning and to all the other HPU teams that made the final cut.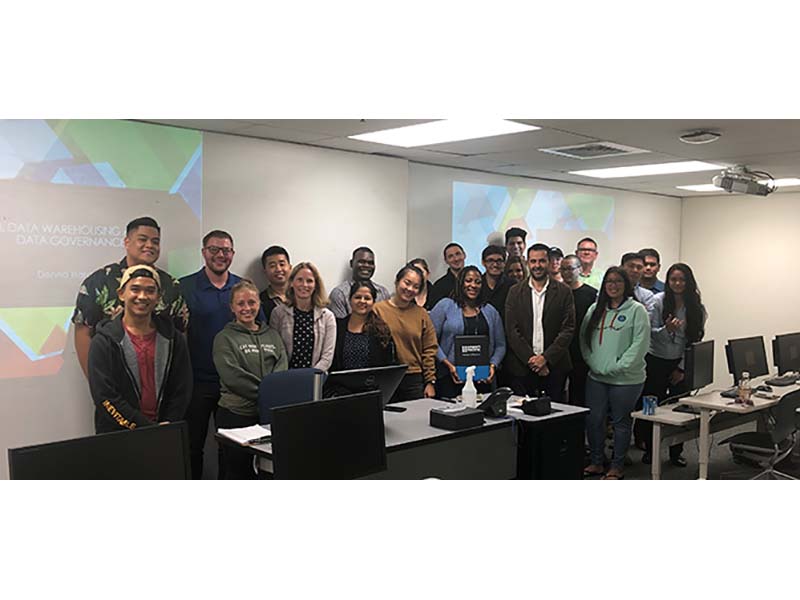 In support of the HPU College of Business mission to produce globally prepared and market-ready business graduates through a strong interface with the community, business, and professional organizations, Assistant Professor Ghazwan Hassna, Ph.D., invited Donna Hargrett from Hawaii Medical Service Association (HMSA) as a guest speaker to his Spring 2020 IS6041 Business Analytics for Big Data Revolution course.
Hargrett is a cross-functional professional with experience in financial systems, business intelligence, enterprise reporting, master data management, and data governance, working for reputable organizations such as Deloitte, Equifax and HMSA.  At HMSA, she is responsible for corporate data management and governance.
During the session, Hargrett presented several interesting use cases, demonstrating how data is being used to support business reporting and decision making. She explained several concepts and techniques and highlighted many interesting challenges and best practices related to the data environment, data warehousing technologies and architectures, data storage and structures, master data management, and data governance. Hassna concluded the session by facilitating an open, engaging discussion involving the students.
Hassna believes that this kind of engagement is of great importance to the academic and professional training and development of his students.  Through these opportunities, his students not only gain firsthand knowledge and skills from industry professionals, but they also build connections to the professional community, which can help them later in landing good jobs and progressing in their future careers.
Professor Hassna, who teaches IS6006 Information Systems management, IS6041 Business Analytics for Big Data Revolution, and IS6281 Data Mining for Big Data Analytics, believes that any successful IS program should always take into consideration four components, curriculum, technology choices, professional certifications, and community engagement. He works on aligning these four components in all the courses that he develops and teaches.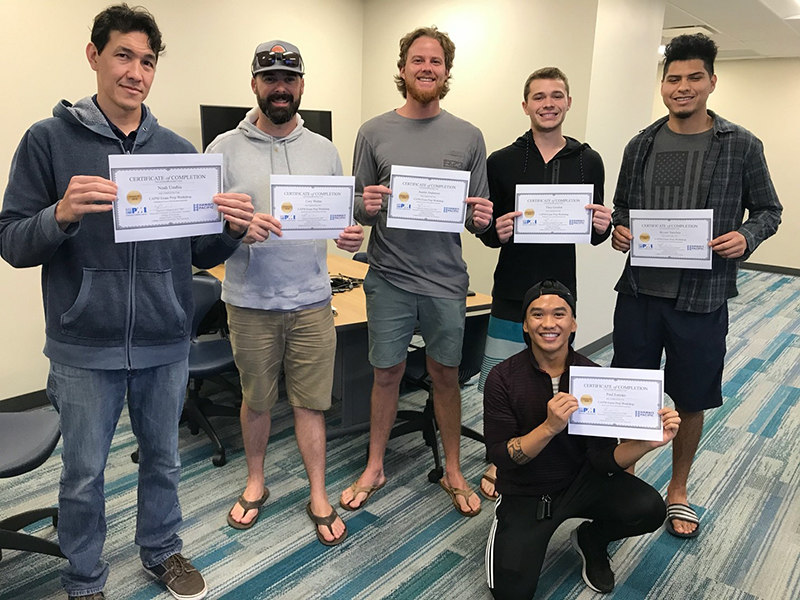 HPU students and alumni participated in a six-week exam preparation course on the Project Management Institute's (PMI) Project Management Body of Knowledge, who met the educational qualification to take the CAPM certification exam. Two participants took the course in preparation for the Project Management Professional (PMP) exam.
HPU Associate Professor Larry Rowland, Ed.D., PMP, with the assistance of Bryant Sanchez, Graduate Assistant at HPU, taught the course. The course, which was held at HPU on Saturday mornings in February 2020, was a fundraiser to help send a PMI Honolulu, Hawai'i, Chapter student member to a future Region 7 conference. Thanks to HPU's College of Business and the PMI Honolulu, Hawai'i, Chapter for the support and sponsorship. From left to right: Noah Unabia, Cory Walter, Austin Anderson, Titus Gordon, Paul Estioko, and Bryant Sanchez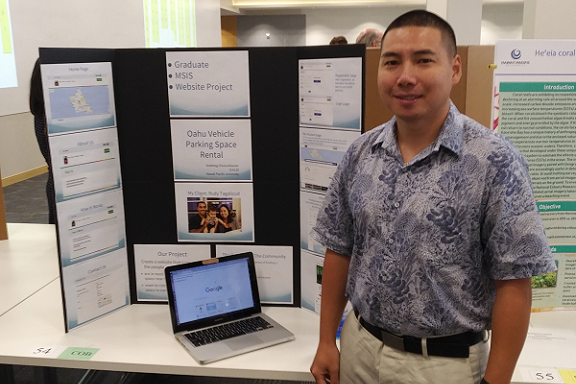 HPU's 6th Annual Capstone Symposium on April 19, 2018
Sodbileg Chuluunbaatar's Project: "Oahu Vehicle Parking Space Rental Website"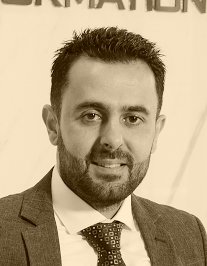 Dr. Ghazwan Hassna is an Assistant Professor of Information Systems at the College of Business of Hawaii Pacific University. Before joining this position, Dr. Hassna, was conducting his research at both EPIC LAB (Enterprise Process Innovation and Computing) and GCIF Lab (Global Center for Internet Finance) at City University of Hong Kong where he obtained his PhD. Dr. Hassna's current research interest includes Big Data and Digital Business Transformation with recent focus on financial services industry in particular. Before doing his PhD, Dr. Hassna had more than 10 years of experience in formulating, planning and managing IT -Enabled Change Initiatives.
Dr. Hassna holds a PhD. in Information Systems from City University of Hong Kong, a master's degree in management and information systems from the University of Manchester in UK, a bachelor's degree in information systems and software engineering from Damascus University in Syria and a certificate in Executive Management from Maastricht School of Management in Netherlands.
Dr. Ghazwan multinational and cosmopolitan approach has been developed and polished through extensive contact with international organizations and personnel, and through overseas education & work in multiple countries including United States of America, Hong Kong, United Kingdom, United Arab Emirates, Dublin, Malta, Bahrain, Netherlands, Serbia, Egypt, Syria, Lebanon, and Oman.
Recent MSBAIS grads enjoy rewarding careers at companies around the world, including:
Accenture

HMSA

Amazon

Dell

Microsoft

Charles Schwab

Decision Research Corporation

State of Hawaii

AvePoint

Hawaii National Bank

Bank of Hawaii

Aston Hotels & Resorts

Telenor

Hawaiian Tel

Booz Allen

City and County of Honolulu

BAE Systems

American Savings Bank
Success comes naturally to HPU MSBAIS alumni, including:
Zach Thorpe – Operations Manager at Amazon Web Services

Sukru Tunca – Business Analyst at HMSA

Farani Lucero – Senior Web Application Developer at eCivis

Francis Montenegro – Associate Software Engineer at Accenture

Manuel Pulido – Lieutenant Colonel, United States Army

Anze Znidarsic – Senior full-stack HTML5, JavaScript, and PHP Engineer at Flycom d.o.o

Mieko Miyazaki – Systems Analyst at Hawaii National Bank

Randy Williams – Director of ACS at AvePoint