Bachelor of Science in Business Administration
A Bachelor of Science in Business Administration degree provides learners with a solid foundation of business knowledge and managerial skills that are integral to successful and well-managed operations. A more streamlined, integrated degree path enables students to gain professional careers and a real-world advantage. The Bachelor of Science in Business Administration degree program at HPU allows students to focus their course choices among five concentrations: 
Accounting Concentration
Finance and Economics Concentration
General Business Concentration 
Hospitality & Tourism Management
International Management
The mission of the College of Business is to prepare profession-ready global leaders. Every Business Administration class at Hawai'i Pacific University develops the primary skills you will need to be successful in a highly competitive job market. At HPU, you'll be studying in classes, working on team projects, and networking socially and professionally with students from nearly 65 countries and all 50 states. The students you study with today are the same people you will do business with internationally tomorrow. In addition, the typical professor at HPU is someone who has lived and traveled abroad, has the business experience to tell you how theory can be put into practice and uses his or her knowledge and research to make the classroom a vital and stimulating place of learning. Outside of the classroom, you will be able to explore many social and professional opportunities, providing hands-on experience in your eld of study. By the time you graduate, you'll have a diploma and a job resume.
Students who select this degree will have the capability to:
Demonstrate an understanding of organizational vocabulary, structures, and cultures.
Demonstrate an understanding of the processes that support systems, stakeholders, and decision-making in professional and global contexts.
Use critical thinking skills to collect and analyze data, draw logical conclusions, and present information in a comprehensive manner.
Effectively communicate qualitative and quantitative information in speaking, writing, and presenting.
Perform research using the appropriate authoritative literature and other secondary sources.
Contribute to project-based activities as both a leader and team member.
Identify attitudes that reflect sound principles, values, ethics, and professional responsibility.
Individuals wishing to apply to HPU are required to submit the following:
Application

Transcripts

Personal Statement
Application Fee
SAT I or ACT Scores (freshman only)
Letter of recommendation
Resume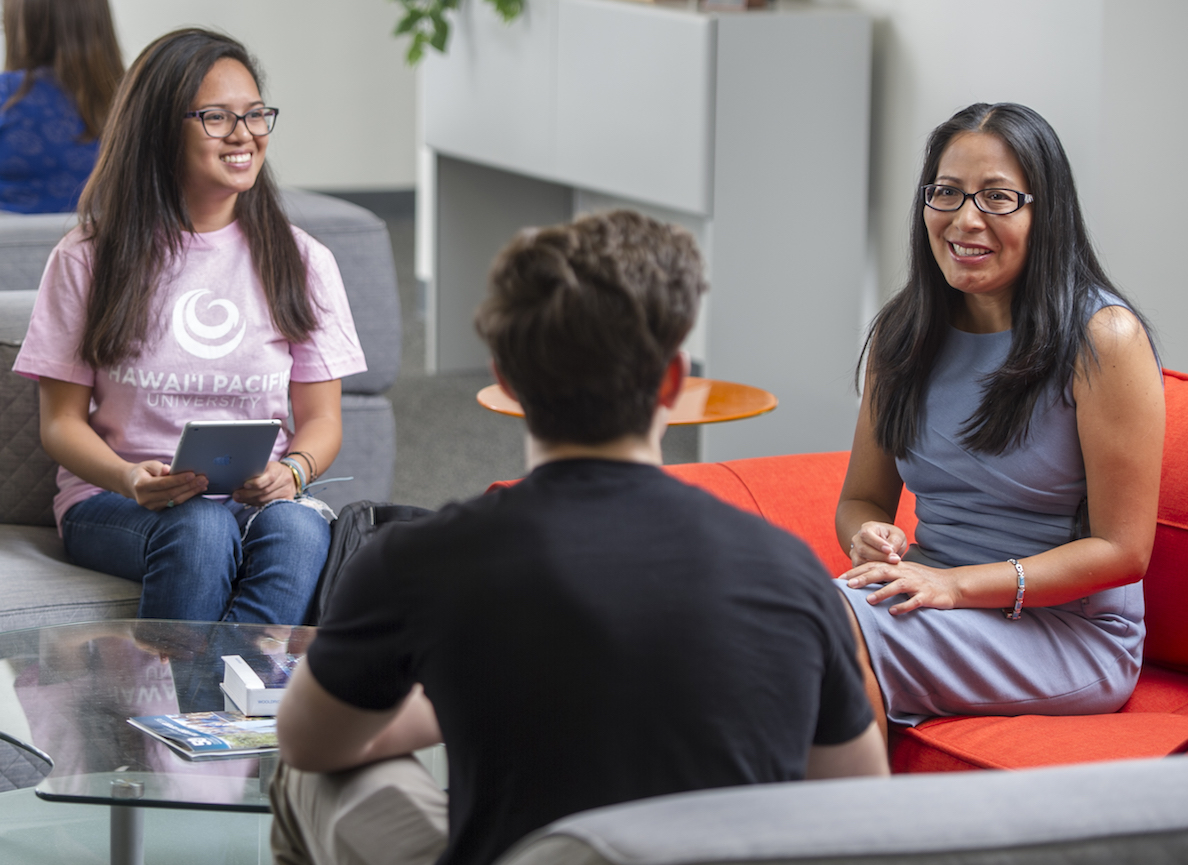 Hands-On Learning
Projects with area businesses and internships are available at HPU. Working on a project or job related to your major helps you connect classroom theory to practical experience. Not only will you have a better understanding of the realities of how businesses operate, but you will also have an opportunity to explore industries and gain a variety of work experiences related to your major. For internships, it's a simple formula that produces a more competitive, experienced graduate. This hands-on opportunity allows you to position yourself for a permanent position and to explore possible career opportunities before you graduate.
internships
For information on College of Business internships such as available internships, the process of applying for internships, requirements for internships etc. please contact:
Ryan Tin Loy, M.A. CWDP
Senior Career Development Advisor
Career Development Center
Hawaii Pacific University
500 Ala Moana Blvd, Suite 6-440-I
Honolulu, HI 96813
rtinloy@hpu.edu
808-544-0230
EXAMPLES OF RECENT INTERNSHIPS
Hawaii

Mainland US

International

Alexander & Baldwin

Aloha United Way

Aqua Aston Hotels

BCR Hawaii

Climb HI

DBEDT/State of HI

Equus Hotel

Ernst & Young

ESPN Events

Four Seasons

Gourmet Events HI

Heinrich and Bullard

Make a Wish

Mauka Digital

Peerless Host

Pyramid Hotel Group

Boeing (WA)

Oceanfront Properties (OR)

Solano County (CA)

TekSystems (OR)

Au Paire (France)

Gaestehaus Birkenhof (Germany)

Svinoya Rorbuer AS (Norway)
Registered Student Organizations
Being a member of a Registered Student Organization (RSO) is an excellent way to meet new people from around the world and enrich your HPU experience.
Join one of the College of Business' academic and professional student clubs:
Accounting Club

HPU Entrepreneur Club

International Society of Organization Development (ISOD)

IT Club

MBA Club Hawaii

Net Gen Consulting Club

Travel Industry Management Student Organization (TIMSO)
Success comes naturally to HPU BSBA Alumni, including:
Nicholas Haigler, '10, Co-founder and President of Thoughts & Strategies

Paula Kowalski, '10, Guest Services Manager, The Moana Surfrider

Tulsi Gabbard, '09, US Congress-woman

Kristina Lockwood, '99, President & General Manager of KHON-TV

Ray Vara, '93, CEO, Hawaii Pacific Health

Q Christopher Loek, '79, President of the Republic of the Marshall Islands