Career Development Resources
As an HPU student and Alumnus, our Career Advisor is here to help you with every step of your career development process during and after your college experience. We offer a variety of services and resources to assist you in reaching your goals.
Hours of Operation



Monday – Friday, 8:00am – 5:00pm except for Federal and (most) State Holidays.

Location
500 Ala Moana Boulevard, Building 6: Suite 440
Honolulu, HI 96813
Contact
Give us a call at 544-0230 or email us at cdc@hpu.edu

WHAT WE OFFER
Our Career Advisors are available to meet with you for guidance and insight
on pursuing a career path, participating in an internship or co-op, or finding a part-time or on-campus job.
The Myers-Briggs Type Indicator® (MBTI) is a personality inventory rooted in Carl Jung's psychological type theory. It was developed in the 1940's by Isabel Briggs Myers and her mother Katharine Briggs and has been researched and studied extensively since then. There are 16 unique type codes. All type codes and descriptions are based on psychologically healthy behaviors, and there are no good or bad types.
There are many uses of the MBTI and understanding your personality type. However, it should be noted that no assessment can lead to answers that explain all human complexity. This is a tool to be used in the process of the respondent's personal development (Manual, p. 116). The Career Report provided by the Career Development Center can help you recognize how to approach situations (in work, school, or otherwise) in a way that suits your style. It can also help you in exploring your major and career options, developing your career plan, and progressing from a student to professional. The MBTI can also help you…
Develop your leadership style
Develop your management style
Work in teams and groups
Find occupations and careers suited to your preferred work environment
In the problem solving and decision making processes
Deal with stress
Develop new skills
Organize tasks
Manage your time
For $15 students and alumni can take the assessments on-line and receive a comprehensive profile report based on your answers. A follow-up appointment is scheduled with a Career Advisor to receive a copy of your report and to review the results. Payment for the assessments is accepted by credit card via a secured website.
The Strong Interest Inventory® (Strong) assessment measures career and leisure interests across 291 items and takes roughly 35 to 40 minutes to complete. It is based on the work of E. K. Strong Jr., who originally published his inventory on the measurement of interests in 1927. The assessment is often used to aid people in making educational and career decisions.
The Strong assessment can be used for determining major suitability and satisfaction for those unsure of what academic route to pursue, as well as by individuals considering a career change, employees seeking more satisfying work within an organization, and adults looking for a career transition or re-entering the workforce. The results map out broad interest patterns to describe work activities, potential competencies, self-concept and values, work environments, and hobbies. Your Strong Interest Inventory results will come in the form of a report and a Career Advisor who administers the test will go over it with you to make sure you understand it.
Applicants who submit a resume and cover letter specific to an organization and the position are more likely to receive an interview. Advisors are here to help you craft an employer-ready resume and cover letter that is sure to help you stand out in the applicant pool. Come learn how to leverage your education by marketing yourself to prospective employers in the best way possible.
Don't Be Like Amy!
They say that "practice makes perfect". While that statement may not be completely true, we know that practicing for an important job interview can help you build confidence and learn how to deliver intelligent targeted answers to difficult questions. You will be asked traditional and behavioral interviewing questions and asked to respond as if in an actual job interview. Advisors can tailor the interview to a specific position or industry if you request this in advance. Advisors will give you valuable feedback and tips on how to improve your interview skills based on your performance.
Employer Info Sessions
Learn more about different organizations and industries by attending an information session. These sessions may be held in-person or virtually. We invite a variety of employers throughout the academic year within multiple academic programs and studies.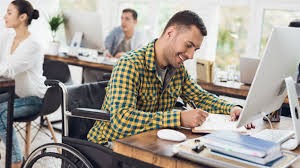 In company with the Accessibility Services Office, we're committed to assisting students with visible and non-visible disabilities secure gainful and rewarding employment. Below is a list of resources we hope will address questions you may have regarding your legal rights, including employer accommodations and disclosures. In addition, as you search for an internship or job, we've included some sites to assist you in this process. Should you have questions or need further assistance, please schedule an appointment with us by emailing cdc@hpu.edu or calling 808-544-0230.
Ability Links – Job site for those with disabilities.
American Association for Advancement of the Sciences Entry Point – Entry Point!, a signature program of the AAAS Project on Science, Technology and Disability, is a national effort to discover and develop talent among undergraduate and graduate students with disabilities who demonstrated a talent and interest in pursuing a STEM career.
Association for Higher Education and Disability
Bender Consulting – Assists those with disabilities in securing employment within the private and public sectors.
HireEd 360 Diversity Resources
Hire Disability Solutions – Job site connecting employers seeking to hire people with disabilities.
Jobs and Education for People with Disabilities
National Organization on Disability
Office of Disability Employment Policy
State of Hawaii, Department of Health, Developmental Disabilities Division
Study.com-College and Career Guide for Students with Disabilities
Workforce Recruitment Program – A recruitment and referral program that connects federal and private-sector employers nationwide with highly motivated college students and recent graduates with disabilities.
Workplace Discrimination
Workforce discrimination occurs in many different ways. There are federal laws that prohibit discrimination against individuals on the basis of race, color, national origin, sex, religion, disability, pregnancy, and age. Employers are responsible for complying with the law, but you are responsible for making sure you know and protect your rights.
Illegal Interview Questions
Did you know that it is against the law for employers to ask you certain questions in a job interview? To learn more about what topics are off-limits and what to do if you are asked about them, see Illegal Interview Questions: How to Handle Common Scenarios
Discrimination in the Workplace
If you experience discrimination once you have started a job, here are some tips and information about dealing with employment discrimination.