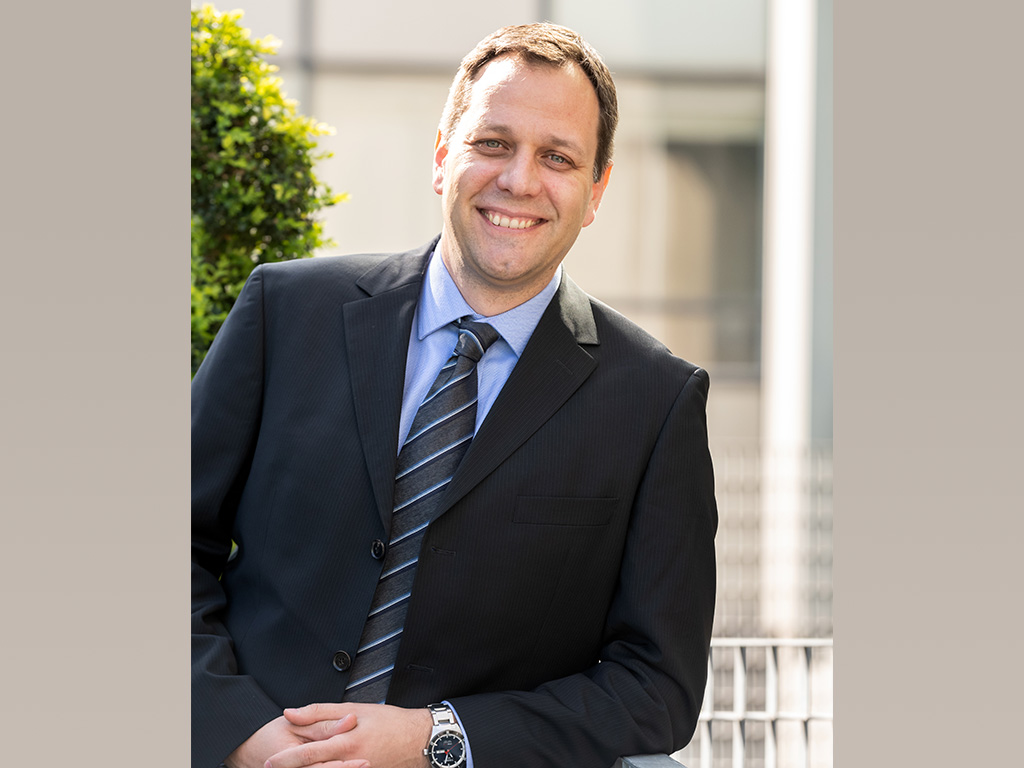 Yves Plancherel.
Yves Plancherel, Ph.D. graduated from Hawai'i Pacific University with a Bachelor of Science in Marine Biology and teaches in the department of earth sciences and engineering at Imperial College London. He leads the environmental diagnostic and analysis research group at the college.
Plancherel was a former rescue soldier in the Swiss Army. Before his work at Imperial College London, he was lecturer in climate change and environment at Grantham Institute, one of the leading climate science and policy institutes in the United Kingdom and was also a researcher at the University of Oxford for six years.  
Plancherel earned his Ph.D. and M.A. in Geological and Earth Sciences/Geosciences from Princeton University and earned a M.S. in Oceanography from the University of Hawai'i at Manoa. He received the Excellence in Teaching award from Princeton University in 2009.  
Plancherel spoke to The 'Ohana in October 2021 from London. 
THE 'OHANA: YOU'VE HAD AN IMPRESSIVE CAREER AND EDUCATION. WHAT TOOK YOU TO HPU FROM SWITZERLAND TO EARN YOUR B.A. IN MARINE BIOLOGY? 
Yves Plancherel: Well, it could have been complete chance!  
CHANCE? PLEASE TELL ME MORE…  
I received a letter from HPU saying a recruiter was going to be in Geneva, which is about three hours from where I lived, and I decided to attend that informational session. I had no plans to study abroad at the time. But thankfully, I had elected to send my English test results to universities located in nice places. 
HPU IS IN A BEAUTIFUL PLACE.  
Indeed! I recall having an enjoyable and very positive chat with the HPU recruiter, who also showed me some stunning photos of Hawai'i and HPU. Photos that would make any landlocked Swiss student dream! It was then that I started to realize that going to Hawai'i and get a great education in marine biology at the same time was possible. I had just started a biology degree in Switzerland as the next best thing. It's a bit of a cliché, but I grew up watching the Cousteau films with total admiration, so when the opportunity presented itself to pursue a degree in marine science, I didn't hesitate.  
SO, YOU CAME TO HAWAI'I AND ENROLLED AT HPU. WHERE DID YOU LIVE? 
I first lived in university housing, near the Hawai'i Convention Centre. Coming from abroad, barely speaking the language, and completely unprepared as I was, this made everything a lot easier. It was good fun as well and I am still connected to some of my flatmates and neighbors from that first year. I very much enjoyed the international make-up of HPU's student body and quickly made friends from every continent.  
Americans are very lucky to live in a melting pot of cultures. This was very much not the case in the small village where I grew up, so it is not something I took for granted. I benefited hugely from this discovery and immersion of cultures.  
YOU MAJORED IN MARINE SCIENCE AND WENT ON TO EARN TWO ADVANCED DEGREES IN SCIENCE FROM PRINCETON UNIVERSITY. WHEN DID YOU KNOW THAT YOU WERE INTERESTED IN SCIENCE? 
I always had an easier time in science subjects, from primary school. I did stray from the science path in high school, though.   
HOW SO? 
I chose modern languages. French, German, English, Spanish, and did that for four years until baccalaureate. Luckily, the Swiss education system ensures that core subjects, such as math, are covered regardless of the option chosen. This was key for me, as I realized that I was not that gifted for literature. I had to play catch up at first, but the core science background I had upon graduating high school was sufficient for me to get back on the science track and start a biology degree in the University of Fribourg.   
In high school, I was also very lucky to have an amazing chemistry and physics teacher who realized that I was better suited for science, so he nearly systematically requested that I come to the blackboard and be his "assistant" during class.  It was very comical.  
WHAT DID YOU DO AS HIS "ASSISTANT?" 
On quiet days, it was mostly just acting as a scribe, writing class notes or solving problems on the board. On more exciting days, I recall having to stuff toilet paper in my ears as improvised ear-protection and having to hold a fire extinguisher to cover him while he was igniting bubbles of hydrogen and oxygen and setting explosions during a demonstration. Probably not recommended by health and safety today!  
WOW. THAT SOUNDS NOT TO CODE! 
The dean eventually popped in to check what was happening at her school. But these were memorable times that made learning science fun and engaging.  
WHO WERE SOME YOUR FAVORITE PROFESSORS AT HPU? 
We had great teachers across the program, and some of them would have quite a big impact on my career trajectory. In hindsight, I now realize how lucky we were to have relatively small class sizes. I recall particularly Varis Grundmanis, who was teaching oceanography. To this day, he has been one of the very best teachers I have had. He was an outstanding communicator of science. I also owe a big thank you to Keith Korsemeyer, who wrote me a reference letter to apply to graduate school at very short notice!  
I also recall having a thought-stimulating seminar class with Shaun Moss. As a professional scientist from the Oceanic Institute, Shaun brought a different, more applied perspective of scientific research. That class had us read and present scientific papers and that was to become great preparation for graduate school.  
Finally, I owe Chris Winn a lot. Chris gave me the chance to participate in my first oceanographic expedition, a five-week research cruise from Hawai'i to San Diego. That was an outstanding experience, and quite fun to set up and prepare as well. That opportunity was key, as it gave me the critical research experience and networking that I needed to make the next step.   
AFTER YOU GRADUATED FROM HPU, WHERE DID LIFE TAKE YOU? 
I started graduate school at the School of Earth Science and Technology, focusing on oceanography, at the University of Hawai'i at Manoa. After my master's, I decided to reorient my research and to move from the field of microbial pollution to global scale climate and ocean modelling. I found a nice program on this topic at Princeton University, and this is where I eventually earned my Ph.D.  
There, I also had the honor to interact routinely with Syukuro (Suki) Manabe, now the 2021 Nobel Laureate in physics, who really helped me a understand the field of climate modelling in a way that reading papers or books cannot. Often, there is also a story between the lines and there are connections between scientific papers that can be hard to see.  
As the founder of the field, Suki could explain the science, and tell the story behind each experiment, who did what and why, when, filling in the missing context, and even tell the story of failed experiments, the stuff that never gets published but that represent learning; very inspiring.   
FOR HPU FRESHMEN STILL CONSIDERING A MAJOR, WHAT WOULD YOU RECOMMEND?  
I would primarily encourage them to do what they like and pursue their curiosity. Curiosity is how breakthroughs are made. But students should also be warned that curiosity without competence is not as useful, so they should make sure to learn what needs to be learned, technically, and become good at it. That process can be painful and will almost certainly involve homework, but it will pay off later! 
If something drives them, they should do that, with 120% effort. I would also tell them not to be shy and seek out and take all the opportunities available. A lot of good things happen simply by meeting the right people and keeping an open mind. Experiences are additive, not exclusive. This is the best time to try, try a lot of things. Join societies, clubs, do internships, start a business.  
As students' progress in their degrees, I would encourage them to think about the general direction they want to go into and try to anticipate our society's needs in the next five years or so. For example, we are now facing a climate emergency. Developing solutions to address this crisis is going to occupy a lot of people and there will be many opportunities in that space, for everyone, in all sectors: science, energy, security, agriculture, health care, engineering, IT, education, sociology, communication, etcetera. We must completely reinvent the way society produces and consumes resources and energy and no one has the answer. Don't think of climate change as a constraint.  Tackling the climate problem is a necessity, so instead, see it as an opportunity and move fast, be part of the solution! 
Great advice. Be part of the solution. 
Exactly! Climate change is a hugely challenging problem, but it is also great opportunity for creative minds. 
PLEASE TELL ME ABOUT YOUR CURRENT WORK. 
I am currently based in the department of earth sciences and engineering at Imperial College London, where I lead the environmental diagnostics and analysis research group. The group focuses on environmental science, looking mostly at problems directly related to climate change or linked to the decarbonization transition.  
Currently, people in the group are working on a spectrum of projects ranging from oceanography, climate science, remote sensing, machine learning, security, nature-based solutions, and supply chain dynamics, but we are generally interested in any creative idea that fits the overall objectives of the group.  
DO YOU MISS HAWAI'I? WHAT DO YOU MISS ABOUT BEING AN UNDERGRAD AT HPU? 
I do miss Hawai'i and HPU! The weather, the water, the landscape, the food… especially poke! I miss the aloha spirit of course. Few things really seem to compare. There will always be a before-Hawai'i and an after-Hawai'i for me. There are also a few Hawaiian habits in me that I can't shake out. 
LIKE WHAT? 
After all these years, I still use words like "lanai" or "pupu" routinely. Few here know what I'm saying, but these words in my head are like millisecond time-machines bringing back memories of life in the islands so I don't really have any incentive to overwrite that vocabulary!   
I am impressed to see how HPU is growing and changing. Hopefully, I'll have a chance to visit again – I look forward to the opportunity. 
WHAT IS YOUR IDEA OF PERFECT HAPPINESS? 
Sadly, I don't have an answer. But personally, I like a life influx. One source of happiness for me comes with some form of a quest, a journey towards a goal or ambition and realizing that one makes progress, however little, towards that goal.