Emma Williams.

Emma Williams on graduation day.
HPU alumna Emma Williams '23 has been set to fly her entire life. Her father a pilot, her mother a retired flight attendant, Williams grew up poised with the ambiguities in life. She was encouraged at an early age to experience all that life has to offer. For Williams and her siblings, it was always about stepping out of her comfort zone on day one and learning to fly.
Williams grew up in Warwick, Rhode Island, a picturesque town on Greenwich Bay, with beaches to the east and a large portion of the town surrounded by water. She is a natural storyteller, exploring various opportunities to share her unique vision of the world through journalism and film. Two divergent career paths that set Williams on the track to pursue an education where she could study both pathways at the same time.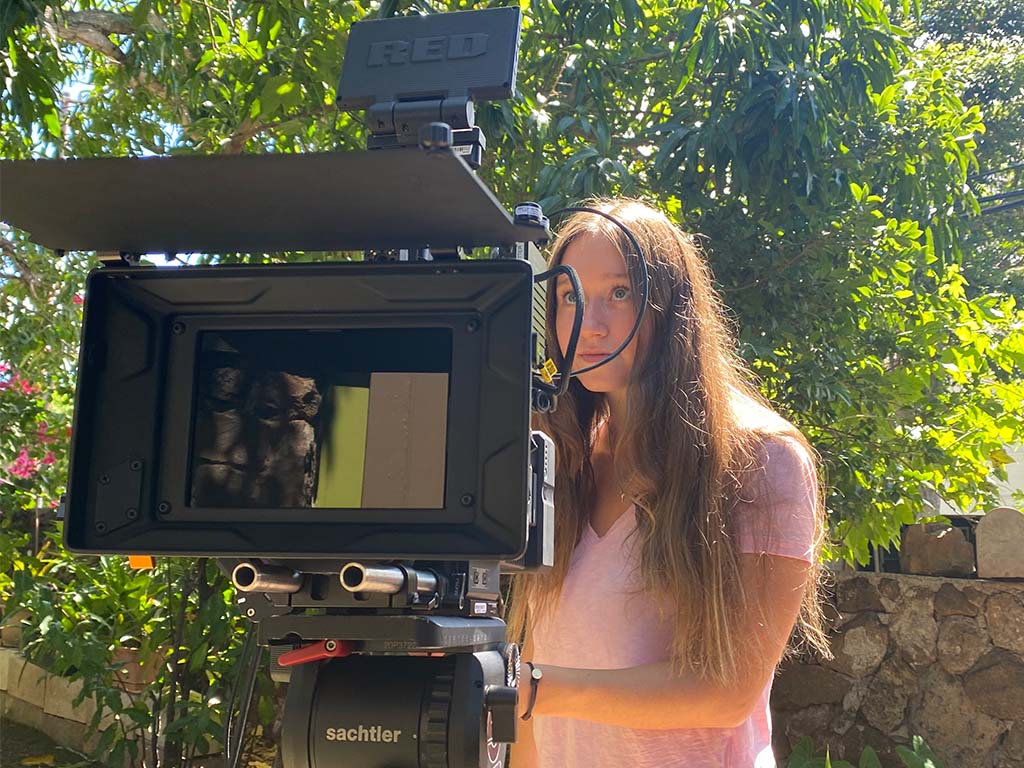 Emma Williams behind the camera.
"Attending HPU was one of the most spontaneous decisions I ever made, and it's one that I would do all over again," said Williams. "I was accepted into the Residential Honors Program at HPU, and that opportunity allowed me to study both journalism and filmmaking. Throughout my time at HPU, I've had various internship opportunities for both of my majors. I worked as a producer's assistant at Sight and Sound Productions. I was an integrated producer intern at Dentsu Creative, and I worked as a publishing assistant for Pacific Edge Magazine. I also was a part of the Women's Executive Leadership Council at HPU and the president of HPU's Cinematic Production Club."
While majoring in both Multimedia Cinematic Production and Mass Communication with a minor in Screenwriting, Williams found herself interested in Europe and the possibilities she could have while studying abroad. So, in 2022, Williams took the opportunity at HPU to study abroad and went to Barcelona. It became one of the best experiences of her life, opening even more doors as a filmmaker.
"I strongly recommend studying abroad for anyone who is looking to make lifelong memories, discovering new borders, and learning about yourself, while also experiencing a diverse array of incredible cultures and experiences the world has to offer," said Williams. "I visited 14 new cities and nine new countries during my semester abroad. It was a once in a lifetime experience that everyone should venture out on."
While abroad, Williams attended the 75th Annual Cannes Film Festival in Nice as a videographer through the American Pavilion. With a bit of luck and good networking skills, she was offered a position at filmmaker Rob Reiner's production company Castle Rock Entertainment. Williams has worked with the production company since June 2022 as a lead development intern.
Emma Williams at the Cannes Film Festival.
"My job is to read a variety of scripts, produce coverage and advise the company on the direction of the story, amongst a variety of other tasks," said Williams. "I'm so grateful for this foot-in-the-door opportunity as it's taught me more than I could ever imagined about screenwriting and my own writing as well. It's led me down a path of discovering which direction I want to head into as I enter the professional filmmaking world."
When Williams returned to Hawai'i to complete her degrees she started a new film project called Kepeloa. Williams is the co-writer, director, and editor of the drama/thriller coming-of-age short film sponsored by Sight and Sound Productions.
"With my team consisting of Kamahele Britos and Alaya Call we are able to shoot using industry-level equipment," said Williams. "In short, this film is a ghost story that isn't really a ghost story at all, but one about mental health. It follows a young boy of Hawaiian roots, Kolu, who recently lost his birth parents and is living with a pseudo-religious foster mom, Regina. As Kolu's life at home worsens, strange things begin to happen in the attic above him, and he goes on a journey to not only figure out what is going on, but to remember who he really is."
The 30-minute short film won "Best Creative Award" at HPU's capstone symposium in 2023 and will also be submitted to film festivals across the country.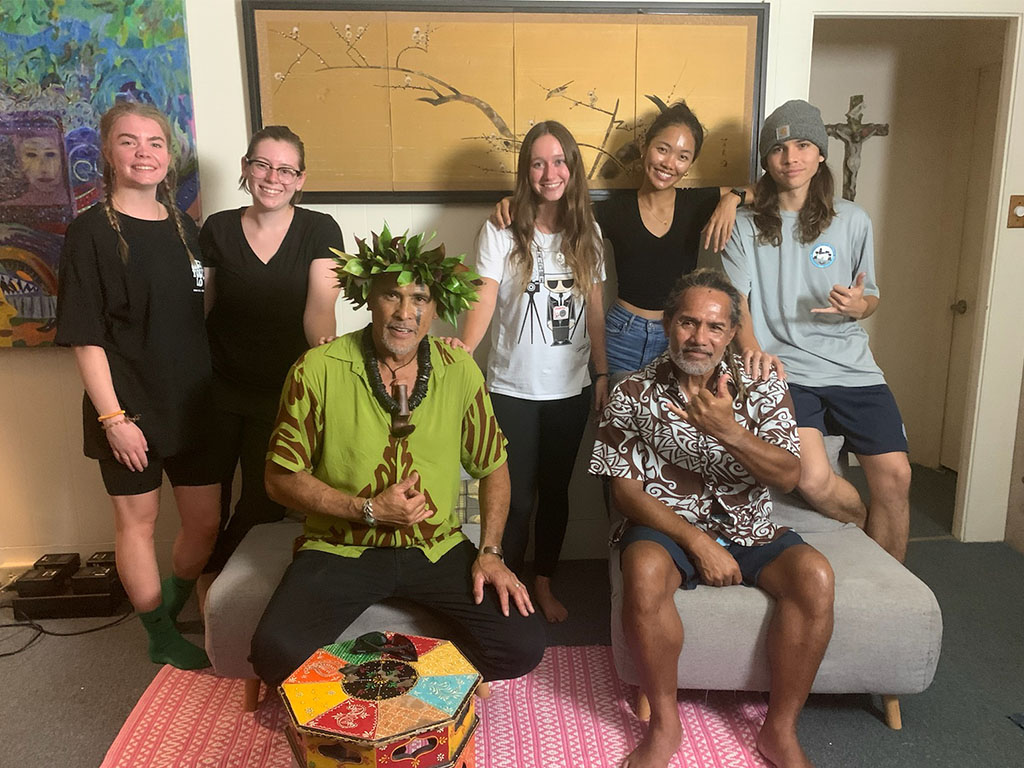 Emma Williams and her 'Kepeloa' film team.
Williams graduated from HPU in spring 2023 with two great ambitions: to be a screenwriter and to produce for film and television. One day, she wants to be an executive producer where she can help write and develop the story as well and gain on-set opportunities. 
Williams recently returned from competing at the 2023 American Advertising Federation's NSAC competition in Saint Louis, Missouri, where the HPU team built a ground-up advertising campaign for this year's client Indeed. With her team of three stellar HPU students they placed in the top eight out of 100 schools across the nation and won first place for "Best Market Research Award." Upon her return, Williams will work as an Associate Producer for Dentsu Creative. She plans to move to Los Angeles in January of 2024 and see all that Hollywood has to offer.
"Most of my success is largely in part of the incredible professors I've been so grateful to have had since my first semester at HPU," said Williams. "From day one, Professor Pete Britos has gone above and beyond to provide impeccable opportunities and learning experiences for his students and has inspired me with my own filmmaking career. Professor Quest, Professor Manzulli, Professor Lierheimer, and Professor Chuang have also definitely been a huge support system in my journey so far and have guided me to grow into the person I am today.
"HPU gave me the opportunity to study both of my passions in one of the most beautiful places in the world. It was an opportunity that I could not pass up. The community here not only cares about you but also finds a way to ensure you are successful in achieving all your dreams. If you put in the effort at HPU and create lasting relationships, it will be the best and easiest choice you'll ever have to make."
To learn more about the Cinematic Multimedia Arts program at HPU click here.