The four panelists consisted of Quest Kennelly, Foxy Ramos, Peter Mataira, and Jeffrey Rich as they discussed the uses and abuses of artificial intelligence.

Foxy Ramos shared her thoughts surrounding AI from a student's perspective.
On October 17, 2023, HPU's College of Liberal Arts hosted a symposium to examine the uses and abuses of artificial intelligence (AI). The discussion was led by students, faculty, and staff, as they examined the future of technology that is quickly approaching. The night started with an introduction by Linda Lierheimer, Ph.D., Director of Honors Programs, as she introduced Allison Gough, Ph.D., Dean, College of Liberal Arts. Gough discussed the nervousness surrounding tensions between humanity and technology. She even explained that earlier this year, more than 350 tech executives signed a statement warning about the dangers of AI, emphasizing that "risk of extinction should be a priority." She then explained that the panelists would be examining the way that they employ AI, as well as looking at the future of AI technology and the impact it can have on the world.  
The panel consisted of Quest Kennelly, Assistant Professor of Multimedia, Foxy Ramos, an HPU residential honors and marine biology student, Peter Mataira, Ph.D., Associate Professor of Social Work, and Jeffrey Rich, Vice President of Marketing and Communications. The four panelists covered various topics and answered questions. The topics ranged from AI within the media as well as the workplace, a proposal for AI software, and AI from the youth's perspective.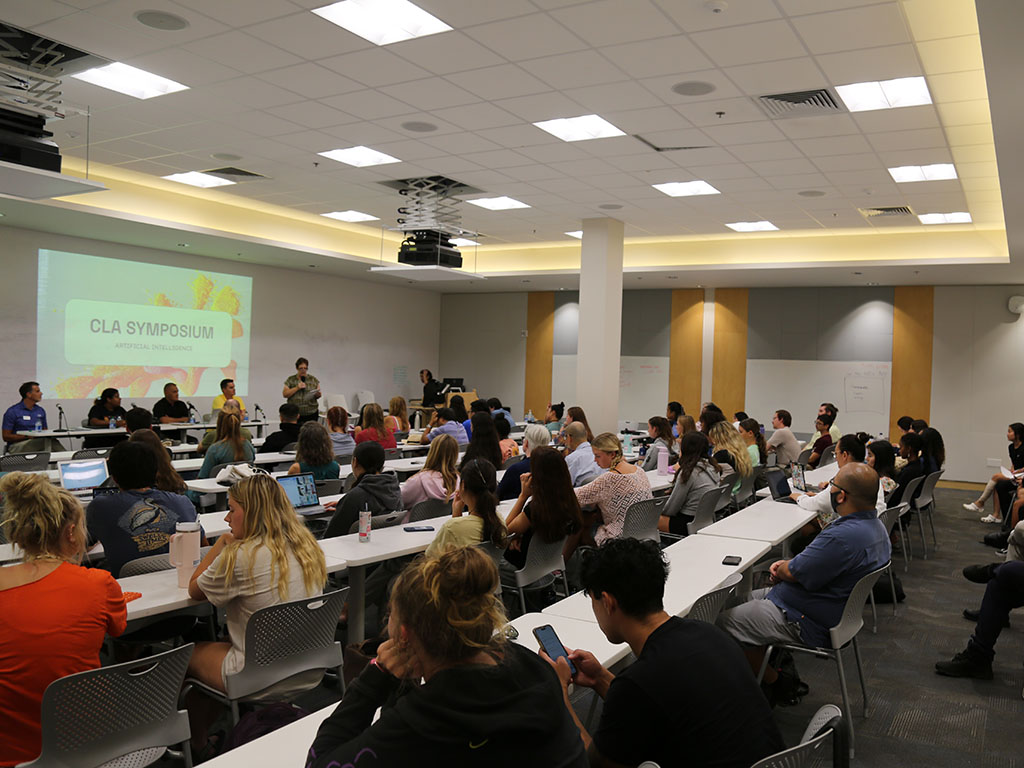 Various HPU students, faculty, staff, and members of the broader community attended HPU's AI Symposium.
Kennelly started the night off by highlighting how AI positively impacts the classes that he teaches. Overall, Kenelly stressed the importance of viewing AI as a new tool still requiring human input with each step. He also reminded us how many different technological advances were seen as negative when they were introduced, such as the printing press or photography. Mataira shared that he is working on a research grant related to AI and its effects on the climate crisis and, specifically, the environment in Hawai'i. He concluded his presentation with a video of The Alan Parsons Project performing "Eye in the Sky," noting the correlation of the lyrics with themes in AI. Next, Ramos added a unique touch as she spoke about AI from a student's perspective. Ramos mentioned that AI has been around for much longer than we might realize. We see it in video games, social media, internet recommendations, and so much more. Ramos also explored a few impacts that AI can have on education, employment, the social and ethical effects, and how the younger generation may view AI in comparison to the older generations. Rich explored AI's effects on the workplace, encouraging students and early-stage professionals to do their best to embrace AI as it is reshaping the job market. Rich emphasized that AI is not eliminating entire professions but transforming the nature of work within them.  
One of the students in attendance, Eleanor Zinn, was particularly interested in AI's quickly growing impact. As an international studies major, she was intrigued by the environmental and societal concerns within AI. Zinn explained, "I attended the event because of the growing use of AI in the education field, workplace, and our daily lives. I think it's an incredible tool but one that requires hard questions to be asked and answered. I am always eager to hear from experts and educated speakers on these sorts of topics." Zinn engaged consistently with the panelists, as well as other guests, and overall, really enjoyed the different perspectives brought by the panelists. 
AI was one of the many topics to be covered by HPU's College of Liberal Arts Symposium series. AI is ever-expanding, and this conversation was a step in the right direction to understanding and making the most of upcoming advancements in the world of Artificial Intelligence.
Photos by Colin Lorntson