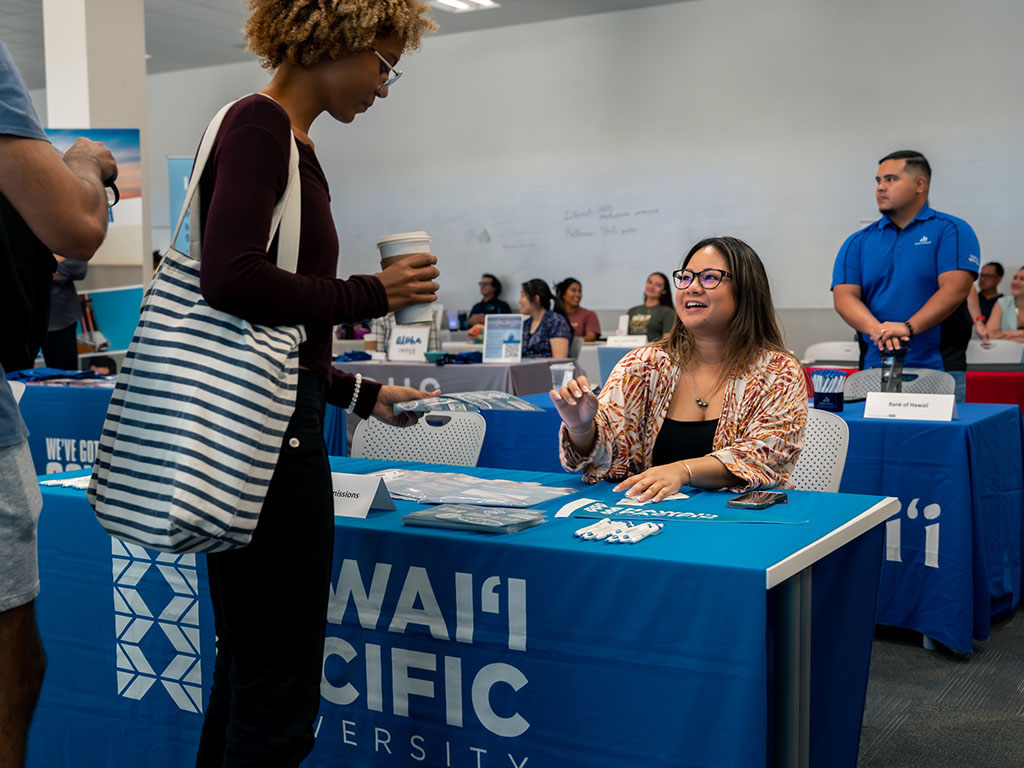 The HPU event was organized exclusively for HPU students and alumni, and included more than 40 employers. Image By Michael Matsushita.
Aloha Tower Marketplace, multipurpose room three (MPR 3) was filled with bustling conversation at HPU's Fall 2023 Career, Internship, and Hiring Fair. The Wednesday, October 4, campus event organized by the Career Development Center and the Center for Academic Success staff exclusively for HPU students and alumni included more than 40 employers.
Top national and local employers attended and took full advantage of the opportunity to introduce HPU students to a variety of paid internships and part-time and full-time job opportunities.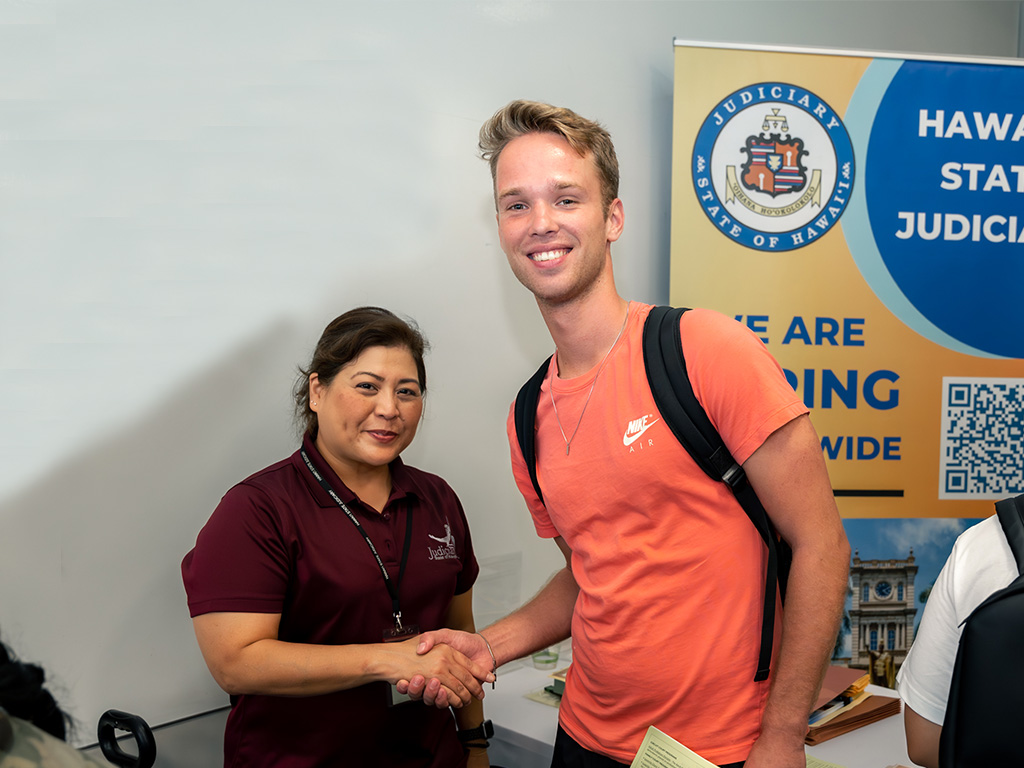 The HPU career fair attracted a variety of HPU students with different passions and majors.
One of those representatives was Kari Nakano, director of talent acquisition for Marriott Hotels and Resorts. She has been with the company for 18 years, primarily recruiting for Sheraton Waikiki, The Royal Hawaiian, Moana Surfrider, and Sheraton Princess Kaiulani. Nakano shared her take on how students can be the best version of themselves when interacting with employers.  
"We have a hiring motto, hire for attitude, train for skill," said Nakano. As a student, the interviewing process can be quite nerve-wracking, especially when you're starting to branch out into the job field. Kari reminds us that as much as we're interviewing them, they're interviewing us.
The interview process can also be viewed as a conversation. Nakano's biggest piece of advice, "Just be passionate and present during the interview period. We know interviewees are nervous and really want to run away, but talking to that interviewer, preparing for it, and researching tells a lot about an interview. This person really wants this job, they really want to work for us. That's the type of person we're looking for. If they want to get their dream job, they'll take it seriously." 
The fair was a great success, providing opportunities for students and employers to interact.
It's important to relax and let your passion shine through. 
The career fair attracted a variety of different HPU students with different passions and majors. Zorah Burress and Makayla Marsh, both studying communications in their junior year, attended the career fair for different reasons.  
"So, my mom was actually pushing me to go to this because I still have not looked at what I want to do when I graduate," explained Burress. "I'm glad that she did because I found a lot of cool stuff inside." 
Marsh was keen on attending to meet the internship requirement for her major. Despite not really knowing what to expect, both students left with a better understanding of their future goals.   
"I definitely feel for us, communications is broad and so just to know what internships are offered, or what you do during these specific internships, as well as what sort of field to go in based on where you work it was really cool."  
For Marsh, the fair reinforced how much she wants to work in advertising and in media. Burress explored opportunities at the Peace Corps table, which is something she's always wanted to pursue. Whereas Marsh was intrigued by the Marriott table as well as Hawaiian Airlines. 
The HPU career fair was another success this year. Not only has this experience provided the opportunity for students and employers to interact, but also provided a lesson on how to strengthen confidence and become more excited about one's future.