Yongli Chen PH.D.
College of Natural and Computational Sciences - Department of Natural Science
ASSOCIATE PROFESSOR OF CHEMISTRY
CHAIR, DEPARTMENT OF NATURAL SCIENCES
Education:
Postdoctoral fellowship, Cornell University, Ithaca, NY
Ph.D. Biophysics, Tsinghua University, Beijing, China
M.S. Chemistry, Tsinghua University, Beijing, China
B.Eng. (Honors) Chemistry, Central South University, Changsha, China
Minor: Computer Science
Courses Taught:
CHEM 4030 Biochemistry I
CHEM 4031 Biochemistry I Lab
CHEM 4032 Biochemistry II
CHEM 4033 Biochemistry II Lab
CHEM 4095 Biochemistry seminar
CHEM 4910 Senior Seminar
Professional Interests:
Ligand-gated neurotransmitter receptors (ion channels) and their modulation by small organic compounds
---
Teaching Interests/Research:
My principle research interest is to study the functional modulation of neurotransmitter receptors.  Neurotransmitter receptors are responsible for communication between billions neurons of mammalian central nervous system.  My current research is focusing on glutamate receptor and GABAA receptors, the primary excitatory and inhibitory neurotransmitter receptor, respectively. They are involved in many neurodegenerative disorders, such as Alzheimer's disease, Parkinson, epilepsy etc.
I work closely with our undergraduate students. Currently, I have five undergraduate and one master graduate students working in the lab.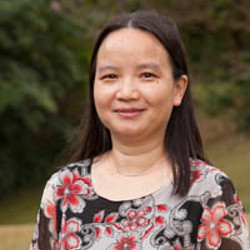 Associate Professor
PH.D.
  Send email
  (808) 236-3547
  Hawaii Loa Campus, AC 206C