Sterling Higa M.Ed.
College of Liberal Arts - Department of Communication
Sterling Higa is often wrong, but always seeks truth. He is a debate coach and lecturer in the Department of Communication at Hawai'i Pacific University. He is also a contributing writer for Hawaii Business Magazine.
As a debater, Sterling ranked quarterfinalist at the Yale Intervarsity, semifinalist at the United States Universities Debating Championship, and runner-up at the Pan Pacific, Pan American, and U.S. Western Regional Debating Championships. He's judged outrounds at the US Universities Debating Championship and the World Universities Debating Championship.
The students he coached at Punahou School won Lincoln-Douglas state titles in the Hawai'i Speech League, and his university debaters have won the Warrior Debate Invitational, the Hawai'i State Debating Championship and the Pan Pacific Debating Championship.
As a performing artist, Sterling ranked semifinalist at both the Brave New Voices International Youth Poetry Festival and the National Poetry Slam. He subsequently coached a team from Hawai'i to the final round of the National Poetry Slam. His first hip-hop album, "Shore Lines," was released in 2020 and then nominated for a Nā Hōkū Hanohano Award.
Sterling is a member of the Pacific Forum Young Leaders Program, having previously participated as a scholar in Pacific Forum's Hawai'i Asia-Pacific Affairs Leadership Program.
Sterling holds an Ed.M. from the Arts in Education Program at the Harvard Graduate School of Education. He was the recipient of the 2020-21 Golden Apple Award for Distinguished Undergraduate Teaching at Hawai'i Pacific University.

When he's not teaching, you can find him reading at a coffee shop, bodyboarding, or practicing martial arts.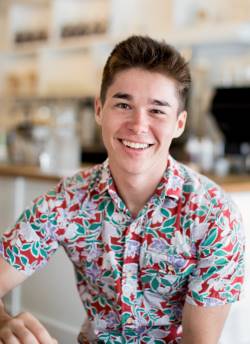 Lecturer
M.Ed.
  Send email
  (808) 544 1464
  500 Ala Moana Blvd. WP 5-360-I