Jake Hargis with a burrowing owl at Sonny Bono National Wildlife Refuge, Calipatria, California.

Jake Hargis at Anza Borrego Desert State Park, Borrego Springs, California.
HPU alumnus Jacob Hargis '12 was born and raised in Northfield, a college town in southeastern Minnesota with Cannon River rising to the east and Minneapolis 40 miles north across the Minnesota River. Hargis spent his childhood and formative years in pursuit of the natural world. Minnesota is a fine place to just that with over 10,00 lakes, prairies, wildlife preserves, and over 100 state parks and forests that comprise four million acres of wilderness.
"I've always had an affinity for the natural world and its wildlife," said Hargis. "I grew up fishing and camping in northern Minnesota and spent my summers working in Rocky Mountain National Park. These experiences, along with my environmental studies degree from HPU fostered my career as a wildlife biologist." 
Hargis became interested in HPU because he was searching for a university that offered a curriculum in natural resources, conservation, environmental management, and sustainability. He was also interested in a university with top-notch professors, a wide range of degree programs, and great sports teams to root for, too.
"I chose HPU because of its diversity, accredited professors in the environmental sciences department, and its campus," said Hargis. "To have classes with students from across the world, making life-long friendships and connections was really an integral part of my development as a student and young professional."
A lifelong sports fan, Hargis was offered a unique scholarship at HPU as a sports statistician for the sports information department. "Our job was to record statistics for all home games for HPU's basketball, baseball, softball, soccer and volleyball," said Hargis. "I had the opportunity to work alongside a small team of statisticians under the leadership of former Sports Information Director John Barry and Brent Curry. It was an awesome experience being a part of HPU Division II sports and I cherish those memories. It was through this is I met one of my best friends, David Amaya, who is also an alumnus of 2012."
Hargis graduated from HPU in 2012 with an environmental studies degree. He was keen to stay in Hawai'i, so he accepted a position as a wildlife technician at Kaheawa Wind Project in Maui, one of the largest wind farms in the state.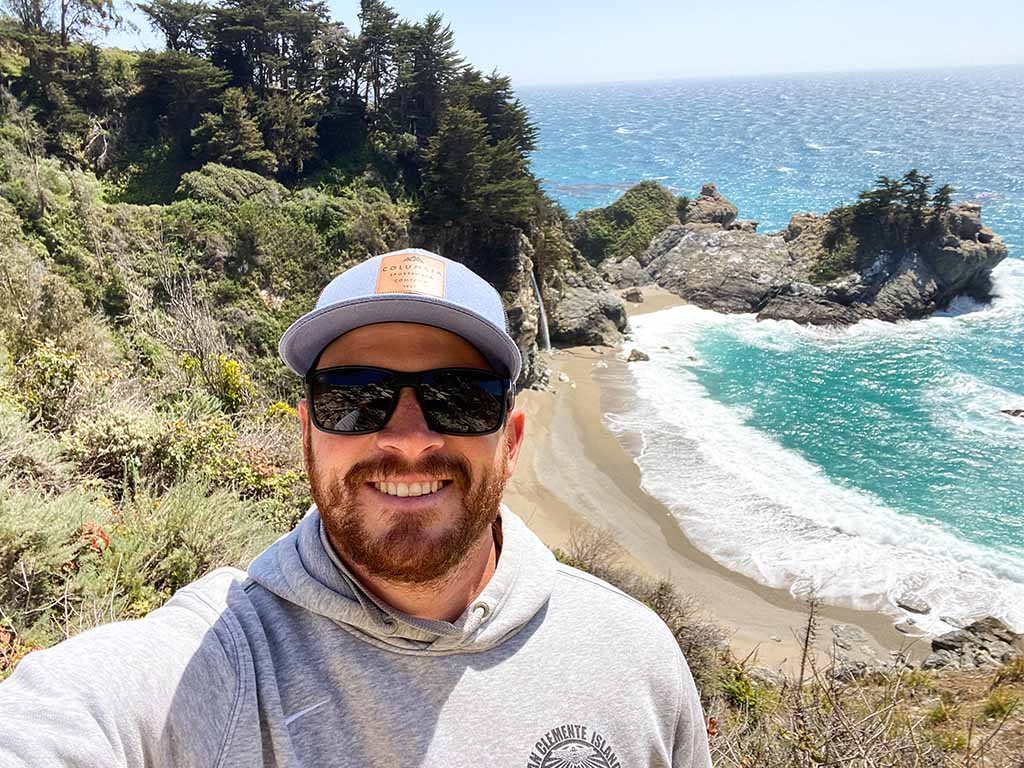 Jacob Hargis at Julia Pfeiffer Burns State Park, Big Sur, California.
In 2014, he accepted a position as seabird conservation technician and later wildlife technician at SunEdison. But it was in 2016 that a position with the San Diego Zoo presented itself and Hargis jumped at the opportunity to move to Escondido, California to work as a research assistant. 
"The San Diego Zoo Wildlife Alliance is an incredible organization that is dedicated to studying and saving endangered species worldwide," said Hargis. "It is renowned for its conservation research and field programs. I worked in the recovery ecology department within the institute for conservation research that studied burrowing owls throughout southern California, including locally, in San Diego." 
In 2020, Hargis was offered a job as a biologist for Rincon Consultants, a California-based environmental consulting company in Carlsbad. "The majority of my work revolves around conducting sensitive species surveys on birds, bats, lizards, as well as vegetation mapping, site assessments, environmental permitting and overseeing biological compliance for a wide range of clients and projects from solar, restoration, development, utilities, and transportation." 
When not working as a wildlife biologist Hargis returns to his roots. He loves to fly fish in remote rivers and streams in California, camps in the mountains, and catches a good set of waves at a local surf break in Encinitas, California.
But a former HPU sports statistician does not forget about baseball. "Perfect happiness includes all of these things… and of course watching a Padres game at Petco Park."
All photos courtesy of Jacob Hargis.