Rebecca Teresia.

Team Junho at the Chelsea Film Festival: (Left to Right) Publicist Chase Roberts, Director of Photography/Executive Producer Nick Myggen, Lead Actor Wonjun Jo, Writer and Director David Seok Hoon Boo, Producer Rebecca Teresia, Supporting Actor Nathan V. Lee .

Rebecca Teresia at the Orlando Film Festival.
HPU alumna Rebecca Sy-Ristikangas (known professionally as Rebecca Teresia) was always interested in motion pictures. Born and raised in Finland, Teresia moved to Hawai'i at the age of 17 as an exchange student. She studied at Le Jardin Academy in Kailua and upon graduating, she enrolled at HPU's College of Business while playing viola in the University orchestra.  
Teresia studied international business and finance, graduating in 2015 with her Bachelor of Science in Business Administration. She enrolled in HPU's MBA program soon thereafter. It was while she was working at Merrill Lynch and going to graduate school that she began to seriously follow her dream to work in the film industry.  
"My partner encouraged me to follow my dream and pursue a career in film," said Teresia. "After learning the trade, I realized how much I can utilize my international business and finance background, leading to the creation of my own production company."
But how does a business student begin a career in film?
HPU encourages interdisciplinary education where students from different disciplines collaborate with students in separate programs. When Teresia met HPU Associate Professor and Program Chair for Cinematic Production Peter Britos, Ph.D., the wheels were set in motion. She began by renting equipment at HPU to make short films. Teresia acted in the film Silent Music during her first year of MBA studies, which was screened at the Hawai'i International Film Festival.
"Professor Britos encouraged me to be in his classes," said Teresia. "That's how it all started. I learned a lot from him, both technical and theoretical skills. HPU created a safe environment for me to start something new. It was wonderful. Unique. I am grateful for that because HPU let me explore different areas of study that I was also interested in as a business student."
Teresia graduated with her MBA in 2018. Equipped with a practical, skills-based business education and a background in film she decided to move to San Francisco to work as an actress and a film producer. Her breakthrough as a producer arrived quickly when she met writer and director David Boo. A friendship formed and Teresia was brought on to produce Boo's film project, "Junho."
The award-winning film examines the life of Junho (Wonjun Jo), a rising member of a prestigious theater troupe in South Korea. His troupe gets shrouded in a #MeToo controversy, which leads to Junho moving to San Francisco to escape the fallout. After leaving the culturally conservative community of Seoul and arriving in San Francisco, Junho tries to start a new life, one that is far from acting. His conscience will not allow him to outrun his past. 
In the years Teresia has spent in Hawai'i, she developed a deep curiosity and appreciation for Korean culture. "This film touched me in so many ways; I was excited to give justice to the important story," said Teresia. "I was grateful David Boo trusted me to help bring his vision to life."
"Junho" completed filming just as the COVID-19 pandemic began in 2020. Production halted and the core team spit globally between San Francisco, LA, Hawai'i and Seoul. Even though the team faced new challenges, everyone kept on going and it ultimately allowed for more time to perfect the film.
"I am so grateful for all the support and help team 'Junho' received during this time," says Teresia, "and blessed to have a talented composer redo the score that set the mood for the final edit of the film."
Producing at its core is all about connecting people. Since childhood, Teresia has been bringing people together to ensure everyone is included in her vision that through teamwork everyone is better off.
"I remember orchestrating extensive study sessions for my economics classes with (Economics Professor) Ken Schoolland," said Teresia. "His classes were engaging and educational, but the exams challenging. I quickly started bringing people together with the vision that everyone will excel, enjoy learning and build lifelong friendships. I love to connect, motivate and work together to build teams and establish an environment that allows people to thrive and bring their best creative work to the table. Especially now, as a producer, it is exciting to witness how talent amplifies when everyone works together to elevate each other."
One of the main responsibilities of a producer is to understand how a movie is released to the public. The decision will impact how a film performs. The next step as producer of "Junho" is for Teresa to reach out to distributors who understand the film and who work in that genre.
"A producer needs to see what markets the film will do well in," said Teresia. "My business background is helpful when dealing with various contractual deals in each market. If I don't know something I will seek the answer. Over the years, I have been blessed by incredible mentors."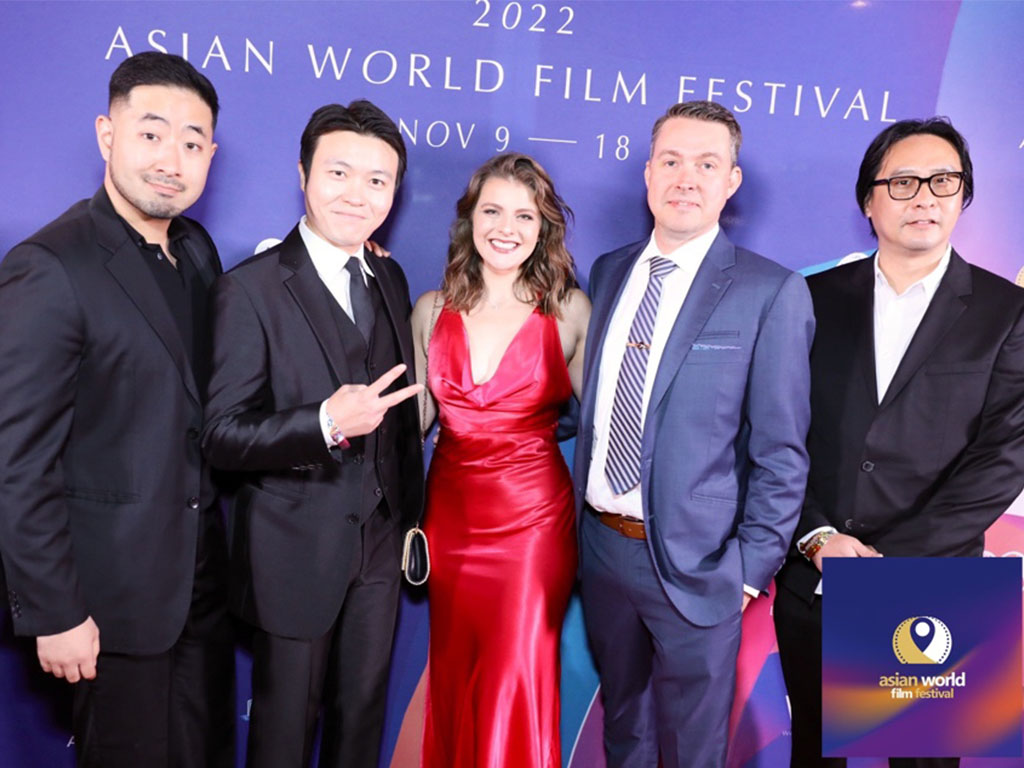 Team Junho at the Asian World Film Festival: (Left to Right) Writer and Director David Seok Hoon Boo, Lead Actor Wonjun Jo, Producer Rebecca Teresia, Director of Photography/Executive Producer Nick Myggen, Supporting Actor John Yi.
"Junho" was nominated for six awards and won Best Foreign Feature, Best Actor, and the Jury Award at the Golden Gate International Film Festival. The film was nominated for six awards and won Best Director, Best International Film, and Audience Award at the 2022 Orlando Film Festival, and won Best Feature at the 2022 Korean American Film Festival New York.
"Junho" was an official selection in the 2022 Chelsea Film Festival, 2022 Asian World Film Festival, 2021 Hawai'i International Film Festival, 2021 Gangneung International Film Festival, and the 2021 Center for Asian American Media.  
"I am not surprised that Rebecca has produced a feature film that is making the rounds of the international film festival circuit," said Britos. "Nor am I surprised that she has a major role both behind the camera and in front of the camera. She was always a resilient producer and creative leader. I remember her being proactive, astute, and a great collaborator with students and crew from across the university and in the professional community."
Teresia has remained in touch with several HPU faculty over the years. Whether the faculty are in business or film studies, Teresia believes that they are all incredible professors.
"I loved my classes at HPU," said Teresia. "The professors truly let me shine in my own way. HPU faculty members Peter Britos, Ken Schoolland, (Professor of Management) Michelle Alarcon, and (Associate Professor of Music) Theresa McCreary are lifelong mentors to me, which does not always happen at larger schools. HPU has an incredibly diverse student body. I have friends and colleagues globally because of HPU. I had classmates from all over the world. It is such a huge gift. The faculty are incredibly supportive, knowledgeable and approachable."
One of Teresia's dreams is to produce projects globally on Netflix, Hulu, or HBO. With her strong business background, it is very likely to happen. Recently, she started Sisu Media Productions in Hawai'i. The goal of the production company is to connect filmmakers from Mainland U.S., Europe, and Asia to Hawai'i.
"I have lived in Hawai'i for 12 years and have worked and lived in many other parts of the world," said Teresia. "I aspire to be a producer who can connect talent globally and work with diverse filmmakers. It would be an honor to help navigate filmmakers in Hawai'i so that their projects can be done with  respect to Hawai'i's land and culture. I understand permitting, tax credits, and hiring crew. I would like to bring global options to Hawai'i. There is a lot that Hawai'i has to offer, and I would love to be part of that. 
Culture is Teresia's passion and why she studied international business at HPU. Living and studying in Hawai'i gave her the chance to understand diverse cultures and to meet a group of world class thinkers. "It's something I would not have had the chance to do back home in Finland," said Teresia.
"Some words of advice to our upcoming creatives. Remember to be true to yourself, celebrate your uniqueness, listen to what your heart says. Then visualize it, believe in yourself and work hard. If you are not invited in certain rooms, create those rooms yourself and find ways to elevate those around you."
To learn more about "Junho" and Teresia's role as producer click here. You can find her on LinkedIn and by visiting www.rebeccateresia.com 
For additional information on how to apply to HPU College of Business and to learn more about the programs offered at the College click here.