Matt Smyth.

Matt Smyth's discussion included HPU faculty members and students.
HPU recently welcomed back double-alumnus Matt Smyth, '02, '03, to campus for an insightful lecture to HPU business students, sharing his wealth of knowledge and experience in the world of business. Smyth holds a bachelor's degree in international business and an MBA in marketing from HPU. His visit included guest lectures in three HPU marketing classes where he discussed the importance of branding and customer engagement strategies.
Smyth also spoke with members of HPU's Delta Mu Delta, a distinguished honors society for business students that recently resumed its activities after a brief hiatus due to the COVID-19 pandemic. Smyth's discussion with Delta Mu Delta members and several HPU business faculty shined a light on the significance of LinkedIn and the power of networking for college students, hitting home the immense potential it holds for building a professional network while in university.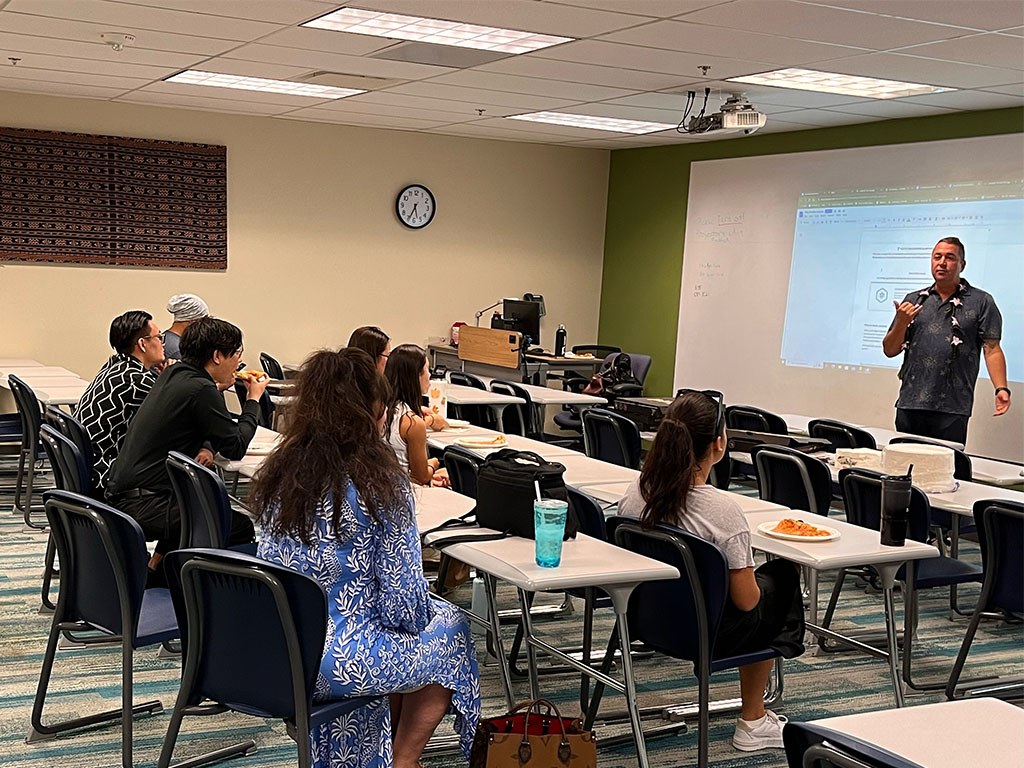 Matt Smyth shared a wealth of knowledge and experience to HPU students and HPU faculty members.
HPU Dean of the College of Business Mark Rosenbaum, Ph.D., attended the Delta Mu Delta gathering and noted that he was surprised several students did realize how important LinkedIn was, despite their proficiency in social media platforms like Instagram, TikTok, and Facebook.
"Students really should be using LinkedIn now, while they are in college to build a network," Rosenbaum shared. "It was wonderful to see Matt engage with our business students on why we use LinkedIn and how to get the most out of that powerful social media platform." 
Smyth has two decades of experience in business and has made a name for himself as an influential business leader. He is on a mission to foster win-win relationships and provide innovative resources that empower individuals, entrepreneurs, and companies to achieve their goals. His understanding of business organizations, sales techniques, marketing strategies, and best practices has earned him a remarkable reputation.
Currently serving as president of WinWin, Inc., a consulting firm based in Las Vegas, Smyth continues to share his expertise with various organizations, including the Department of Defense Government Contractors, insurance brokerages, contractors, real estate organizations, manufacturers, wholesale distributors, and San Diego State University, among others.
Smyth's visit to HPU reaffirms the strong bond between alumni and the University and provides valuable guidance and inspiration to the next generation of business leaders. His commitment to helping others reach their ambitions and his proactive approach to offering support and resources serve as an excellent example for all aspiring professionals.