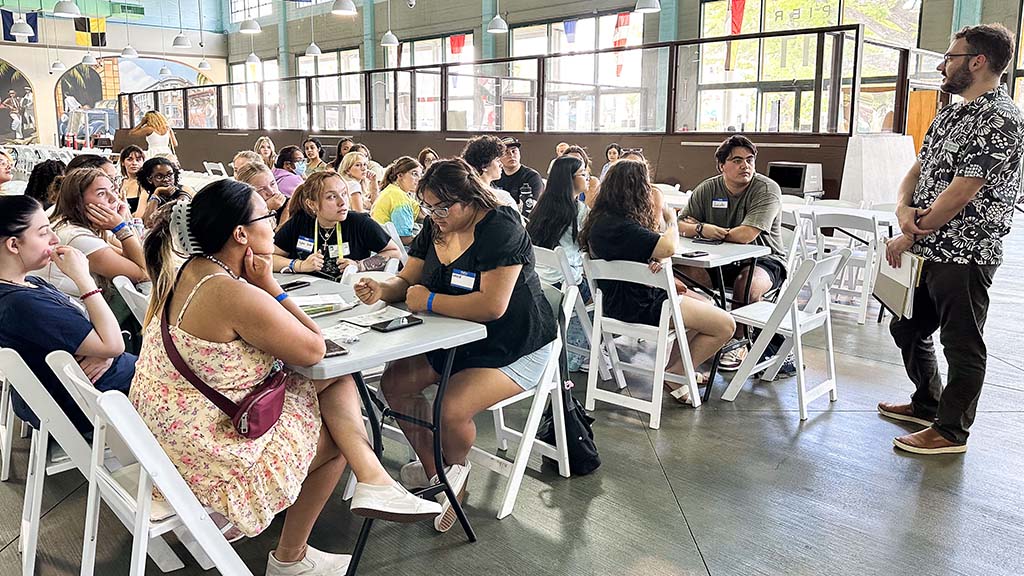 Ho'oko Rising Scholars students met with HPU professors, staff, and University leaders in August 2023.
HPU welcomed its inaugural cohort of nearly 80 Ho'okō Rising Scholars students to the University's Aloha Tower Marketplace campus in August 2023. The special meet-and-greet among students, professors, staff, and University leaders was the first step in a five-year grant that provides enhanced student support services to first-year students to ensure their academic success at the University. The Ho'okō  Rising Scholars program was funded in 2022 by a $3.35 million grant from the U.S. Department of Education.
"The Ho'okō Rising Scholars program focuses on students that are under-resourced or under-represented in higher education and have placed into HPU's first-year transitional math and writing courses. Scholars include students that are Pell-eligible and the first in their family to go to college," HPU Ho'okō Rising Scholars Director Adam Clark said. "Thanks to an additional grant from the Kosasa Foundation, the Rising Scholars will also receive a generous stipend for textbooks in our Shark Bundle program and access to healthy food and other snacks if they have the need."
HPU students who qualify for the program are earning an associate or bachelor's degree and place into one or more transitional courses administered by the University during their first two years of college.
To ensure each student has full access to the enhanced support services HPU has hired several dedicated staff and faculty members as well as peer tutors who will provide instructional support in the dedicated math and writing courses. Training and professional development for HPU staff members on the unique needs of the program's students will also be provided. Students in the program will meet with dedicated math and writing tutors for the entire semester, and they will also receive advising with their academic coach twice a month. "All of the student support services that we offer are in addition to the amazing wrap-around support services that all HPU students already receive at the University," said Clark.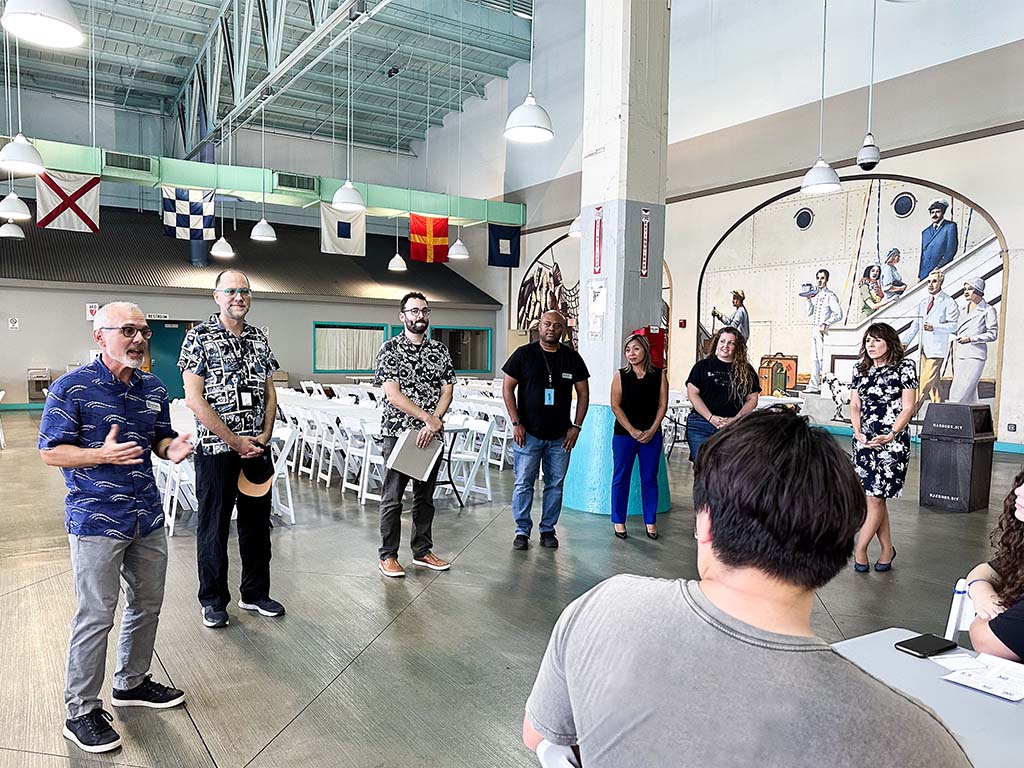 HPU professors, staff, and University leaders with the inaugural cohort of students (pictured left to right): Steven Fenster, Julian Bukalski, Adam Clark, Tiant Sprow, Hieu Stuart, Jessica Olsen, Jennifer Walsh.
"Academic coaches will work with each program participant to develop a customized academic plan tailored to the needs of each student. There are many first-generation college students in the program who will receive assistance to ensure that they feel a sense of belonging at HPU. There is an abundance of research that shows that if a student feels a sense of inclusion, they are much more likely to succeed in their academic pursuits."
The program includes weekly workshops on navigating the university experience, financial literacy, notetaking, and other important topics scheduled throughout the year. Rising Scholars will also be encouraged to participate in one volunteer activity per semester. 
"The volunteer activities will help students engage and connect to Honolulu, and greater Oahu," Clark said.  "Our students are also required to meet with a career coach once a semester. In combination with these volunteer opportunities and our connections with local businesses, the career coaches help them develop an understanding of their future career – and give them an edge when they hit the job market."
To qualify for the Ho'okō Rising Scholars program, a student should apply to HPU and submit their test results to the University. If a student has not taken the ACT or SAT, it is not a problem, states Clark. Since HPU is test optional when applying, students can take the placement tests on-campus or at home to see if they qualify for the program.
"HPU has many opportunities for students, whether they qualify or do not qualify for the Ho'okō Rising Scholars program," Clark said. "The first step is to take one of these tests to see their eligibility."
The Ho'okō Rising Scholars program was designed to promote successful completion of transitional coursework; it will support increased credit accumulation, stronger academic performance, and improved, timely completion of lower-division and bachelor's degree requirements.
Components of the Ho'okō Rising Scholars program were based in-part on the successful City University of New York's (CUNY) Accelerated Study in Associate Programs that focuses on assisting students in developmental education courses. CUNY's program found positive student results in progress through developmental education, credit accumulation, improved academic achievement, increased transfer rate, and increased degree attainment.
To learn more about HPU and to apply, click here.