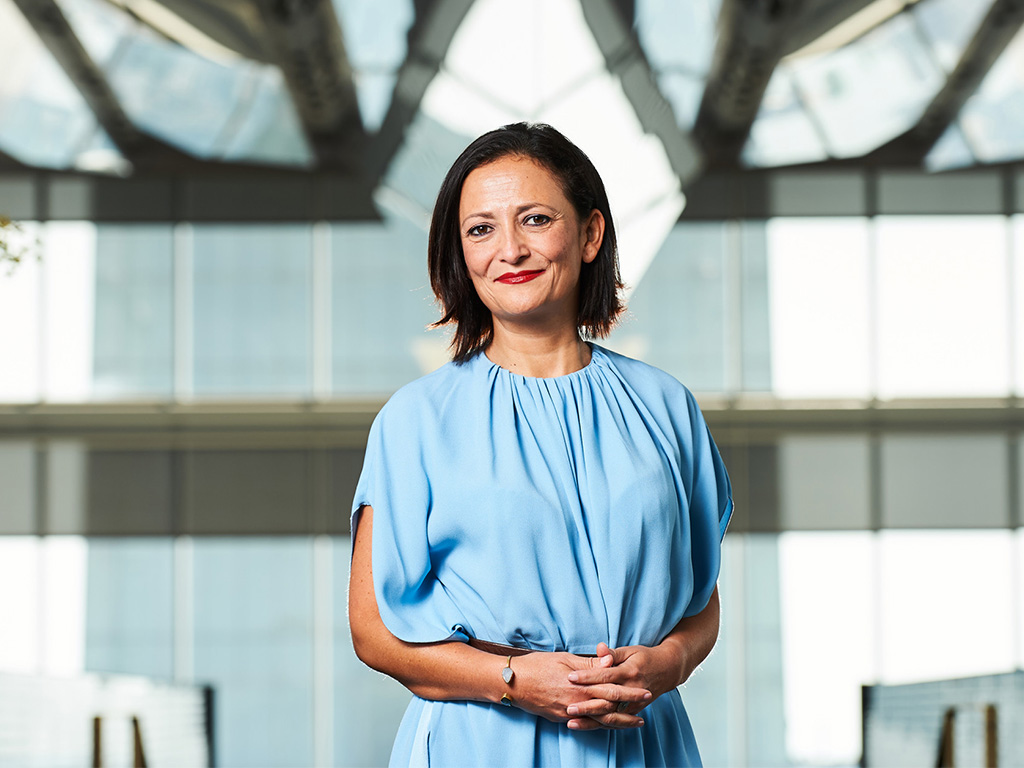 Cornelia Samara. Image By Four Seasons Hotel .
Morning sun in Jerusalem breaks through the clouds and radiates a mellow gold across the ancient city walls. Travelers from around the globe arrive to experience the historic sites of Jerusalem, often booking tours to visit the Holy Land. 
Cornelia Samara had a vital role as a young girl in helping her parents run and operate the family travel agency, meeting tourists at airports, attending dinners at hotels. She was captivated by the energy of meeting people, creating lifelong experiences for them.
"As a child, I used to watch a show called Hotels," said Samara. "I was fascinated by the seemingly 'glamorous' lifestyle of hotel life. A hotel is so much more than a place to stay. It's an opportunity to create beautiful experiences – not just for our hotel guests, but for hotel employees as well. I was fortunate to have grown up in a multi-cultural environment – starting with my parents – to being introduced to tourists from various destinations, and finally, to my friends at school with such diverse backgrounds."
Samara was born and raised in Jerusalem to a Palestinian father and German mother. Her parents ran Samara Tourist and Travel, a thriving business that operates to this very day in Jerusalem. "My mother is retired, and my father passed away years ago," said Samara. "My sister, Christina now runs our family travel agency and is the co-founder of Breaking Bread Journeys."
On a 30-day trip around the world Samara stopped in Hawai'i with her two sisters and mother. She fell in love with the 'ohana spirit. HPU called to her.
"I was drawn to HPU, the local internship programs offered at the University," said Samara. "HPU has small class sizes and a great mix of international students. The University provides students with the opportunity for hands-on learning with professors in their fields."
While enrolled at HPU and earning her Bachelor of Science in Business Administration in travel industry management Samara was charmed by the tranquility of ʻIolani Palace. The Palace, a five-minute walk from HPU's downtown campus and was the royal residence of the rulers of the Kingdom of Hawai'i, is the only royal palace in the United States.
"I loved the element of tranquility and peace at ʻIolani Palace and its surrounding lush green lawns," said Samara. "It provided a great location for concentration and studying."
When Samara graduated with her degree in 1997, she began her career in travel industry management. The hospitality internship program at HPU helped Samara start her meteoric rise in the industry. What started out as a reservations intern at Royal Hawaiian Hotel quickly became front office receptionist, which led to a series of opportunities that took Samara across the world.
"My journey in the industry has taken me to Singapore, Cincinnati, Atlanta, San Francisco, Boston, Washington D.C., New York, Miami, and now, Philadelphia," said Samara. "I became a general manager with Hyatt Hotels at their flagship Andaz Hotel in New York City, then opened 1 Hotel Brooklyn Bridge, Barry Sternlicht's flagship property in the city."
In July 2021, Samara was appointed general manager of Four Seasons Hotel Philadelphia. She will oversee hundreds of hotel team members at the first and only Forbes Travel Guide Five-Star Hotel. 
"I am so proud to have been introduced to such varied cultures and ethnicities while at HPU," said Samara. "This experience helped build the foundation of diversity, belonging, and inclusion that I've used as an anchor within my career in hospitality.
"In pursuing a career in hospitality management, I most certainly recommend HPU to someone who values both academics, taught by professors in their field, and hands-on cultural experiences with students from across the world. Graduating from HPU equips you with a background in relating to people from around the world, which is one of the most important attributes to being successful in the hospitality field."
To explore the hospitality and tourism management program at HPU click here.