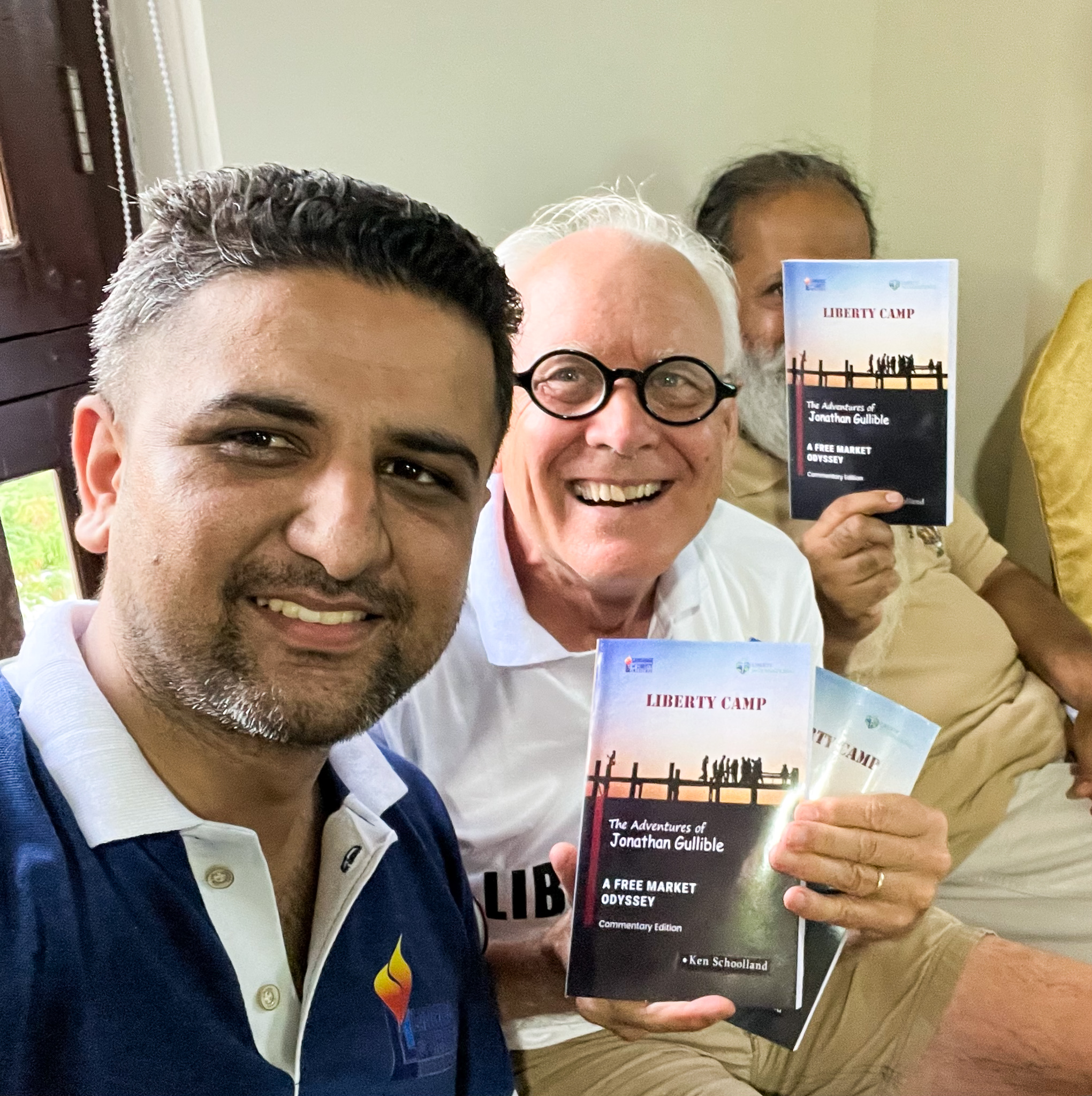 Ken Schoolland (center) in Nepal.
HPU Associate Professor of Economics Ken Schoolland is having a busy and fulfilling summer, traveling through Africa, South Asia, and Eastern Europe giving lectures, preparing a new edition of his highly successful economics book, giving interviews for various newspapers, and speaking at conferences. Schoolland is working with an animation team to produce a video series of his economics book. That book, The Adventures of Jonathan Gullible, has been published in 57 languages and in over 85 editions. It is one of the most successful books on economics in recent memory.
"I wrote Gullible as an economics book designed to make economics fun and interesting," said Schoolland. Schoolland's electrifying summer travels began in June where he and his wife gave lectures about markets and prosperity at a three-day conference hosted by Action for Leadership and Economic Development of Entebbe, Uganda. It was at this event that a new French edition of Gullible was released by the attendees from Burundi. Schoolland was also interviewed for Ugandan television.
"My wife and I gave lectures at the UHRUH CON 2022 student convention in Dar es Salaam, Tanzania" says Schoolland, "and we were featured in articles for The Times Majira and The Guardian newspapers. New translations of Gullible have been completed in Swahili (Tanzania) and Chichewa (Malawi)."
Schoolland made his way to Nepal in July. He gave lectures on behalf of the Samriddhi Foundation of Nepal, at three business colleges in Kathmandu, and was interviewed for a column in The Kathmandu Times.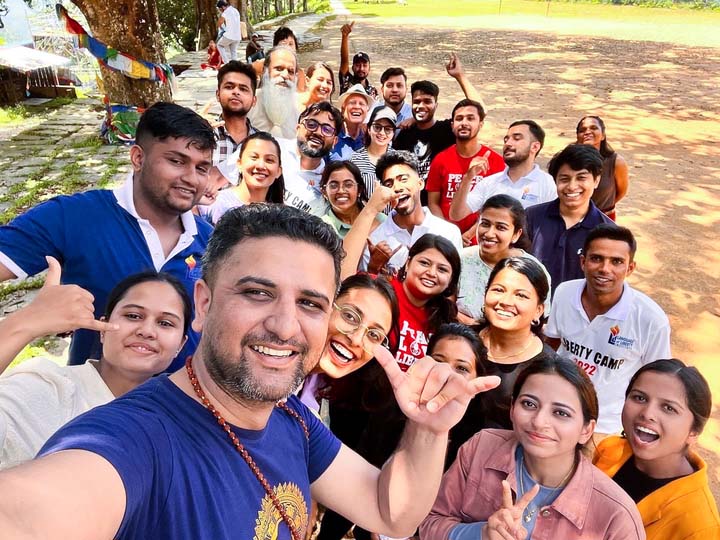 Ken Schoolland (back row, center) with students in Nepal.
"I gave two more lectures at colleges in Pokhara," says Schoolland, "and then we were hosted by the Language of Liberty Institute for a week of lectures at the mountain resort of Bandipur where they released a new English commentary edition of Gullible for the study sessions. My wife gave an interview about China for Business 360 Magazine."
Recently, Schoolland made his way to Goa, India, for a series of economics lectures. He plans to return to the U.S. for a week of lectures on The Economics of Life at Chapman University in Southern California; in August, he plans to speak at the Liberty International World Conference in Tbilisi, Georgia on migration issues.
"I expect the Ukrainian edition of my book to be published and released at this event," said Schoolland. 
Schoolland has been a professor of economics at HPU for over 40 years. He first started with Hawaii Loa College (merged with Hawaii Pacific) and has since taught economics at the university and helped run the Reason Club and the Hawaii Pacific Entrepreneur Club. He also wrote Shogun's Ghost: The Dark Side of Japanese Education, translated in two languages.   
All photos courtesy Ken Schoolland.