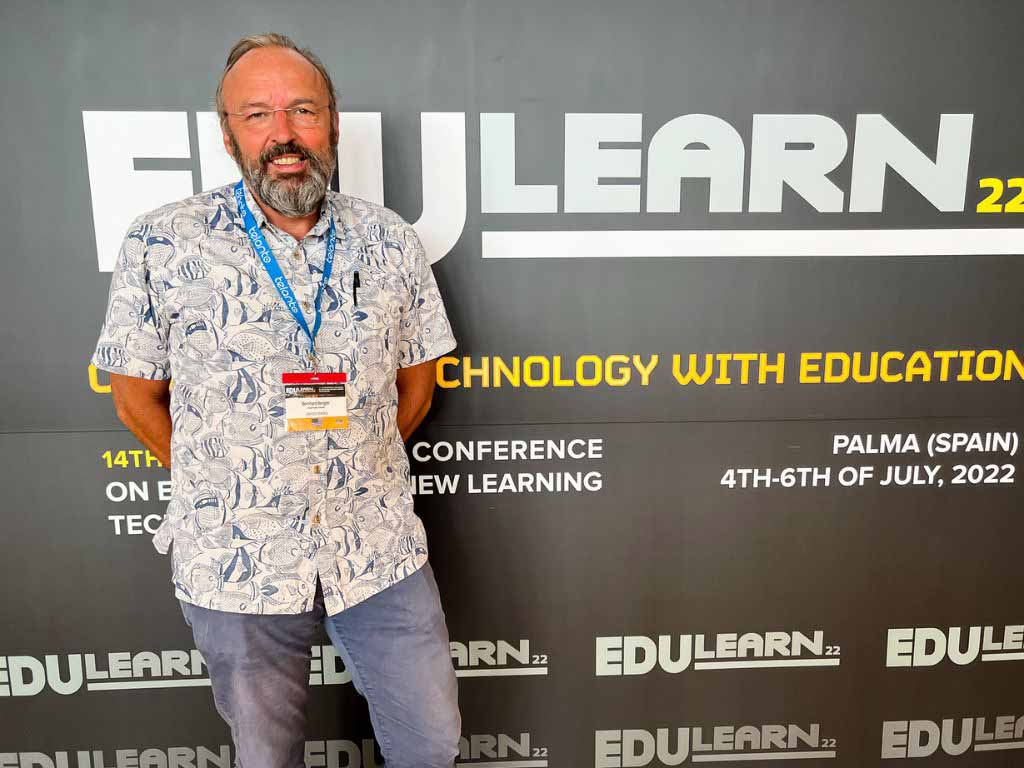 Bernhard Bengler.
HPU Assistant Professor of Information Systems Bernhard Bengler, D.B.A. travelled to Spain to attend the 2022 EDULearn conference held in July at the convention center of Palma de Mallorca. 
Bengler moderated the entire university-industry collaboration session at the conference. His presentation on HPU's approach to project-based-learning and its Center of Excellence with Telanto drew great attention, not only during Bengler's session but throughout the entire conference. People from around the world showed interest in HPU's approach on how to introduce projects in classes on a large scale and in a repeatable fashion.
"It clearly showed that the innovative approach to widely use project-based-learning through third party platforms (e.g., Telanto) moves HPU to the forefront of innovative teaching that prepares students for their future professional careers in an ideal manner," said Bengler. 
HPU Associate Professor Lawrence Rowland, Ed.D., and Bengler of HPU's College of Business are researching the benefits of project-based-learning for the stakeholders involved (e.g., higher-education institutions; instructors, students and industry partners; project partners), and are conducting a longitudinal study on HPU's introduction of project-based learning.
The first survey conducted in summer 2022 showed that over 84% of all students who participated in projects so far think that the project experience contributed to the class learning outcome, and close to 70% of all students would prefer a class with real life projects if the same class was also offered without projects.
The research also provides great insights where the approach leaves room for improvement, especially with regards to the comparison of graduate and undergraduate courses.