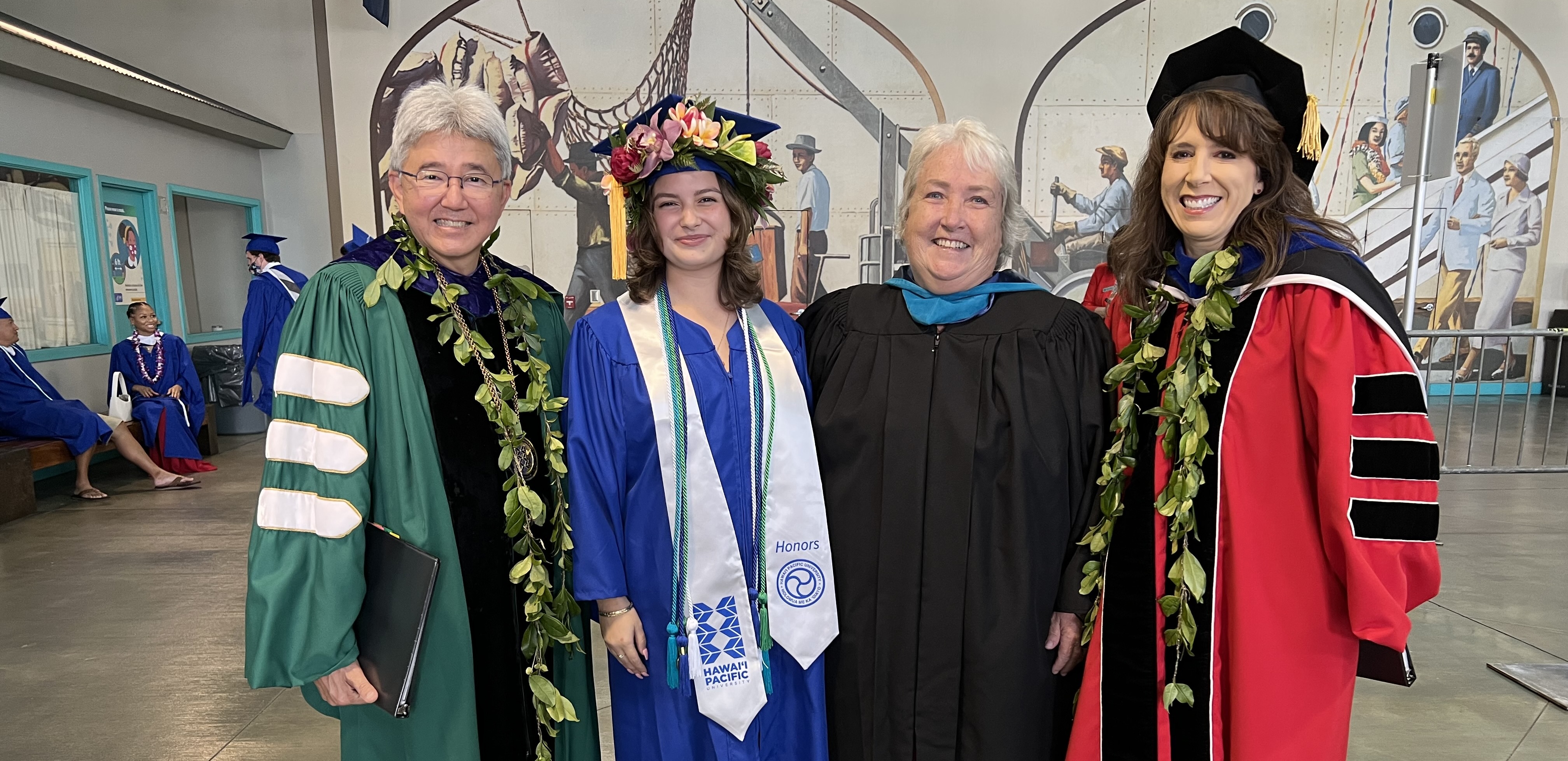 Pictured at HPU Spring 2022 Graduation (Left to Right): HPU President John Gotanda, J.D., Mariah Morgado, HPU Criminal Justice Department Chair and Instructor Sheryl Sunia, HPU Senior Vice President and Provost Jennifer Walsh, Ph.D..
HPU alumna Mariah Morgado '22 began her educational journey at HPU as a junior in high school. A dual-credit program student from Maryknoll High School, she took classes at HPU while earning her diploma. Morgado participated in theatre in high school, ran for the varsity cross country team, and was on the debate team.
" The dual-credit program with Maryknoll and HPU was a perfect fit," said Morgado. " It gave me a balance of high school experience and the ability to work on my college degree at the same time. My counselor at Maryknoll was always available to guide me through the dual-credit process."
Morgado was born and raised in Kaneohe. She grew up going to the beach with her mother and father and her younger brother and sister. She has lived her entire life in Hawai'i and wanted to stay in Hawai'i for her college career.
"My siblings are my best friends," said Morgado. " My parents are my biggest supporters and are my role models. They taught me the significance of hard work and the importance of friends and family."
While earning her A.A. degree at HPU Morgado found the study of criminal justice to be especially fascinating. "I enjoyed learning how the world operates from a legal perspective," said Morgado. "The faculty members in the criminal justice department were wonderful so I decided to continue at HPU after graduating from high school, earning my B.S. degree in criminal justice in one year.
It was during Morgado's final year as an undergraduate that she discovered her enduring interest in law. It was her favorite professor at HPU, Judge Randal Lee, assistant professor of criminal justice, who guided her to apply to law school at the age of 18.
" Judge Lee's classes were extremely engaging and informative, which fueled my passion for law," said Morgado. " He remembers everyone, and he makes you feel seen and heard. Judge Lee goes beyond the norm to assist students to reach their goals. He is a great mentor."
Morgado was accepted into the University of Hawai'i at Manoa William S. Richardson School of Law as a teenager; she will be studying as a teenager for the first semester starting this fall. Morgado turns 20 in April 2023.
" I'm interested in contractual, constitutional, and estate law," said Morgado. " Language and the use of words is exciting to me. Words matter. How they are spoken and organized is how our world is structured. The way our laws and contracts are written has a direct impact on our daily lives."
The HPU dual-credit program partnership with Maryknoll Schools began in 2017. That fall, the first cohort of students enrolled at HPU. Kamehameha Schools and Hanalani Schools followed suit and both schools have dual-credit partnerships with HPU.
In fall 2021, more than 1,000 Kamehameha School students enrolled in the HPU dual-credit program to earn their A.A. degrees. Many are expected to graduate in spring 2023.
" The dual-credit program is an excellent opportunity for high school students in Hawai'i to begin their educational journey," said Morgado. " The program offers a lot of flexibility. I opted for full-time, but there are options to take just a class or two. Students can still participate in high school athletics, social groups, and other extracurricular activities."
To learn more about the dual-credit program at HPU click here.