HPU Residential Honors Program students at Waimea Bay on O'ahu.

Professor Jon Davidann and Associate Professor Andrew Greene teach an honors course at Waimea Bay.

Associate Professor Tara Davis teaches an honors course at HPU.

Residential Honors Program students are taught geology on-location at Waimea Bay on O'ahu.
The HPU Residential Honors Program is one of the more distinctive programs at the University. Honors students enroll in a freshmen cohort where they are guaranteed housing at Waterfront Lofts at Aloha Tower Marketplace. The curriculum is organized around a series of team-taught interdisciplinary seminars in which students examine issues of enduring importance, explore questions of sustainability, and learn about the history and geology of Hawai'i through field trips where professors instruct at beaches, natural habitats, and alongside historical landmarks.
Experiential learning is at the core of the program. Students receive one-on-one mentorship by distinguished faculty, and they gain real-world internship opportunities. The Senior Honors Project encourages students to work independently and to think creatively by combining two separate disciples into one capstone project.
"The HPU honors program is unique because of our focus on interdisciplinarity," said HPU History and Humanities Professor and Honors Programs Director Linda Lierheimer. "Sustainability is built into the curriculum where students get hands-on experience in the classroom. Professors from different disciplines work together in one course to provide a richer understanding of the environment that our students are studying and living in."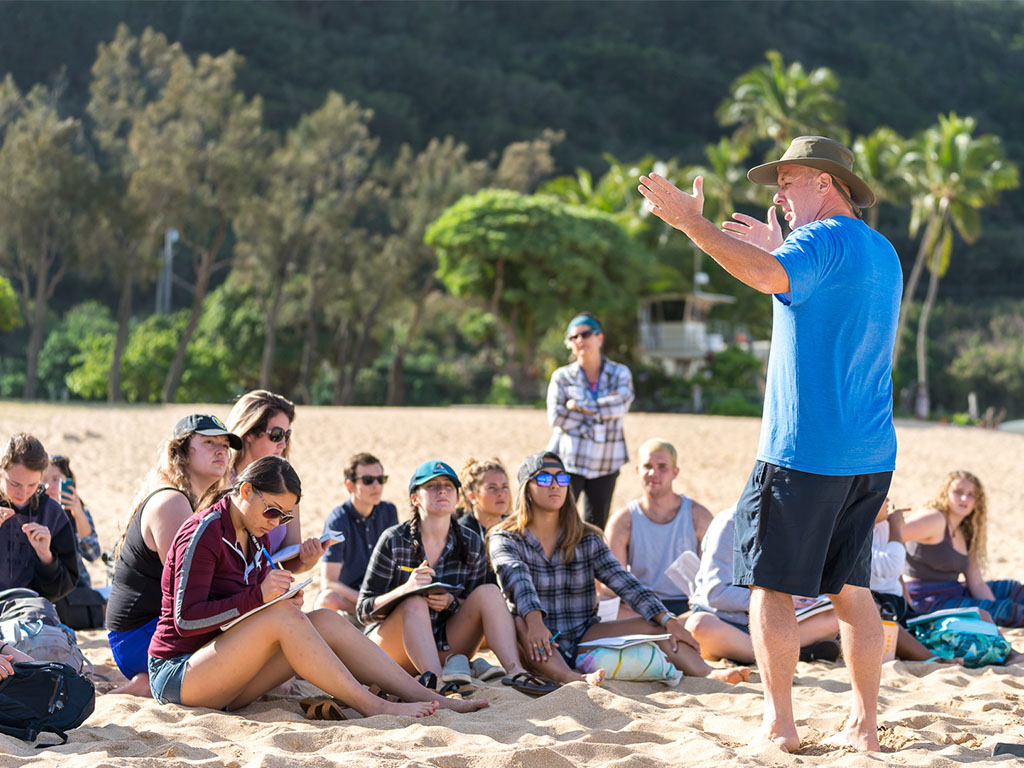 Professor Andrew Greene teaches Residential Honors Program students at Waimea Bay on O'ahu.
Honors students receive personalized attention in the classroom and the class sizes are extremely small with a ratio of seven students per faculty member. Students move together as cohorts and have a stronger sense of community because they live and study together and engage in activities within their communities. They address sustainability across the disciplines with a special focus on Hawai'i, the Pacific, and the surrounding region.
More than a classroom experience, the honors program incorporates community engagement projects designed to deepen student understanding of the Pacific world. Graduates of the program see the world differently because they are taught differently; they are trained in interdisciplinary research, so they are well prepared for the real world and the many challenges and opportunities people may encounter. 
"Honors students view vital issues in the world through diverse lenses," said Lierheimer. "It's one of the more unique aspects of the program."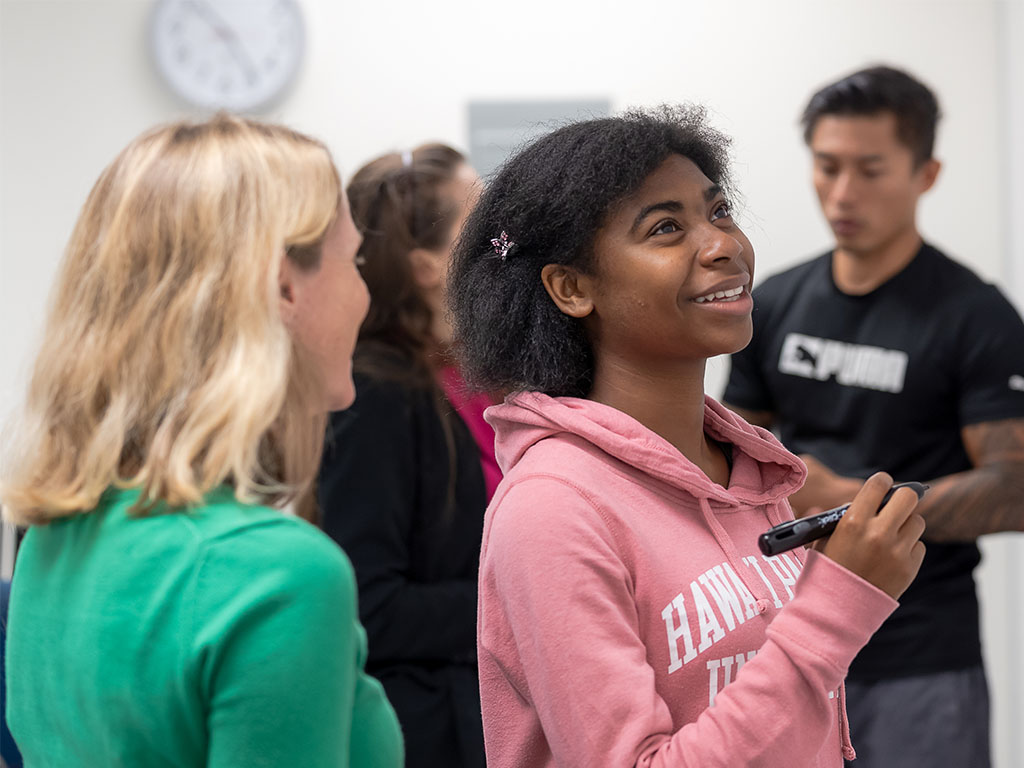 Residential Honors Program students in the classroom at HPU.
Applying to the honors program requires just a separate application that complements the HPU general application. Students are selected on a holistic, creative, and entrepreneurial spectrum where a high GPA is not the definitive factor.
"We are looking for students who think outside the box, who are original and are looking to be academically challenged and want to develop leadership skills," said Lierheimer. "Our students are as diverse as possible, from multicultural backgrounds, from Hawai'i, the mainland, and also from countries all around the world."
To learn more about applying to the honors program and to see the various advantages a student will gain from graduating as an honors student click here.