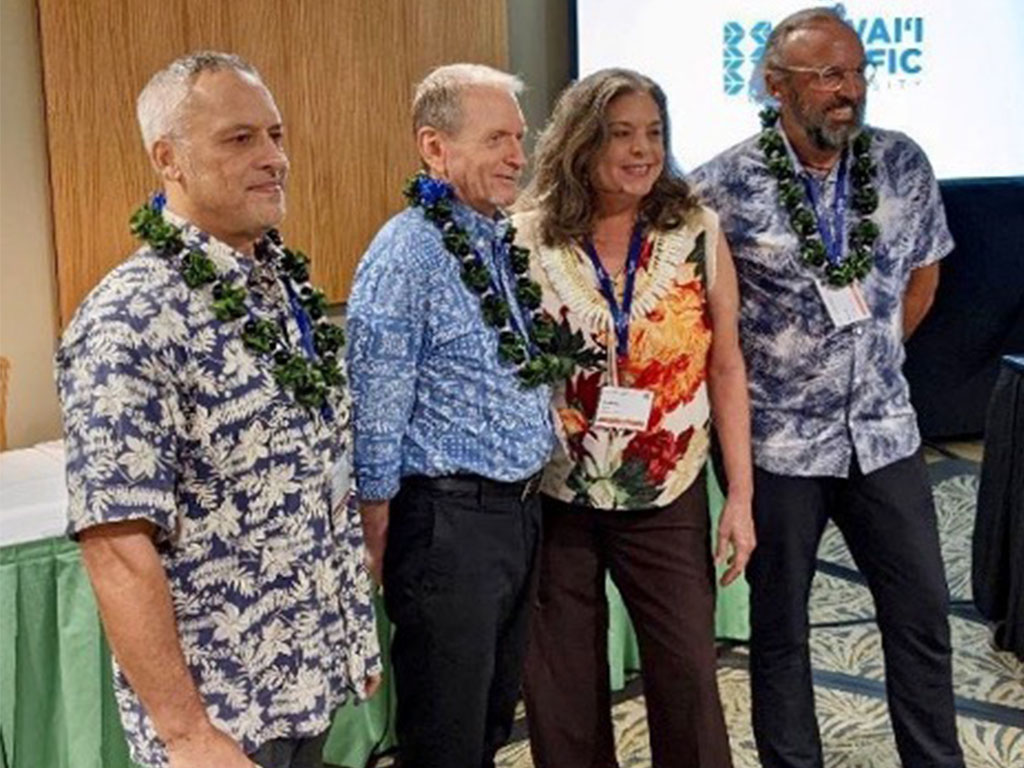 HPU Professors at the Professional Development Day Engage 2022 conference (Left to Right): Peter Britos, Lawrence Rowland, AnnMarie Manzulli, Bernhard Bengler.
On December 5, 2022, a panel of HPU professors representing business, information systems, communication, and media production described their projects, processes and experiences with project-based learning at the Professional Development Day Engage 2022 conference. The conference was held at the Ala Moana Hotel and was organized by the Project Management Institute (PMI) Honolulu, Hawai'i chapter.
Moderated by HPU Associate Professor of Information Systems Lawrence Rowland, Ed.D., the conference speakers included HPU Assistant Professor of Information Systems Bernhard  Bengler, D.B.A., HPU Communication Studies and Practices Program Chair AnnMarie Manzulli, M.S., HPU Associate Professor and Program Chair for Cinematic Production Peter Britos, Ph.D.
The panel discussion is one of many engaging talks, workshops, and networking opportunities. This is the first PMI in-person conference held in over three years. PMI is the world's leading not-for-profit membership association for the project management profession, with more than half a million members and credential holders in 185 countries. 
PMI's mission is to promote the project management practice and profession through networking, sharing of project experiences, training, education, and certification in Hawai'i.