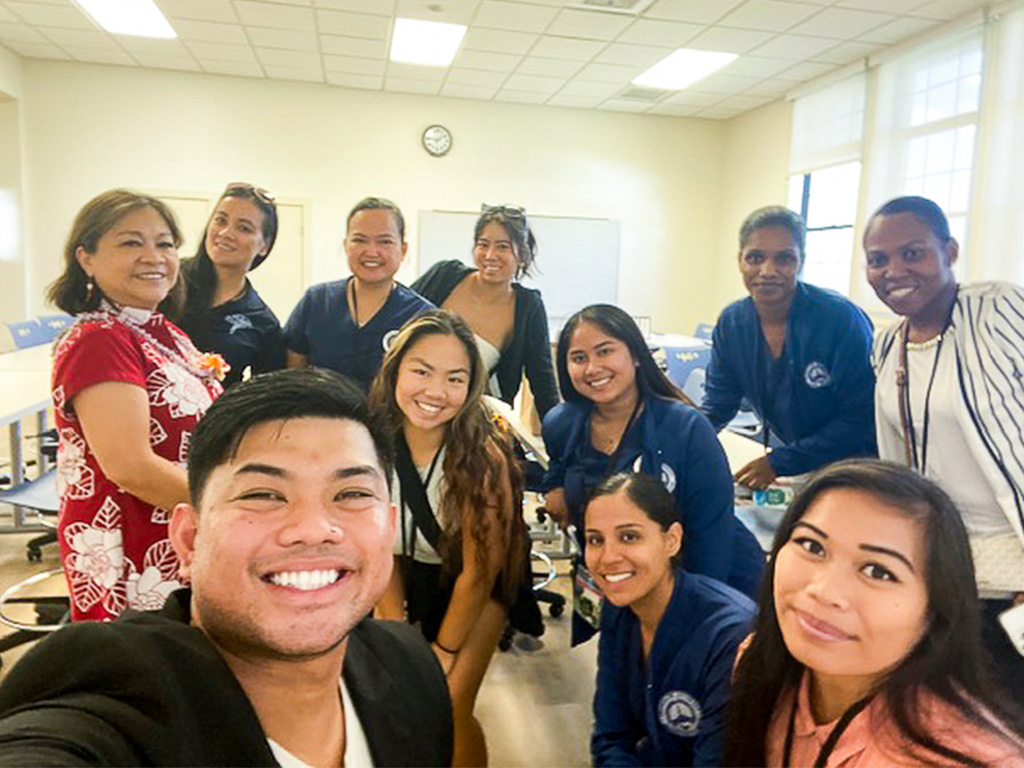 HPU nursing students and faculty members at the Hawaiʻi Student Nurses Association held conference on October 28, 2023.
HPU nursing students and faculty members recently participated in the Hawaiʻi Student Nurses Association (HISNA) 10th annual conference held at Chaminade University on October 28, 2023. HPU Dean of the School of Nursing Edna Magpantay-Monroe, Ed.D., APRN, CMDCP, and HPU Lecturer Jo Wakayama, MSN, APRN, FNP-BC, were featured workshop speakers and recent HPU graduate Ken Imamura '22 participated on the alumni panel, speaking on his experience as a new graduate.
This year's conference was titled, "Compassion Beyond Duty." It delved into the essential aspects of nurturing deep connections with patients, all the while safeguarding the mental well-being of nurses, where love and empathy often go hand in hand. HPU students who attended the workshop sessions networked with nurses and healthcare professionals and met with vendors from various nursing organizations. They also won some great prizes and swag.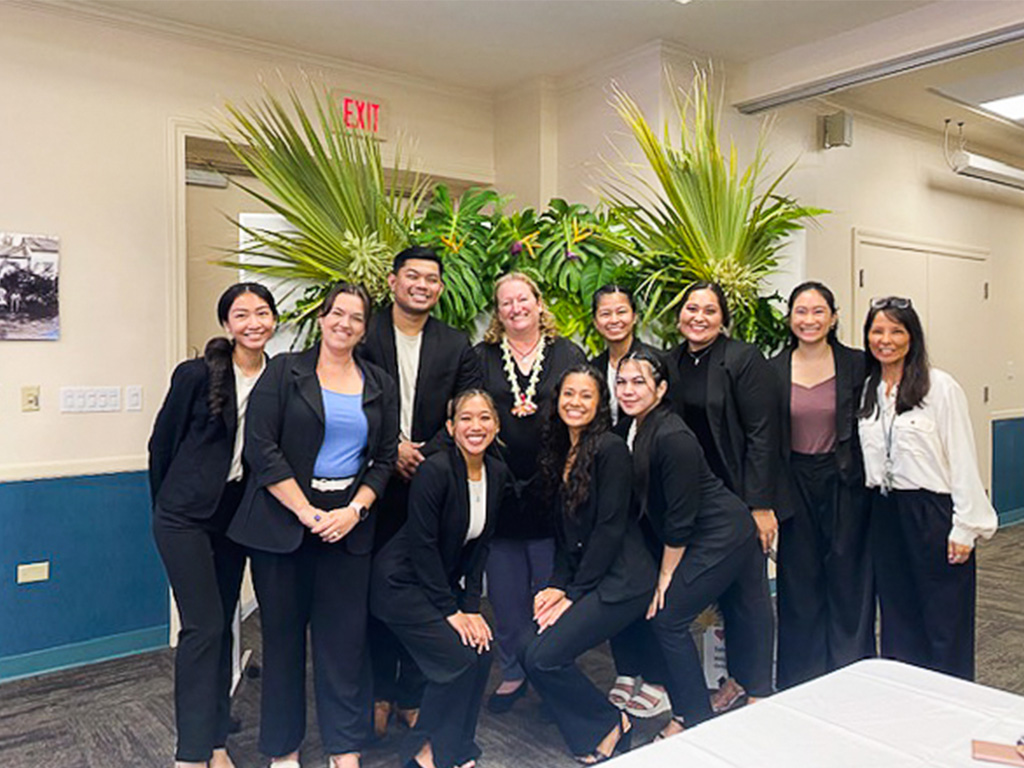 HPU nursing students at the HISNA conference.
For the past decade, HISNA conferences have consistently united student nurses from various nursing schools across Hawaiʻi for an enriching experience in learning and networking. The conference perfectly aligns with HISNA's broader mission of delivering a top tier nursing education and preparing future nurses to provide the highest quality healthcare with unwavering compassion.
"Since starting in 2014, the HISNA conferences have been remarkable events to support our nursing students in the state," Magpantay-Monroe said. "I am very passionate about this organization, being a former faculty advisor and current sustaining member of HISNA. My workshop was titled, 'Who will care for me? A Story Telling Approach.' My objectives were to apply the use of storytelling to help care for the self, and to identify self-care approaches to promote emotional safety. I also used my singing bowl to help center the participants and provide a loving kindness meditation."
Wakayama's workshop, titled "Energy Healing" provided attendees with insights into different methods for promoting pain relief and healing in patients. The workshop covered nurse-made techniques such as healing touch, therapeutic touch, and Reiki to enhance awareness and understanding. The workshop emphasized the importance of linking scientific research, supporting energy healing with NANDA diagnoses of "imbalanced energy field" to connect the science with practical nursing care. Wakayama shared strategies for safeguarding oneself from negative energy in clinical care, underscoring the significance of self-care in providing better patient care.
HPU nursing student Laura Maynard was a representative for HPU at the conference. She shared how participants had the opportunity to engage with three distinct topics and teaching experiences. These topics were intricately linked to the nursing curriculum and provided valuable insights into unique and significant subjects that could greatly benefit their careers. 
"As a board member with HISNA, I enjoyed the experience of putting together an event I am proud of," said Maynard. "The overall event was extremely successful, and I love that our students had great things to say. The participants in Professor Wakayama's workshop enjoyed a short lecture on the many different types of energy healing and then practiced pulling their own energy and passing it onto a participant nearby, sharing the good energy."
HISNA participation from Hawaiʻi universities included HPU, Chaminade University, University of Hawaiʻi at Mānoa, University of Hawaiʻi at Hilo, Kapi'olani Community College, and Maui Community College.
To learn more about the HPU School of Nursing, click here.