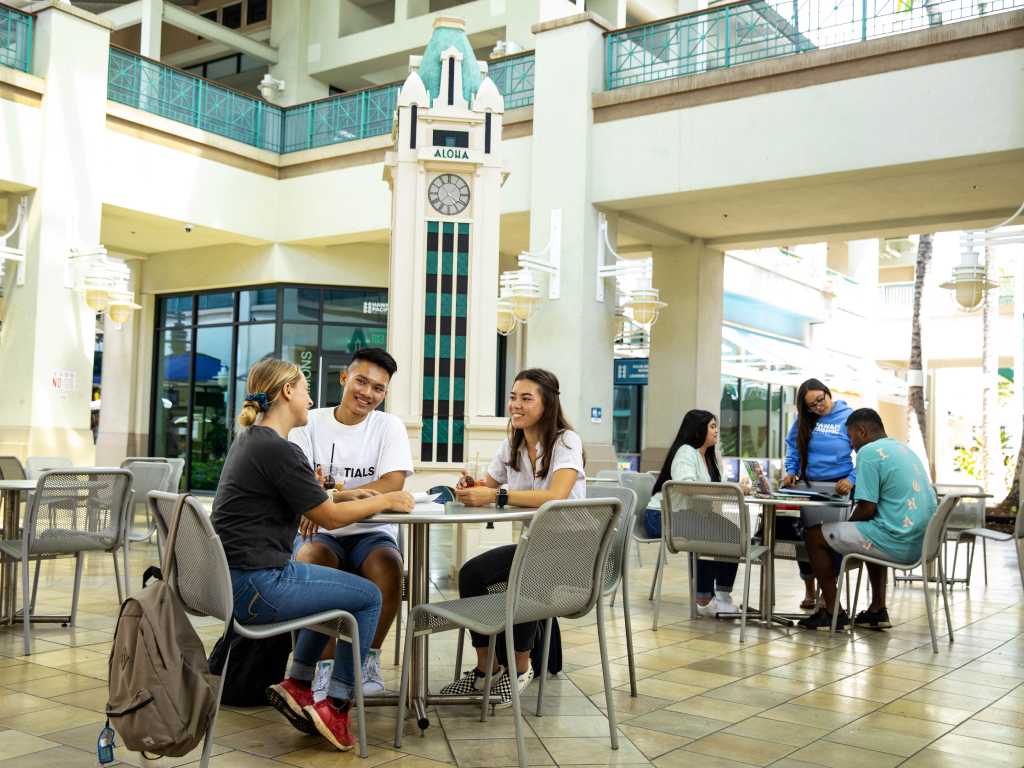 Study group of HPU students at HPU's Aloha Tower Marketplace.
Attending HPU has become even more affordable for all Hawaiʻi high school seniors looking to study at home for their undergraduate studies. HPU is offering Hawaiʻi seniors a minimum $10,000 annual tuition scholarship (renewable for three additional years) to be part of one of the most culturally diverse student bodies in the U.S. 
"At HPU, we believe it's our responsibility to give back to the community," said HPU President John Gotanda. "We are committed to providing a world-class, private education at an affordable cost that is accessible to all students of Hawaiʻi."
Eligible students for the Guaranteed Scholarship and Admission Program (GSAP) must have an anticipated 2023 graduation date from an accredited Hawai'i high school, a cumulative grade point average (GPA) of at least 2.75 through the end of their junior year, no disciplinary violations, and all minimum core courses completed by the time of graduation. Core courses include four years of English, three years of social sciences, three years of natural science, three years of mathematics. 
Students admitted into the GSAP will receive:
A minimum $10,000 merit scholarship
Admission decision no later than December 31, 2022 (completed application received by November 15, 2022)
$500 visit grant for attending a campus tour or a preview day program
Priority financial aid awarding if the FAFSA is also submitted to HPU by November 15, 2022
Priority registration for fall 2023 classes
Early access to the housing application to ensure first choice accommodations 
Special enrollment deposit gift if you commit to HPU by May 1, 2023
Hawaiʻi students with demonstrated tuition-need may also receive additional financial aid in combination with HPU's Holomua Commitment.
For more information on HPU's GSAP click here. The application deadline is November 15, 2022.