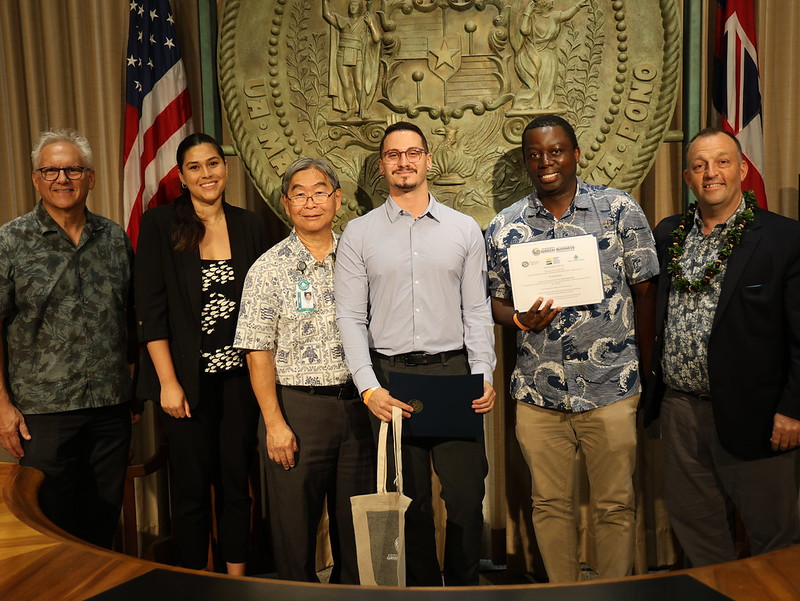 Pictured from left to right: Mark B. Glick, Hawaii State Chief Energy Officer, Irina De La Torre, Hawaii Tourism Authority Brand Manager, Ernie Lau, Honolulu Board of Water Supply Chief Engineer, Michael McKinnon, Aramark, for Pier Nine by Sam Choy Food Service Manager, Clarence Ncube, HPU Project Manager for Facilities, Sustainability, and Master Planning, and State of Hawaii Governor Josh Green, M.D. Not pictured: Dickson Alvarado, Aramark, for Pier Nine by Sam Choy Food Service Director. Photo courtesy Department of Business, Economic Development and Tourism Hawaii State Energy Office..
Pier Nine by Sam Choy, located at Hawaii Pacific University's Aloha Tower Marketplace, has been honored for its commitment to sustainability and green practices. The campus restaurant, known for its waterfront dining and custom menu items designed by renowned chef Sam Choy, received recognition from the Hawaii Green Business Program (HGBP) during the annual awards ceremony held at the State Capitol. 
The HGBP, a program that assesses businesses and events based on their green attributes and practices, aims to encourage organizations to go beyond compliance and adopt sustainable measures. Pier Nine by Sam Choy successfully completed the program's 10-entry-level checklist for greener restaurants and food services, as validated by the Hawaii State Energy Office. 
The award acknowledges Pier Nine's efforts in various sustainability areas. The restaurant prioritizes locally sourced products, partnering with pig farms like Slop Man and local organizations such as the Hawaii Foodbank for pick-up services and donations of quality foods. They partnered with D. Otani Produce to source all of their approved local and organic, non-genetically modified (GMO) products. They also promote the use of eco-friendly cleaning supplies from suppliers like Eco Lab and Premium Inc. Diversey.  
In line with their commitment to reducing waste, Pier Nine by Sam Choy has incorporated more plant-based options in their menu to curb the use of meat proteins. They have also adjusted their operational food service processes to include more "made to order" options, reducing food waste. Additionally, the restaurant recently transitioned to a multi-use container system for their to-go program, reducing the reliance on single-use disposables. They use a paperless program called ENABLE that allows them to forecast data which in turn helps mitigate waste from over or under ordering, supporting the school's overall sustainability efforts. 
Dickson Alvarado, the Food Service Director for Aramark at Pier Nine by Sam Choy, expressed his pride in receiving the HGBP recognition. "We have always been dedicated to implementing sustainable practices in our operations. This award validates our commitment and encourages us to continue making a positive impact on the environment," he said. 
Clarence Ncube, HPU's Facilities and Sustainability Project Coordinator, who assisted Pier Nine with the 10-entry-level checklist and award entry, was present at the awards ceremony, emphasized that Pier Nine by Sam Choy's sustainability efforts have exceeded the program's requirements.  
"The HGBP recognition highlights Pier Nine by Sam Choy's commitment to reducing its environmental footprint through their sustainable business practices that make positive contributions to the environmental, social, and economic wellbeing of the State of Hawaii and the planet," he said. 
Governor Josh Green, M.D., commended all the awardees for their commitment to conserving energy and water, reducing waste, and protecting Hawaii's environment. He emphasized the importance of sustainable practices in preserving Hawaii's natural resources and supporting the local economy. 
The HGBP awards ceremony recognized a total of 37 awardees from various businesses and events across five islands. The event, livestreamed on the Hawaii State Energy Office's Facebook page, was hosted by the Hawaii State Energy Office, the Hawaii State Department of Health, the Honolulu Board of Water Supply, and the Hawaii Tourism Authority. 
Pier Nine by Sam Choy joins the ranks of other notable awardees, including Magic's Beach Grill, Journey's Café, and Blondie's Vegan Kitchen, among others. 
The HGBP's 10-entry-level checklist for greener restaurant and food services includes criteria such as purchasing locally sourced products, monitoring consumption to reduce food waste, creating partnerships for composting or product pick-up, and using biodegradable and compostable alternatives to plastic products. 
The recognition from the HGBP not only highlights Pier Nine by Sam Choy's commitment to sustainability but also sets an example for other businesses to adopt greener practices. Through their efforts, they contribute to the preservation of Hawaii's natural beauty and promote a more environmentally friendly future.