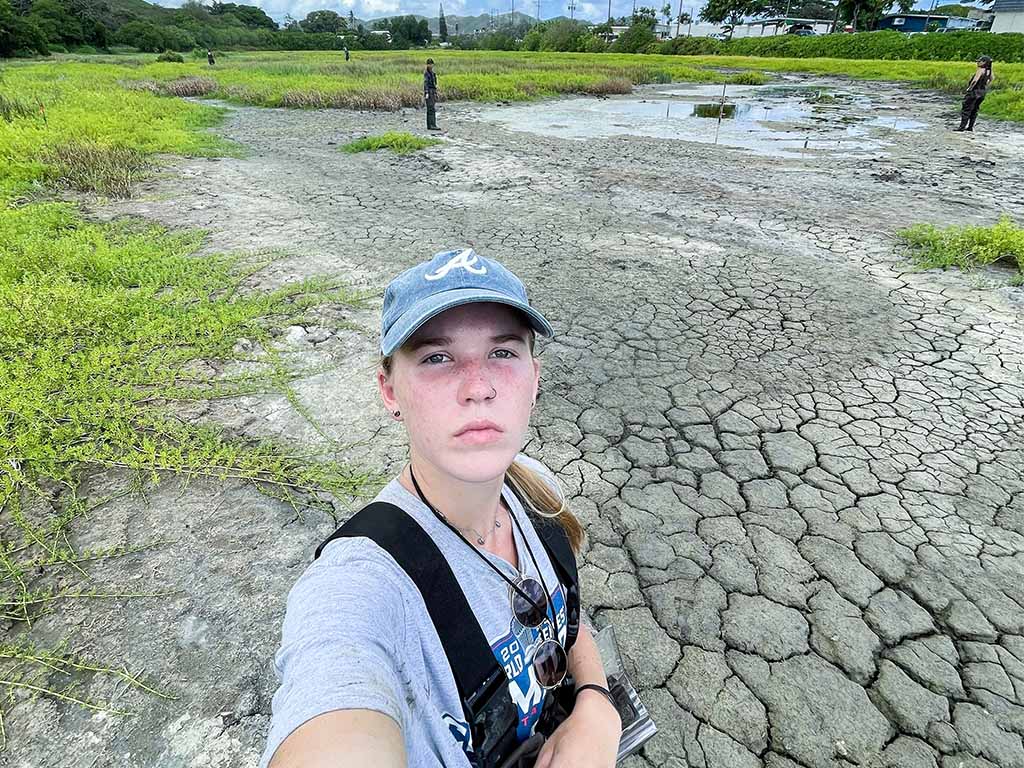 HPU student Emily Andrist, majoring in environmental science and minoring in chemistry, impresses with her captivating research, earning a spot among top scorers.
The IDeA Networks of Biomedical Research Excellence (INBRE) Program Meeting and Biomedical Sciences & Health Disparities Symposium held on April 21, 2023, proved to be a success as Hawai'i students showcased their academic expertise and passion for research.
With a high attendance of nearly 200 people, the event fostered collaboration, knowledge sharing, and inspiration. The event provided students with an opportunity to network with their peers, engage in panel discussions led by seasoned professionals, and present their research during poster sessions.
Among the standout presenters was HPU student Emily Andrist, who is majoring in environmental science and minoring in chemistry. Her research project captivated the audience and earned her a spot among the top scorers. Andrist's dedication, innovative thinking, and exceptional research skills exemplify the caliber of students nurtured at HPU. Andrist's mentor for the poster presentation was HPU Assistant Professor Olivia Nigro, Ph.D.
Excitement and anticipation filled the room as the top four INBRE Undergraduate Student Poster Presentations were revealed. These students have been invited to attend and actively participate in the prestigious NIH IDeA Western Regional Conference, scheduled to take place in Bernalillo, New Mexico, from August 2 - 4, 2023.
The INBRE program will generously cover all expenses, including registration fees, airfare, and lodging for the students.
The following students emerged as the top scorers in the poster presentations:
Yuewen Ding, University of Hawai'i at Manoa
Jenna Spellman, University of Hawai'i Maui College
Emily Andrist, Hawai'i Pacific University
Finn Reil, University of Hawai'i at Hilo
The INBRE program, funded by the National Institute of General Medical Sciences (NIGMS) at the National Institutes of Health (NIH), plays a vital role in promoting biomedical research excellence in the state of Hawai'i. Through facilitating the development, coordination, and sharing of research resources and expertise, the program expands opportunities for students and faculty in research and fosters a strong collaborative research community in the state.
In Hawai'i, the INBRE program has a dual mission. Firstly, it encourages undergraduate students to pursue careers in biomedical sciences by providing them with research opportunities, mentoring workshops, and workforce development programs across eight academic institutional partners statewide. Secondly, the program supports the growth of scientific faculty by providing financial resources, equipment, and mentorship to junior and pilot investigators. Ultimately, the INBRE program aims to enhance the biomedical research community in Hawai'i, facilitating important discoveries that contribute to improving health and well-being. 
For more information about INBRE biomedical research opportunities at HPU, students can contact Chemistry Professor David Horgen, Ph.D., at dhorgen@hpu.edu, and/or visit the Hawai'i INBRE website.