Ku'ulei Yamamoto (second from left), Joy Bliss (second from right), Jennifer Huerta Bandy (far right).

Jennifer Huerta Bandy providing medical assistance.
The island of Molokaʻi, with a population of 7,000 residents, is one of Hawai'i's most remote and secluded islands. Over 60% of its inhabitants are of Native Hawaiian descent. Recently, a delegation of President Biden's policy advisors visited Molokaʻi to assess the challenges faced by this isolated community, particularly in transportation and limited access to medical providers, such as doctors and nurses. 
In response to the pressing healthcare needs of the island, the HPU Student Nurses' Association (SNA) organized a medical mission from July 10 to 15, 2023. Their objective was to provide medical assessments and wound care for patients in need. To support the mission virtually, Dr. Gregory Caputy, a Honolulu plastic surgeon and wound healing expert, was on standby for consultation.
Among the members of the mission was HPU nursing student Jennifer Huerta Bandy, whose exceptional hair styling skills were highly sought after by the Molokaʻi community. She also conducted patient assessments and performed diabetic testing with remarkable expertise. As an added gesture, the attendees of the free clinics were treated to complimentary haircuts.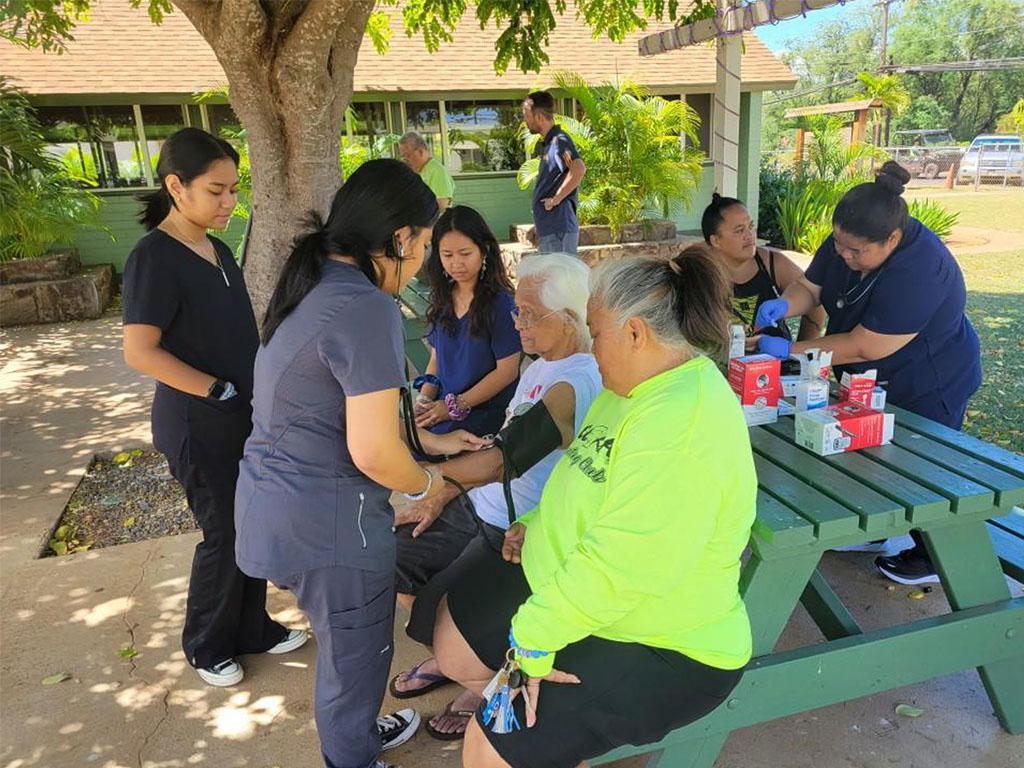 The objective of the mission was to provide medical assessments and wound care for patients in need.
The SNA and HPU nursing faculty were also joined by HPU alumna Ku'ulei Yamamoto, and HPU SNA Advisor and School of Nursing Faculty, Joy Bliss, Ph.D., R.N. In addition, Deacon Mark Yamamoto from Waipahu Community Christian Church and Pastor Hanale from Kaunakakai Baptist Church joined forces for the medical mission on Molokaʻi.
As part of the effort to expand their assistance, HPU students Rachel Menor, Cherren Menor, and Angel Jane Ramos, who are currently pre-nursing students at the University of Hawai'i at Mānoa, participated in conducting diabetic testing. 
"This type of community service and collaboration with other nursing schools' students is a great way to show case our HPU values of kuleana, pono and aloha," said HPU Dean of the School of Nursing Edna R. Magpantay-Monroe Ed.D., APRN, CMDCP.
The mission was an eventful week filled with valuable lessons learned and heartfelt appreciation from the warm and welcoming people of Molokaʻi. The medical mission serves as a testament to the power of compassion and collaboration in meeting the healthcare needs of a secluded island community. 
The effort of the SNA and their partners brought hope and relief to the residents, fostering a strong sense of unity and purpose for future endeavors. With continued dedication and support, the health and well-being of Molokaʻi's residents can be significantly improved, ensuring a brighter and healthier future for the island's unique and beautiful community.