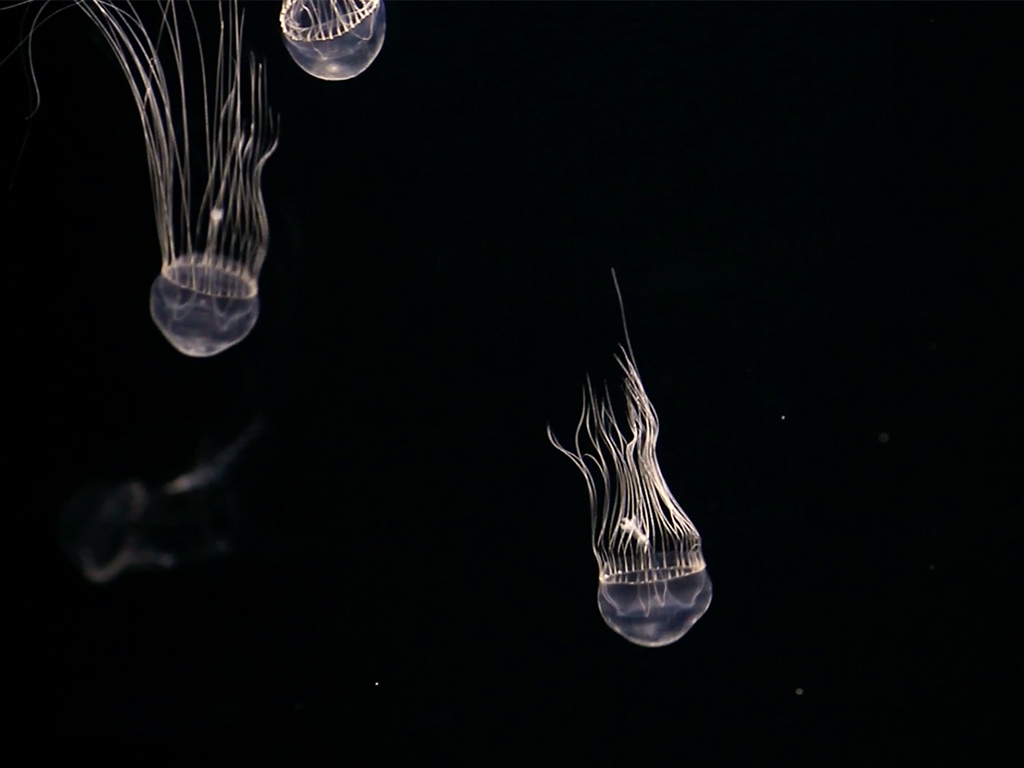 A new species of jellyfish, Tima nigroannulata seen at night..
When HPU Associate Professor of Biology Brenden Holland, Ph.D., and HPU graduate student Anita Harrington teamed up last summer to work on the DNA sequencing of a new species of jellyfish found off the coast of Japan neither professor nor student were quite sure what they were going to uncover. 
"This all started when I received an email from my colleague Jerry Crow, President of the non-profit Ocean Research Explorations," said Holland. "Jerry and our colleague, hydroid expert Dale Calder at the Royal Ontario Museum were examining the morphology of a species of jellyfish that's been on exhibit for decades in two public aquaria in Japan. Researchers in Japan had assumed it was a species that occurs off of the east coast of North America, Tima formosa. They were propagating the species in captivity and had shared specimens with other public aquariums around the world, all under the assumption it was one thing, but it was really something different." 
Crow and Calder had a conundrum. They were studying the anatomy of the jellyfish but were unable to match it with anything that had previously been described. Stumped, they sent some tissue samples to Holland. He and Harrington extracted the jellyfish DNA and conducted polymerase chain reaction (PCR) amplification and taxonomic analysis at the Oceanic Institute of HPU. 

"Once I got the DNA sequences I conducted a National Center for Biotechnology Information (NCBI) Basic Local Alignment Search Tool (BLAST) search," says Holland. "Nothing came back as an exact match. So what we have is a new species of jellyfish. It's ecology is not well known, and until now it had not been formally described." 

That new species of jellyfish was given the binomial, Tima nigroannulata. The jellyfish is about the size of a human hand, has a black ring around the bell with 53 tentacles. It has fluorescent qualities under ultraviolet light and a complex life history.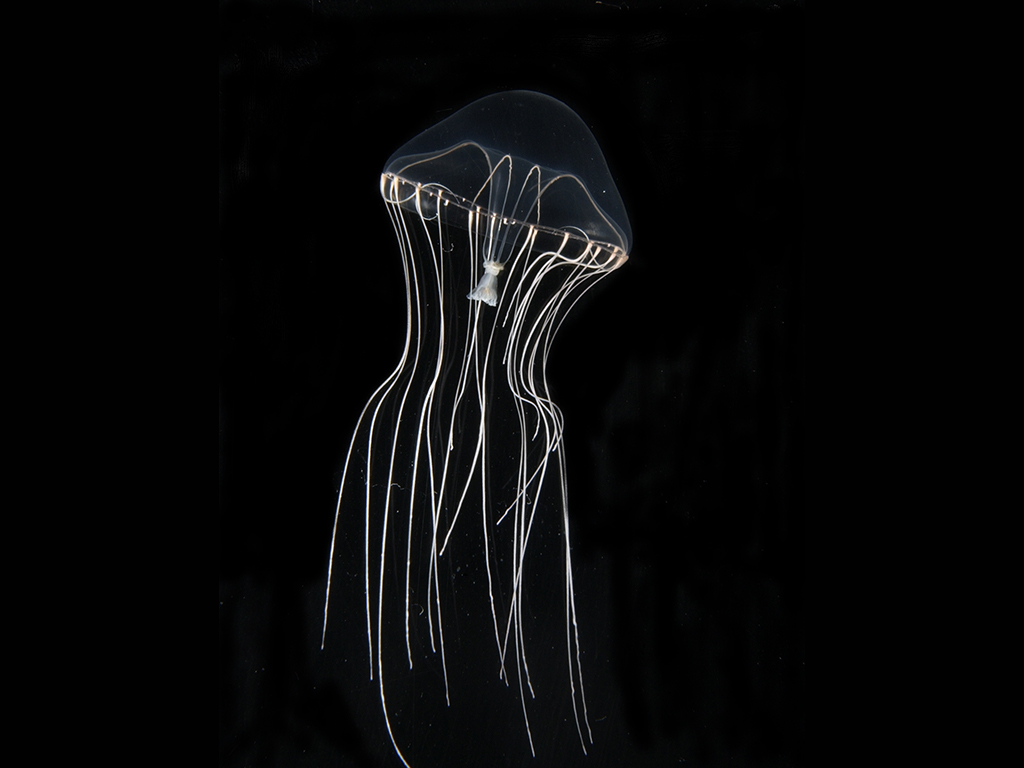 Tima nigroannulata..
"We are in a technologically revolutionary time," said Holland. "The molecular genetic research we routinely do at HPU was unthinkable a few decades ago."
Undergraduate and graduate students at HPU have opportunities to work closely with professors in their respective fields of expertise and get hands-on experience in the University's state-of-the-art research labs.
"HPU is special that way," said Holland. "Professors here tend to have relatively small class sizes and are not overwhelmed with too many graduate students. The faculty at HPU spend a lot more time with students, and professors have great opportunities to convey and instill knowledge within their specialties."
Harrington, a graduate of the University of North Carolina's oceanography program, enrolled in HPU's graduate program in marine science in 2017. She was Holland's first graduate student, excelled immediately, and graduated in 2020. In 2021, she received the prestigious John A. Knauss Marine Policy Fellowship and was selected as her class valedictorian. This achievement marks the first time since 2012, and second time ever, that a HPU graduate student has received the John A. Knauss Marine Policy Fellowship.
"I knew that I was interested in pursuing a career working for the government after graduate school," says Harrington, "so I was ecstatic and honored to be awarded the Knauss Fellowship. I never expected to assist in the discovery of a new species, and feel very lucky to have been given the opportunity to work on this unique project outside of my thesis."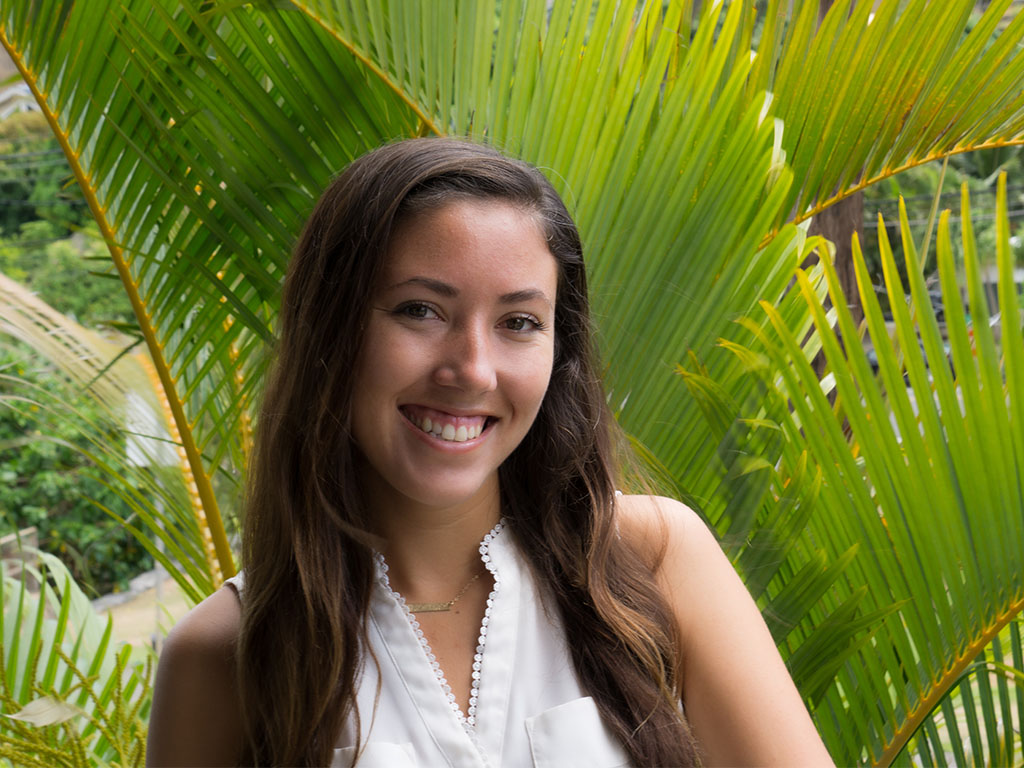 HPU alumna Anita Harrington..
The paper resulting from the discovery of Tima nigroannulata will mark Harrington's first peer-reviewed scientific paper; she is co-author along with Holland, Crow, Calder and several Japanese marine scientists in the journal Zoological Science, published on June 8, 2021, by the Zoological Society of Japan. Harrington's thesis at HPU was entitled "An Investigation into the Trophic Ecology and Introduction of the Winged Box Jellyfish, Alatina alata, in Hawaiʻi."
Harrington is spending her fellowship year as the Science and Policy Fellow for the U.S. Fish and Wildlife Service (FWS) at Science Applications Headquarters in Washington D.C.