David Horgen in a laboratory with HPU research technicians.

The marine-derived molecule that scientists from HPU are investigating originates from a Hawaiian soft coral. Image By Oliver Koning
HPU has received a grant to research and develop a groundbreaking new drug to treat hypoxic-ischemic brain injury in newborn babies. This two-year grant includes a third contingent year that puts the grant award over $1 million.
HPU has partnered with the University of Toronto, Baylor University, and The Queen's Medical Center on the grant. HPU Chemistry Professor David Horgen, Ph.D., is the co-principal investigator and serves as project coordinator, providing oversite and coordination of the project.
"Winning this grant from the National Institute of Neurological Disorders and Stroke was challenging because of the high level of competition and a high bar for making a very strong scientific case for our project," said Horgen. "It took us five years, but I get to work with a very accomplished team, and we were highly motivated to design a compelling project with very clear goals for a new therapeutic to treat newborns with brain injury."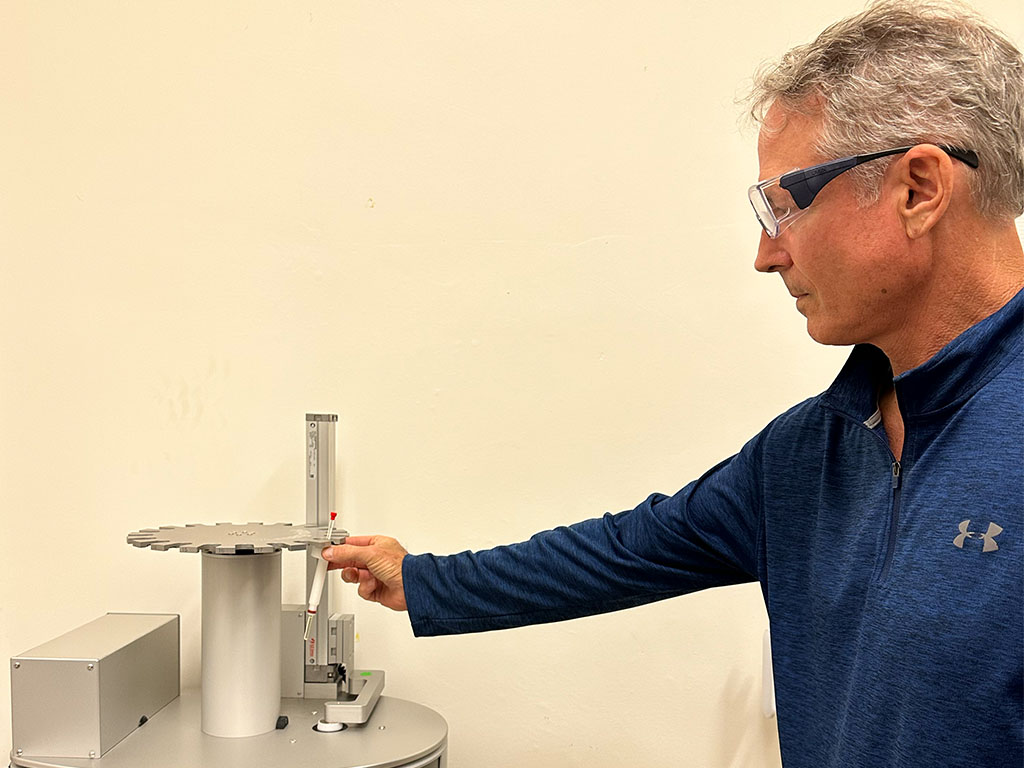 David Horgen in a laboratory at HPU.
Perinatal and neonatal hypoxic-ischemic brain injury (HIBI) occurs in two out of every 1,000 births in the U.S. and is a major cause of acute mortality and chronic neurological morbidity in infants that leads to serious disorders such as hypoxic-ischemic encephalopathy (HIE) and cerebral palsy.
There is currently no drug to treat hypoxic-ischemic brain injury in newborn babies. The only remedy for a newborn with HIBI is to place the newborn in an ice bath for 72 hours to lower the temperature in the brain to reduce the risk of brain disorders. A lack of oxygen during or before birth is a cause of HIBI in newborns.
The marine-derived molecule that scientists from HPU are investigating originates from a Hawaiian soft coral that only grows in Hawai'i. This molecule is known as waixenicin A, which serves as a starting point for developing potential therapeutic drugs.
"We are looking to build on the waixenicin A molecule and design a more effective, drug-like version of it," said Horgen. "Baylor University will modify waixenicin A provided by the HPU team and separately synthesize structural variants from scratch to identify better drug candidates using the information contained within this fascinating coral-derived compound.  At The Queen's Medical Center, electrophysiologists will test the different versions of the compound received from Baylor University. We will then see which compound has the best activity, which has the best chance to make an impact and hopefully create a new drug for human use." 
Once the compound has been selected and passes the necessary tests at HPU, it will go to the University of Toronto to be tested in vivo. The goal of this multi-year process will be a drug that is ready to test in humans with the hope that one day the drug will be used to prevent brain damage in newborns. 
"Hypoxic-ischemic brain injury afflicts the most vulnerable and can lead to lifelong devastating impacts on newborns," said University of Toronto Professor Hong-Shuo Sun, Ph.D. "Developing a therapeutic based on the unique action of waixenicin A to mitigate brain damage is completely novel and could be a game changer for treatment of this disorder if successful."
The team of highly accomplished interdisciplinary specialists working on this research grant spans the fields of pathophysiology, cell biology, molecular pharmacology, medicinal chemistry, organic synthesis, and clinical care and research. 
Expert of their fields joining Horgen include Daniel Romo, Ph.D., Baylor University; Kenneth Hull, Ph.D., Baylor University; Hong-Shuo Sun, Ph.D., University of Toronto; Zhong-Ping Feng, Ph.D., University of Toronto; Steven Miller, M.D., Ph.D., University of Toronto; Andrea Fleig, Ph.D., The Queen's Medical Center and University of Hawai'i Cancer Center.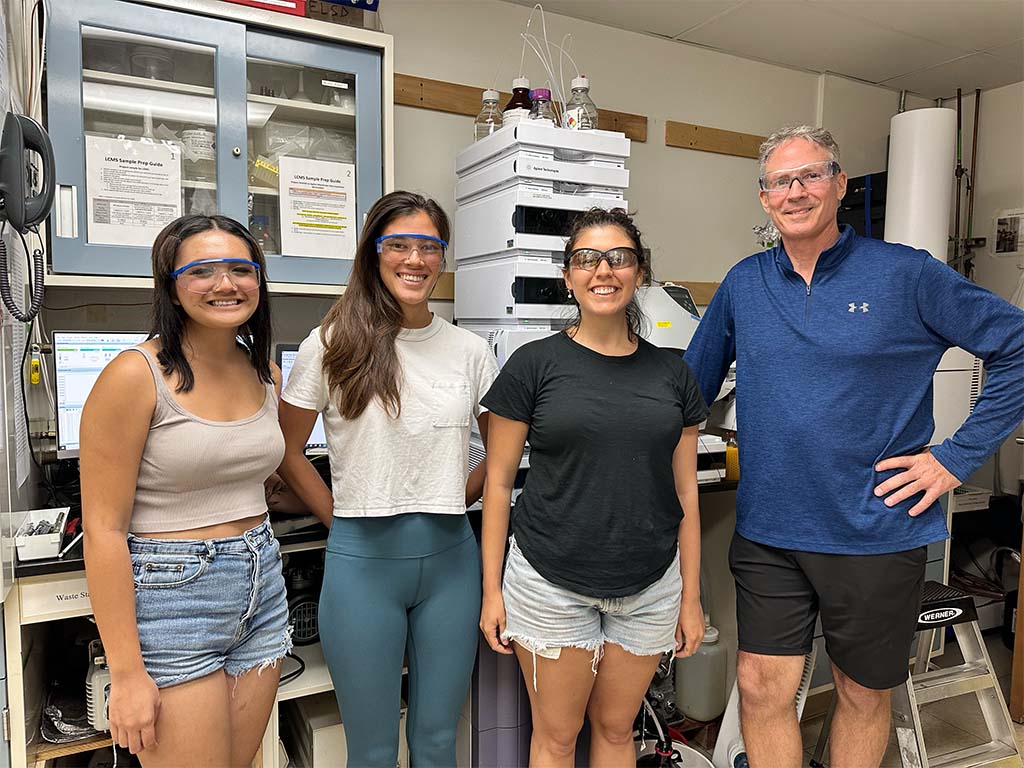 HPU research technicians (left to right) Jessie Nguyen, Ellis Akana, Simone Duran-Nyers with David Horgen in an HPU laboratory.
Simone Duran-Nyers, Ellis Akana, Jessie Nguyen are research technicians currently working with Horgen in the HPU lab to test waixenicin A that will ultimately be sent to Baylor University.
Duran-Nyers graduated from HPU with a degree in marine biology and will be attending Brown University in the fall to begin her Ph.D. program in chemistry. Akana was part of the HPU INBRE program in 2014-2016 and starts medical school in the fall.  Nguyen graduated from HPU in 2022 with a degree in biochemistry and is currently a graduate student at the University of Hawai'i at Manoa.
"Everyone that I have worked with since 2015 are in careers that Professor Horgen has helped them get placed into," said Akana. "And they all love their careers, which is in many thanks to Professor Horgen and his mentorship."
Horgen stated that if the HPU, Baylor University, The Queen's Medical Center, and University of Toronto teams are successful in developing the groundbreaking drug for HIBI, the drug would next likely be investigated as a treatment for adult patients that have suffered from a stroke.
"It will take at least another six years of careful development before we have a drug ready to be used in humans, assuming our novel approach to treating brain injury continues to show promise.  It is a long tedious road, but many students will be trained in chemistry and biology along the way, and the upside is that we may actually develop a therapeutic that may have life changing benefits to human beings."
To learn more about the various degree pathways at HPU's College of Natural and Computational Sciences click here.