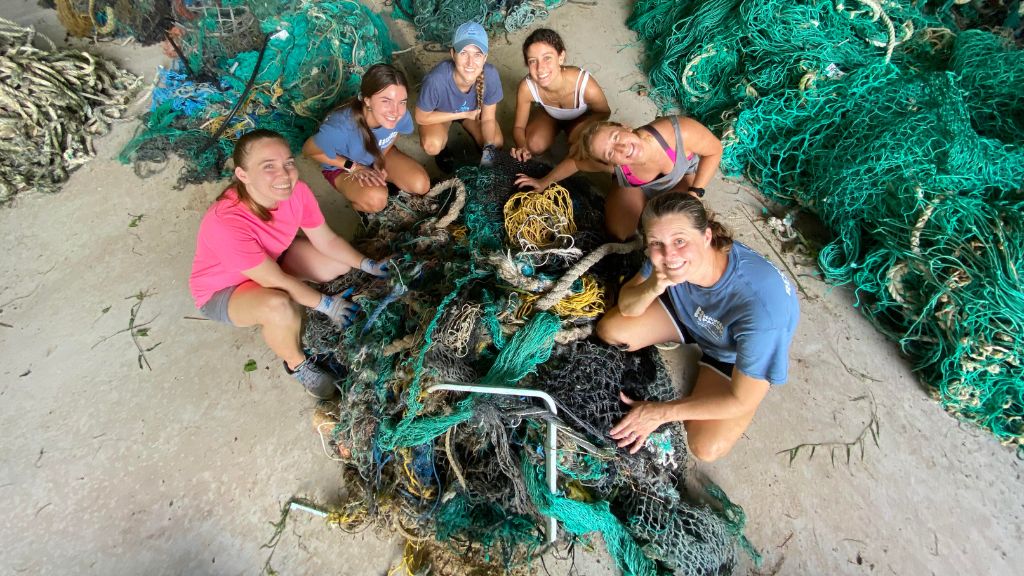 NOAA Sea Grant office to fund research project titled "Net to Roads: Innovative research to scale-up removal and repurposing of derelict fishing gear" in largest grant awarded to CMDR to date. .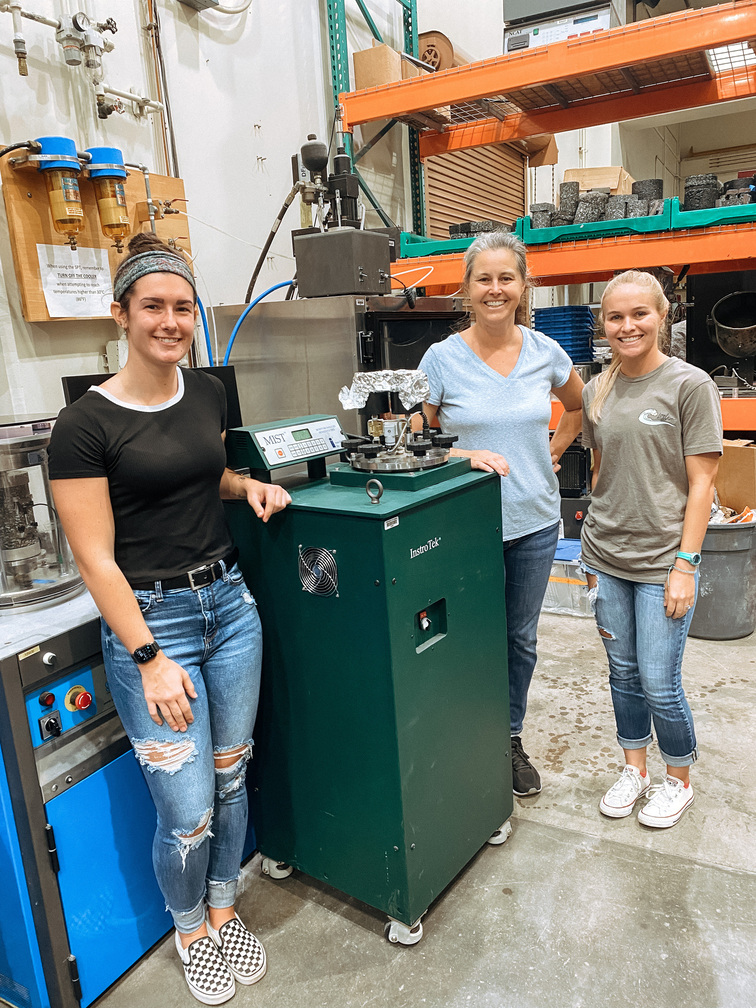 HPU CMDR team members Cara Megill (HPU MSMS '23), Jennifer Lynch, Ph.D., and Raquel Corniuk are pictured by the Moisture Induced Stressed Tester at UH's Pavement Engineering Laboratory. An asphalt sample is loaded into its water bath, and it applies heat and pressure to the asphalt sample to weather it..
The National Oceanic and Atmospheric Administration (NOAA) Sea Grant office has awarded a $3 million grant to Hawaii Sea Grant in partnership with Hawaii Pacific University's Center for Marine Debris Research (CMDR).  
The HPU CMDR project is titled "Net to Roads: Innovative research to scale-up removal and repurposing of derelict fishing gear" and will focus on all aspects of the issue. Researchers will detect debris at sea and forecast its arrival in Hawaii's nearshore waters, rapidly remove and transport debris to a centralized storage facility for future sorting and repurposing the debris. The current idea is to convert the plastic debris into pellets that are compatible for use in asphalt roads in partnership with the Hawaii Department of Transportation. 
"Like two links in a chain, this project will propel the multiple steps of removal to repurposing plastic marine debris," said Jennifer Lynch, Ph.D., co-director of CMDR and biologist with the National Institute of Standards and Technology. "As a major win-win for the environment and the residents of Hawaii, the funding will formally bring together some of the most impactful marine debris researchers and removal non-profit organizations that have for decades interacted within the Hawaii Marine Debris Action Plan, while also linking their efforts towards an innovative long-term repurposing idea that can make Hawaii's public road infrastructure more sustainable." 
A large emphasis of the project will be on research and education at each step of the process. Lynch, along with principal investigator Darren T. Lerner, Ph.D., will be joined in their efforts along with co-principal investigators David Horgen, Ph.D., Professor of Chemistry from HPU, and Mary J. Donohue, Ph.D., and Darren Okimoto, Ph.D., from Hawaii Sea Grant.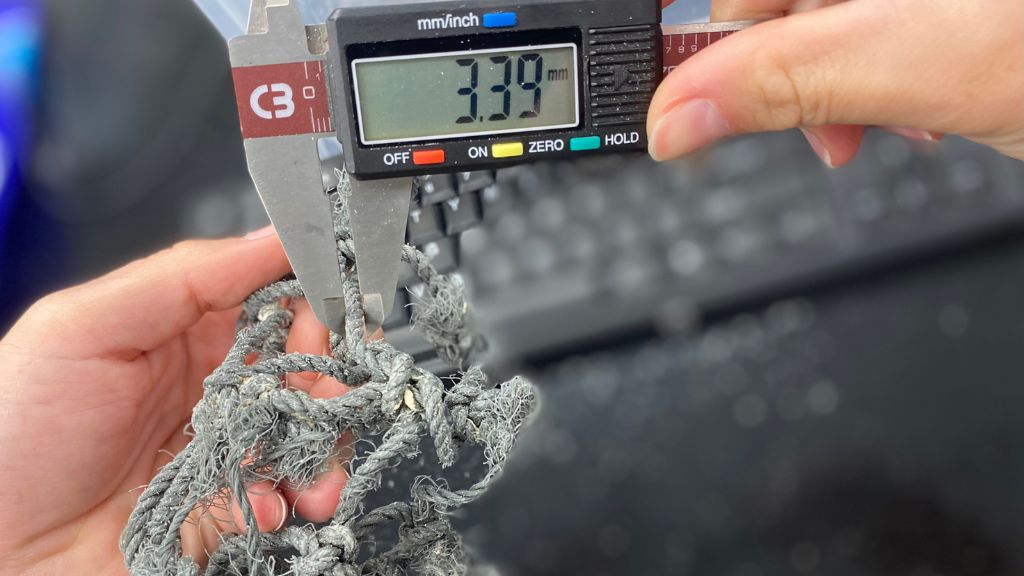 A HPU CMDR researcher measures the twine diameter of the net, which can help to identify the fisheries that might have used the net before it was lost or abandoned in the ocean..
"It is an honor to partner on this project and tackle a problem that has had profound negative impacts on the environment, the economy, and the health of our communities. While Hawaii is known worldwide as a hotspot for ocean plastic pollution and environmental damage, the cutting-edge technologies that will be developed through this grant will have far-reaching impacts on all states and nations impacted by ocean plastic pollution," said Lerner. 
The award is part of a larger $5.1 million grant made to the University of Hawaii Sea Grant College Program and its partners. This investment will connect visionary experts from across the state and region in multi-year projects to increase the efficiency of derelict fishing gear removal, repurpose the gear that is brought to shore, and engage a network of community members and resource managers throughout the Pacific to develop a regional Pacific Islands Marine Debris Action Plan. 
This is the first time that NOAA Sea Grant has awarded HPU with a grant for marine debris research, and it is the largest grant CMDR has received to date. Overall, NOAA Sea Grant awarded $27 million to projects across the United States with funding leveraged from the Inflation Reduction Act for efforts to support marine debris prevention and removal over the next five years.