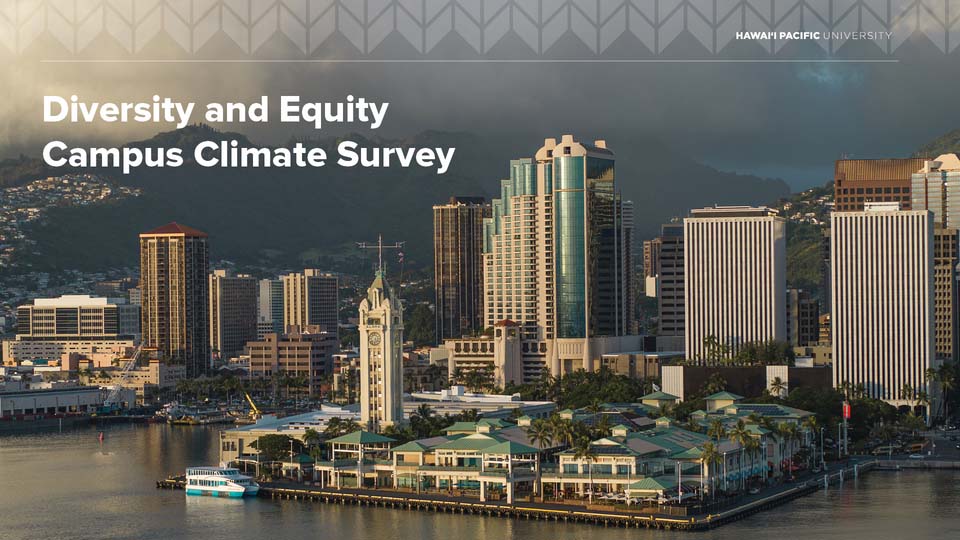 HEDS Climate Survey.
Hawai'i Pacific University is privileged to have one of the most diverse campuses in the country, and we are dedicated to cultivating a campus community that fosters an equitable and inclusive living, learning, and working environment. To this end, we seek to gain a better understanding of the community's perspectives and experiences related to diversity, equity, and inclusion on our campus. As a result, earlier this year, we launched our first of what will be an annual Campus Climate Survey on Diversity, Equity, and Inclusion, using a validated survey instrument developed by the Higher Education Data Sharing Consortium [HEDS]. This survey explores the perspectives and experiences of students, faculty, staff, and administrators at HPU related to these topics. The data collected in this study will be used in many ways, including to establish a baseline for understanding the present climate at HPU, to help inform current and future planning about supporting a diverse, inclusive, and vibrant campus community, and to serve as a benchmark against which to measure change over time.
The 2022 survey solicited the views of our entire campus community of 3,977 students, faculty, staff, and administrators. 860 individuals responded (22% participation rate).
Here are some of the preliminary findings. The majority (80%) of students, faculty, and staff surveyed expressed overall satisfaction with the campus climate, and most (76%) also expressed satisfaction with the campus experience/environment regarding diversity at HPU. Nearly all of the respondents agreed or strongly agreed that diversity at HPU improves experiences and interactions within the classroom, the workplace, and the overall community, with only 2% disagreeing. Most also agreed that senior leadership demonstrates a commitment to diversity and equity on campus.
The preliminary data and findings are posted here. A more complete report will be posted when the university receives it from our contact at HEDS later this summer.