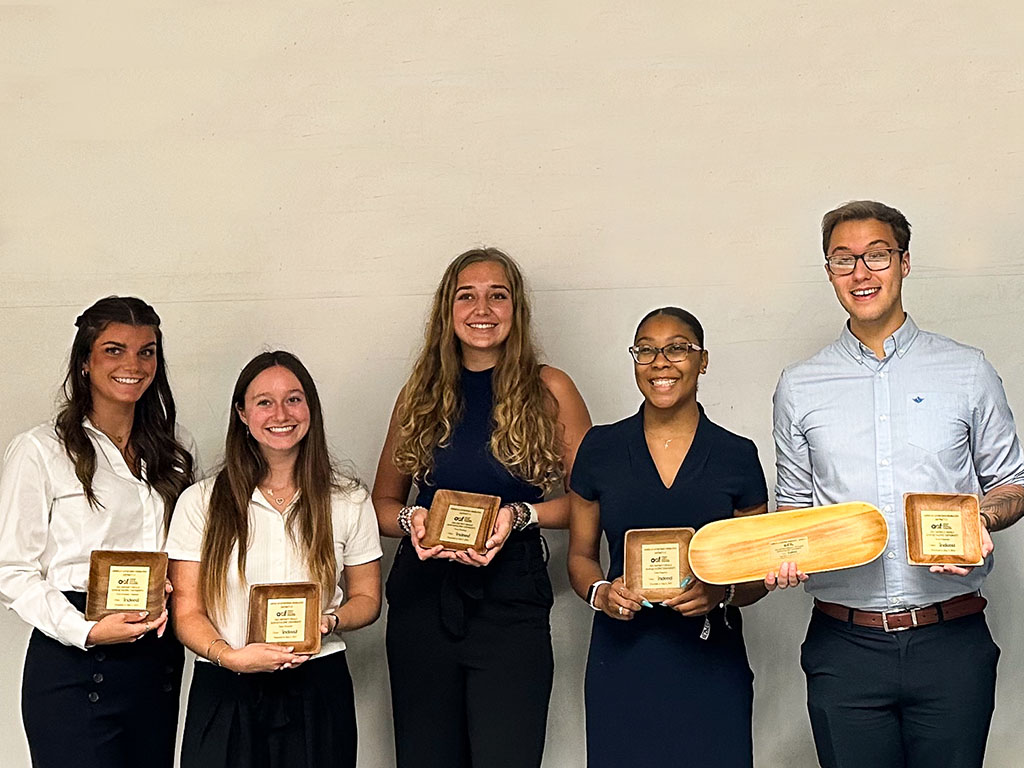 HPU's national student advertising competition team: (left to right) Megan Marty, Emma Williams, Amber Nelson, Laeila Leslie, Hunter Ferner.
On May 5, 2023, HPU's National Student Advertising Competition (NSAC) team placed sixth in the semifinal round of the American Advertising Federation's (AAF) competition. HPU competed virtually and will qualify to proceed to the final round of the national competition in Saint Louis, Missouri in June 2023.
"This is HPU's 10th consecutive district win, but it is the first time since 2015 that our team has qualified for nationals, which is always the goal," said HPU Team Faculty Advisor AnnMarie Manzulli. "This was a small team, but they remained focused on quality and produced a strategically sound, creative campaign backed by solid research for the client Indeed."
HPU's presenting team includes Communication Studies and Practices (CSP) majors Hunter Ferner, Laeila Leslie, Amber Nelson, Emma Williams, and alternate presenter Megan Marty.
AAF stated that nearly 100 universities participated in the 2023 competition for the client Indeed. 
The AAF is divided into 15 geographical regions, and based on the school location, student teams first compete at the district level, either in-person or virtually. The winning team(s) from each district then advance to the semifinals where NSAC teams compete for one of eight spots at the finals at ADMERICA, the AAF's annual conference.
In the semifinal round students participated in a 15-minute Q&A from a panel of judges, which included representatives from the 2023 client Indeed. Indeed Senior Brand Strategist for Job Seeker Communications Tyler Norton, Indeed Senior Communications Planner Phillip Brady-Joyner, and Core Creative, Deputy Director/Deputy Creative Director of Bo Haynes were the panel of judges that critiqued all 18 semifinalist teams.
The last and final round of the NSAC competition is finals. Only the top eight teams who qualify will compete in the finals, moving the best of the best forward. At this stage, all teams are competing fresh, regardless of their semifinalist rank. 
During the finals, the judges' panel considers the plans book and presentation score sheets, reflects on the work of all teams and determines the rankings. All finalist teams will present at the ADMERICA conference on June 1-4 in Saint Louis. The top three teams will be awarded with trophies and cash prizes.
The first place is $3,500; second place is $2,500; and third place $2,000. Additional prizes will also be distributed.
The National Student Advertising Competition is the premier college advertising competition that provides more than 2,000 college students the real-world experience of creating a strategic advertising/marketing/media campaign for a corporate client.
The rankings were announced as:
Eighth place: BYU in D12
Seventh place: Liberty University in D3
Sixth place: Hawai'i Pacific University in D13
Fifth place: University of Missouri in D9
Fouth lace: University of Minnesota in D8
Third place: Chapman University in D15
Second place: University of San Francisco in D14
First place: Texas State University in D10