Over 600 HPU students graduated in spring 2023.

HPU students backstage before the ceremony commenced.

HPU's spring 2023 graduation was its biggest in seven years.

Undergraduate valedictory speaker Blaise Babineck.

Graduate valedictory speaker Natalie Ediger.
On Saturday, May 6, HPU celebrated the achievements of its spring class of 2023 by seeing over 600 students graduate, making it the largest class to graduate at the University in seven years. Thousands of friends and family members of the graduates attended the ceremony at the Hawai'i Convention Center, providing great excitement to a full auditorium.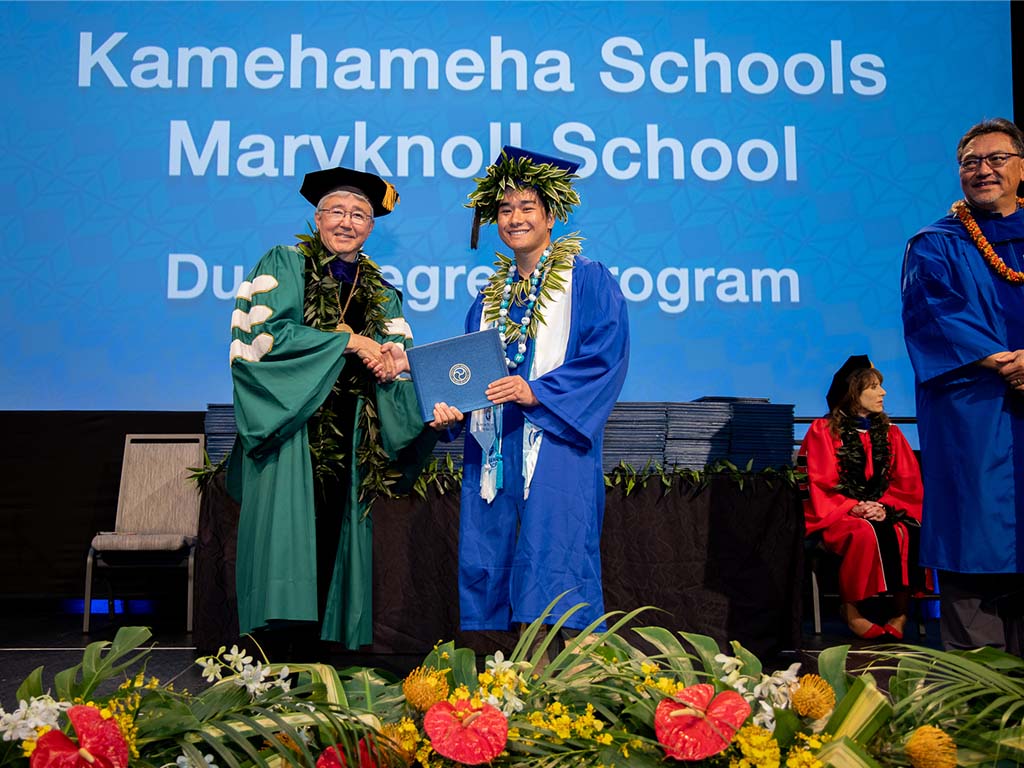 Over 100 Kamehameha Schools students and eight Maryknoll School students received their AA degrees in the dual-credit program.
Over 100 Kamehameha Schools students and eight Maryknoll School students graduated with their associate of arts degrees (AA) at HPU in the dual-credit program. This achievement marks the largest number of dual-credit students to ever graduate with their AA degrees in one ceremony in Hawai'i.
The dual-credit program at HPU began in fall 2016, and the partnership with Maryknoll School began a year later. HPU is also engaged in a dual-credit program partnership with Hanalani Schools.
HPU President John Gotanda, J.D., delivered remarks and confered degrees and HPU Senior Vice President and Provost Walsh, Ph.D., served as Master of Ceremonies.  
Valedictory speakers Blaise Babineck and Natalie Ediger provided uplifting and inspiring speeches to a full auditorium. Babineck is received his Bachelor of Science in Chemistry and Ediger received her Master of Arts in Strategic Communication.
HPU "Teacher of the Year" award winner Alec Schumacker, DMA, sung and led a mesmerizing rendition of the Star-Spangled Banner and Hawaii Pono'i with 2023 HPU graduates Nya Cachola, Lili Younce, Cassidy Gilry, Simone Duran-Nyers, and Kiersten Caldwell. 
The ceremony was livestreamed and can be viewed in its entirety by clicking here.