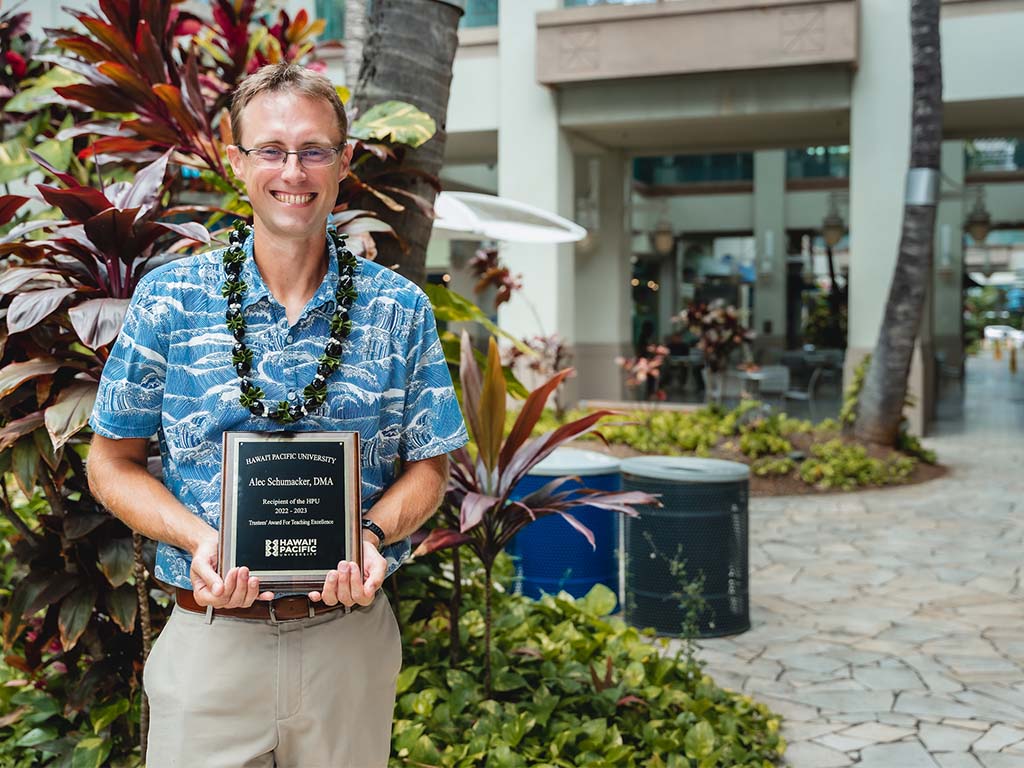 Alec Schumacker.
HPU's annual "Teacher of the Year" award was given to Director of Choral Activities and Assistant Professor of Music Alec Schumacker, DMA. An award-winning composer and arranger, Schumacker's choral music is published by Santa Barbara Music Publishing, Alliance Music Publications, earthsongs, and World Projects.
"I'm humbled and honored to receive this award," said Schumacker. "The best part about working at HPU is getting to work with the fabulous, hard-working, and all-around-awesome students here and I'm grateful for every opportunity to make and explore music with them."
Schumacker joined HPU in 2016. He conducts HPU's two curricular choirs: the International Vocal Ensemble and the International Chorale. He presently serves as the president of the Hawai'i Chapter of the American Choral Directors Association. He completed his DMA in Choral Conducting at the University of Miami, where he studied with Joshua Habermann and Karen Kennedy. Schumacher's master's degree in choral conducting is also from the University of Miami. He graduated cum laude with honors in music from Williams College.   
His works have been performed around the country by all-state choruses and prestigious ensembles such as the Santa Fe Desert Chorale, the New World Symphony, the University of Delaware Chorale, the Frost Chorale, the Voices of Aloha, and even at the NFL's Pro Bowl in 2016. An active educator and sought-after presenter, Schumacker delivered lectures at the 2020 Western Division ACDA conference in Salt Lake City, the 2019 International Kodály Symposium in Malaysia, the 2018 and 2016 Asia Kodály Symposia in Taiwan, the 2017 National ACDA conference in Minneapolis, and various others. GIA recently published his written work on incorporating popular music in the choral curriculum in the textbook Becoming Musical.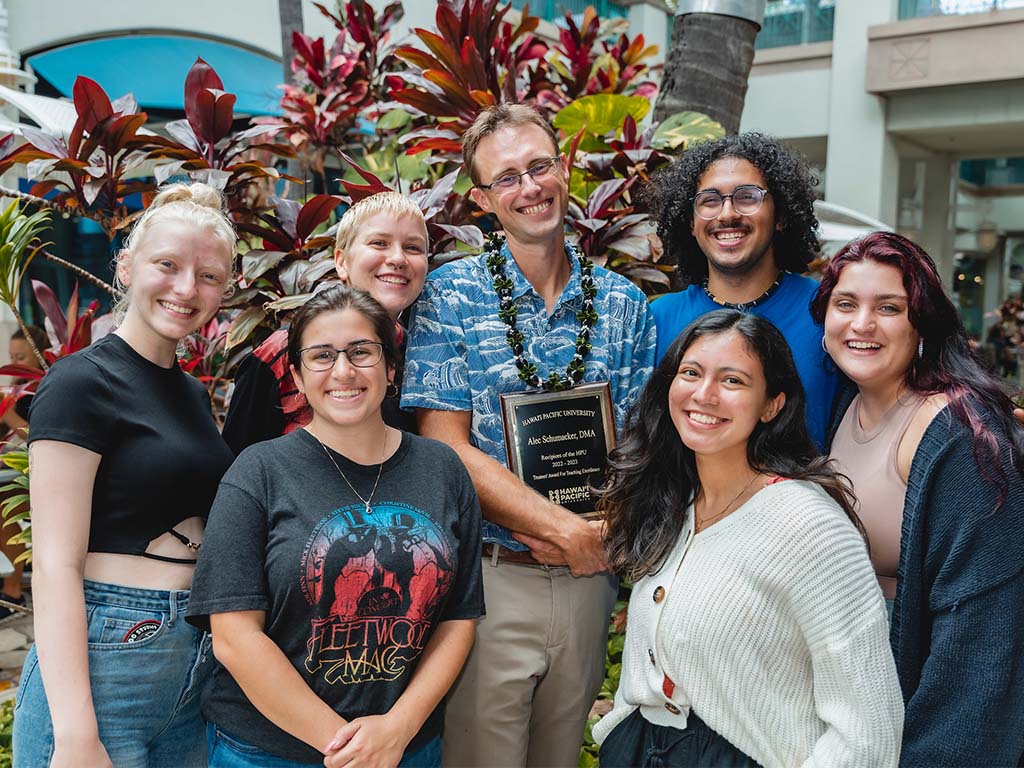 Alec Schumacker with HPU students.
One of Schumacker's students who looks up to him as a mentor said, "He motivates students to be their best in and out of the classroom." Another student he's inspired to become a music teacher remarked, "he never fails to find new, fascinating information and topics to teach me about…. he makes everyone in his classes feel supported and welcome and valued as an addition to the class."
The "Teacher of the Year" award is given to one full-time faculty member for excellence in teaching. HPU's graduating students are invited to nominate their professors for the award. The 2022 Award was given to Associate Professor of Engineering Suketu Naik, Ph.D.
To learn more about arts at HPU click here.