NSAC 2022 Winners.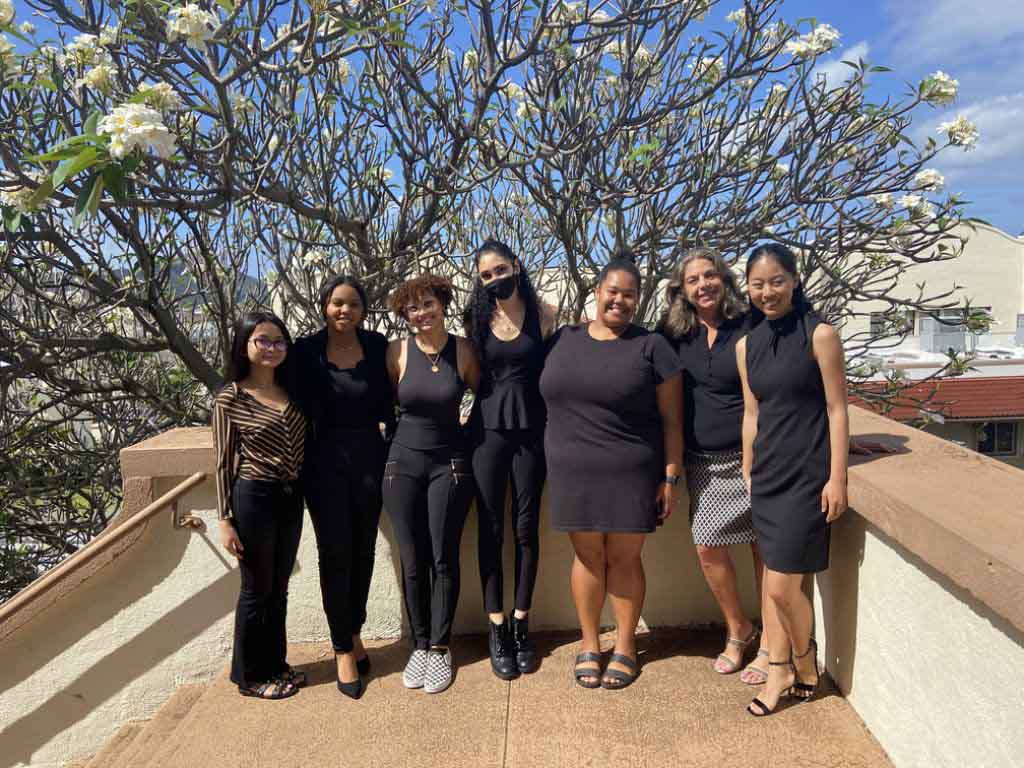 HPU's NSAC Team and advisor from left to right: Jasmine Sadang, Mya Fry, Kirby Pierce, Valeria Figueroa, Olivia McGougan, AnnMarie Manzulli, faculty advisor, and Julia Matsumoto..
Hawaii Pacific University's strategic communication students are American Advertising Federation's (AAF) District 13 winners of the 2022 National Student Advertising Competition (NSAC) held on Saturday, Apr. 23 at Chaminade University of Honolulu.
NSAC, sponsored by American Advertising Federation (AAF), is an annual nationwide competition. Each year a corporate sponsor provides a case study of a real-world marketing problem challenging students to research the product and competition, identify potential opportunities and produce an integrated campaign for the client. Student teams then "pitch" their campaign to a panel of judges. Judging is conducted by advertising, marketing and media professionals in the industry.
The 2022 NSAC client, MetaQuest, challenged student teams to develop an advertising campaign with a
$10 million budget, targeting 18-24-year-old-college students and young adults to make the Quest 2 VR virtual reality headset an essential, coveted back to school product.
HPU students who are AAF College Chapter members and enrolled in the MC 4900 capstone experience course are eligible to compete in NSAC. Students create an integrated advertising campaign including background research, a media plan and production of several creative tactics including social media advertising executions.
All students audition, but only four are selected to present a 20-minute campaign pitch to a panel of judges. HPU's 2022 NSAC presenting team include strategic communication seniors Valeria Figueroa, Mya Frye, Julia Matsumoto and Olivia McGougan, with alternates Kirby Pierce and Jasmine Sadang.
AnnMarie Manzulli has been the faculty advisor of the NSAC team since 2010. "NSAC is a rigorous teaching tool that provides an immersive, real-world industry experience," says Manzulli. "We're fortunate to have the support of dedicated AAF District 13 industry experts who invest in students, the next generation of advertising professionals."
The district competition is judged by industry professionals selected by AAF Hawaii District 13 Coordinators, Paul Lam and Noah Tom. The 2022 industry judges include Helen Chang, Spectrum Reach; Keith DeMello, Ulupono Initiative; Khrystyn Huynh, Hawaiian Telcom; Kris Salzer, Anthology Marketing Group and Jody Shiroma, PBS Hawaii.
As District 13 winners, HPU's NSAC team will proceed to the virtual semi-final round, which is a 20-minute video presentation and a 10-minute conference call Q&A session with a panel of national judges, held on May 5-6. All first-place district winners will compete for one of eight national finalist spots. The top eight teams will advance to the national competition held in conjunction with ADMERICA, AAF's national conference, which this year will be held in Nashville, TN.
About AAF District 13
The American Advertising Federation District 13 (AAF District 13) is a 501c6 Non-Profit Advertising Trade Organization that's affiliated with the American Advertising Federation – Hawaii and Ad 2 Honolulu. AAF District 13 also presents the annual Pele Awards, which honors the Best in Adverting and Design for the year.