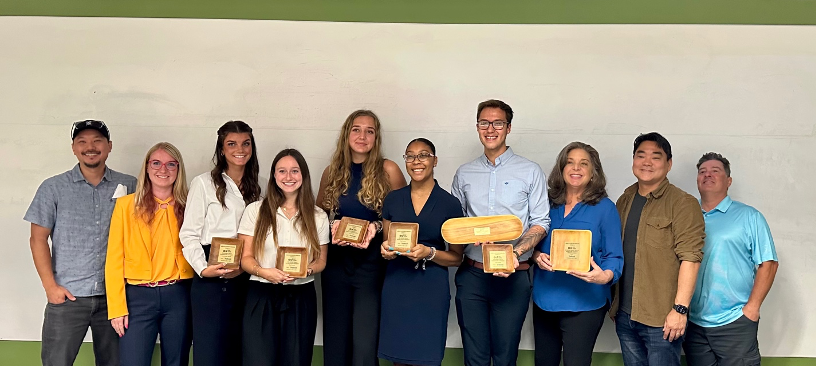 HPU's 2023 NSAC team and AAF Hawaii District 13 judges at District 13 NSAC competition on April 22, 2023. From left: Brad Watanabe, Berad Studio, Katrina Hicks, The New York Times, Megan Marty, Emma Williams, Amber Nelson, Laeila Lesllie, Hunter Ferner, HPU faculty advisor AnnMarie Manzulli, Brian Watanabe, MVNP and, Allan Payne, Anthology Marketing Group..
Hawaii Pacific University's team of communication students presented to a panel of advertising industry professionals in AAF's District 13 National Student Advertising Competition (NSAC) held on Saturday, Apr. 22.
The National Student Advertising Competition is the premier college advertising competition that provides more than 2,000 college students the real-world experience of creating a strategic advertising/marketing/media campaign for a corporate client.  This year's client Indeed, the #1 job search platform worldwide, challenges students to develop a yearlong campaign that aims to increase unaided consideration in the 18 – 24 year-old job seeker audience.
HPU's presenting team includes Communication Studies and Practices ( CSP ) majors Hunter Ferner, Laeila Leslie, Amber Nelson, Emma Williams, and alternate presenter Megan Marty. The team's faculty advisor AnnMarie Manzulli has been advising HPU's NSAC team since 2010.
The team's Creative Director, CSP senior Hunter Ferner reflects, "This competition experience has been a challenging, unique, and rewarding one, and I am so grateful for the way it has put both my creative and strategic skills to use. NSAC has been one of the most gratifying experiences in my college career because it has given me an outlet to work with real clients on real-world campaigns. I feel proud of the work that my team and I have accomplished, and I am grateful for all the professional connections I've made along the way."
Students first must research the product and its competition, identify potential problems and devise a completely integrated campaign for the client. The campaign case guidelines include producing a 13- page "plans book", five non-video creatives and unlimited video creatives, that were submitted before April 3. They then produce a 20 minute presentation to "pitch" their campaign to a panel of experts who judge and score their work at the District level of the competition.
The district competition is judged by industry professionals selected by AAF Hawaii District 13 Governor Paul Lam and Noah Tom. The 2023 industry judges include Katrina Hicks, The New York Times; Allan Payne, Anthology Marketing Group; Brian Watanabe, MVNP and Brad Watanabe, Berad Studio. 
As first place District 13 winners, HPU's NSAC team will proceed to the virtual semi-final round, which is a 20-minute video presentation and a 10-minute conference call Q&A session with a panel of national judges and the client which is held on May 4-5. All first-place district winners will compete for one of eight national finalist spots. The top eight teams will advance to the national competition held in conjunction with ADMERICA, AAF's national conference, which this year will be held in St. Louis, MO.
About AAF District 13
The American Advertising Federation District 13 (AAF District 13) is a 501c6 Non-Profit Advertising Trade Organization that's affiliated with the American Advertising Federation – Hawaii and Ad 2 Honolulu.   AAF District 13 also presents the annual Pele Awards, which honors the Best in Adverting and Design for the year.