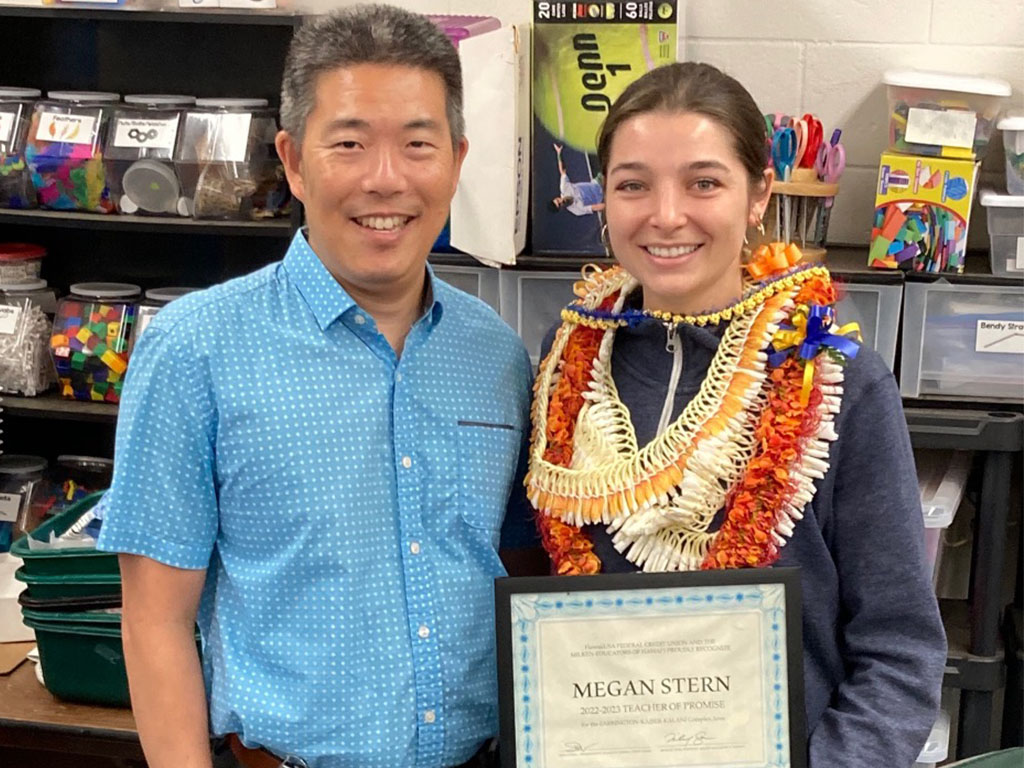 HPU alumna Megan Stern.
HPU alumna Megan Stern recently received a "Teacher of Promise" finalist award for her excellence in education. The finalist award is given by the Milken Educators of Hawaii (MEH), and the HawaiiUSA Federal Credit Union has sponsored the award since 2006.  
"The award is an honor, and I am grateful to be supported by the administration and faculty," said Stern. "As a new teacher, I am humbled and motived by this experience to continue to improve in my teaching practice."
Stern earned her undergraduate degree from HPU in elementary education, and she is currently pursuing her master's degree in educational leadership at HPU. Originally from Orange County, California, Stern moved to Hawai'i in 2017 for her undergraduate studies. She teaches fourth grade in the Farrington-Kalani complex in the State Department of Education (DOE).
The annual Teacher of Promise finalist awards are given to middle and secondary educators, from 15 complexes in the DOE. Each awardee represents one complex. There are a total of seven Teacher of Promise finalists that are represented from the islands of Oahu Maui, Kauai, and Hawai'i Island.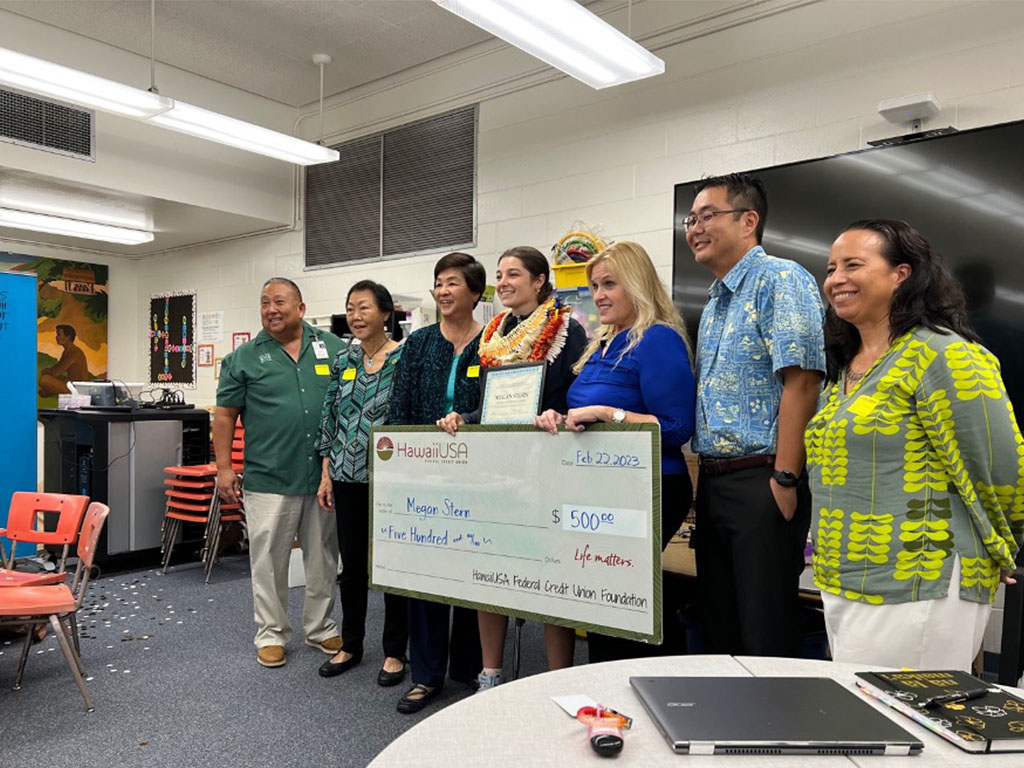 Megan Stern receives a check from HawaiiUSA Federal Credit Union.
"The School of Education is so proud of Megan, and the positive impact she is making on her students and the community," said HPU Dean of the College of Professional Studies Mani Sehgal, Ph.D. (ABD). "Our education program allows our candidates to gain extensive classroom experience, and our professors provide real-world practical experience to help support our future teachers with the skills to cultivate our students of tomorrow."
Stern has always felt a calling to work with children, and she followed that passion into teaching. She chose HPU for her undergraduate and graduate studies because she admires the small class sizes and the personal educational experience the professors offer their students.
"I felt that I could learn about building teacher-student relationships better than I could at a larger university lecture hall," said Stern. "I was right. My professors at HPU continue to inspire me. I feel lucky to have been a part of the HPU elementary education program because our cohort really felt like a tight-knit family.
"I'm so fortunate to be part of a school community that is supportive and values individual creativity. I hope to stay in the Hawai'i DOE for years to come and continue to serve our keiki." 
For more information about HPU's Education programs contact Dean Sehgal at msehgal@hpu.edu.