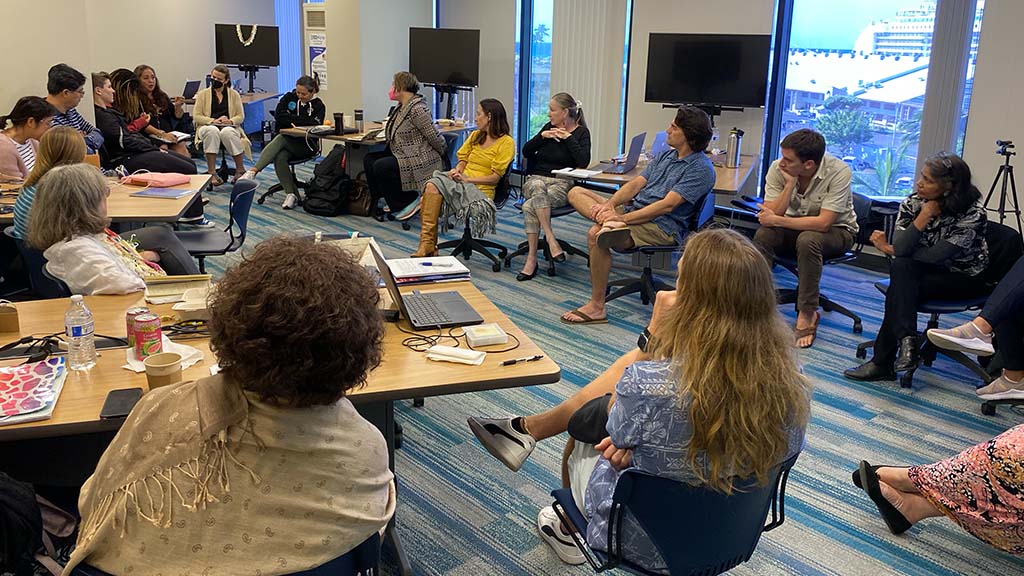 HPU professors and adjunct faculty attend a HUI Scholars writing retreat.
In Fall 2022, HPU's Undergraduate Infrastructure Student Research Center (HUI SRC) held its first "HUI Scholars'" initiative writing retreat featuring Halaevalu Vakalahi's, Ph.D., longtime colleagues, Western Kentucky University Professor Emeritus Saundra Starks, Ph.D., and University of North Carolina Greensboro Professor Emeritus Cathryne Schmitz, Ph.D. The writing retreat incorporated four components:
Weekly writing circles
Ten hours of writing during in-person writing retreat events
Writing coaches and mentors to offer a manuscript review and editorial services
Biostatistician to provide statistical consultation
From this writing retreat, HPU faculty members from diverse academic fields were able to submit grant proposals to local and federal agencies (such as NIH pilot grants from PIKO and INBRE), publish articles in academic journals, and more.
"We want to help faculty members thrive in academia, and we sometimes forget that faculty members are key to student success," said HPU HUI SRC Coordinator Blaize Soakai. "If we want to boost student progression, it starts with supporting our amazing faculty in their pursuit of knowledge. It was an amazing experience to see these bright minds work together collectively to complete their individual writing goals."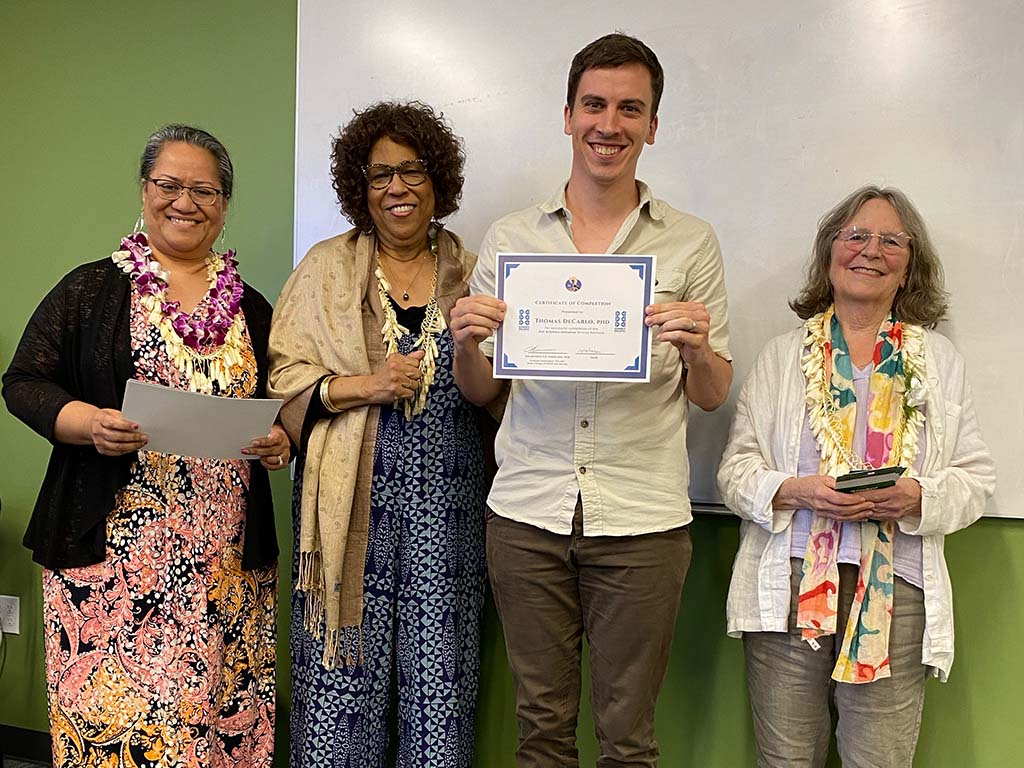 HPU professors and adjunct faculty received certificates of completion at the writing retreat; pictured are (L to R) Halaevalu Vakalahi, Saundra Starks, Thomas DeCarlo, Cathryne Schmitz.
HPU's HUI SRC recently launched a scholars' initiative for faculty and adjunct professors. The initiative is funded by the National Institutes of Health/National Institute of General Medical Sciences. 
The initiative aims to cultivate and support HPU faculty as scholars and mentors to students who are members of the HUI SRC. The initiative will focus on writing for publication and grants to help faculty progress toward reappointment and promotion and to better equip faculty as mentors to HPU students. 
The HUI SRC scholars' initiative offers travel funds for faculty to present at professional conferences and research funds for faculty to conduct pilot projects to support further grant proposals.