HPU esports arena celebrates its fifth year at Aloha Tower Marketplace.

HPU students at the esports arena at Aloha Tower Marketplace.

HPU students compete at the HPU esports arena.
In February 2018, HPU debuted its collegiate esports arena at Aloha Tower Marketplace. A first for Hawaiʻi. An ultramodern arena built under the leadership and vision of HPU President John Gotanda offered HPU students and the general public an arena to gather and collaborate while playing competitive and casual video games in urban Honolulu. Five years later, and HPU's esports arena is still the only esports arena in the state.
To celebrate its five-year anniversary a special event will be held on February 24 at 4:30 p.m. to 9:00 p.m., in the esports arena. The event will include food and beverages, a DJ, local vendor booths, open play on consoles, and Valorant competitive game play by HPU's varsity esports team and by local high school students. Everyone is invited to attend.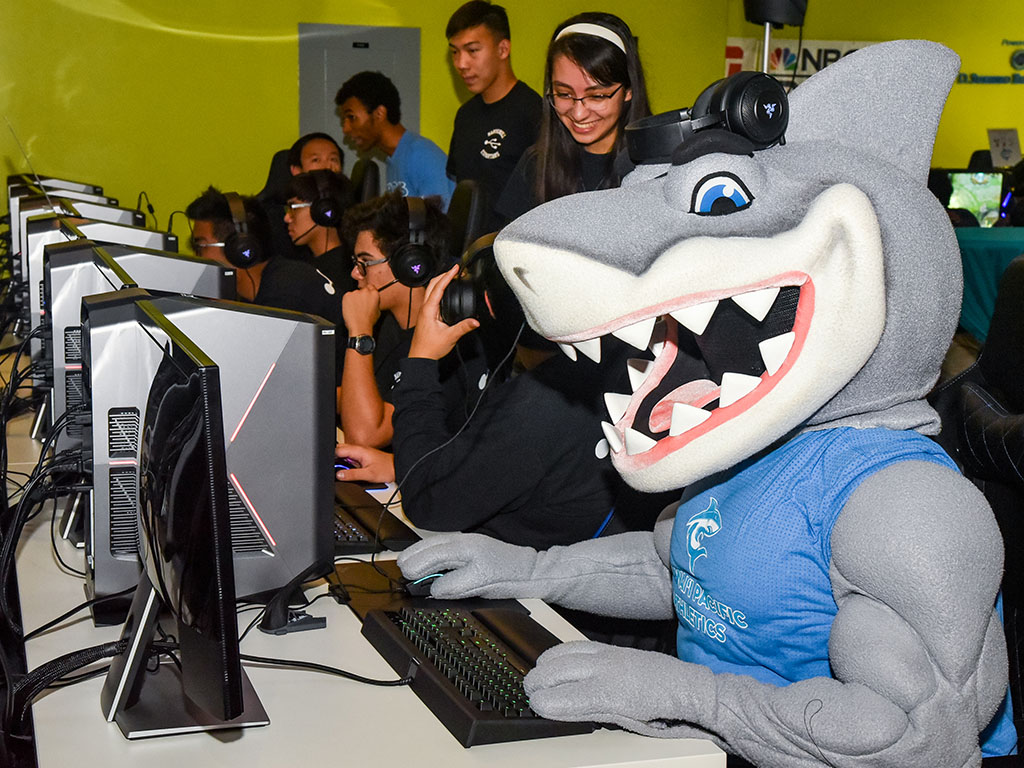 Sharky at the HPU esports arena.
"HPU is the defacto home for esports in Hawaiʻi," said HPU Esports Manager Jordan Oliver. "In the last year alone, we have seen revenue up and we are more than ever connected to the local esports community. We host parties, corporate events, youth mentor programs, and recently, the Honolulu Chamber of Commerce. Our arena hosts monthly tournaments, and our students are highly involved and passionate about esports and the job opportunities that they have – not only once they graduate, but now, while they're in college!"
The 3,000 square foot esports arena features cutting-edge gaming computers, virtual reality stations, next-gen consoles, casual seating and viewing areas, and a streaming booth. HPU undergraduate students can receive scholarships up to $6,000 to play on the varsity HPU intercollegiate esports team competing in the game Valorant.
The HPU esports arena often works with local charities where HPU students and Oliver donate their time to transport computers to children for various charity functions. During summer, Oliver and his team of 15 student employees will host summer camps where children ages 8-16 compete, socialize, and form friendships in the arena.
"We are the only arena in Hawaiʻi that's open to the public," says Oliver. "We invite everyone to learn, to play, to engage in all opportunities that esports provides us. Our mission at HPU esports is to give everyone an education in the industry of esports, including logistics and event management. Visit us and you will see firsthand how plugged-in we are with our local communities."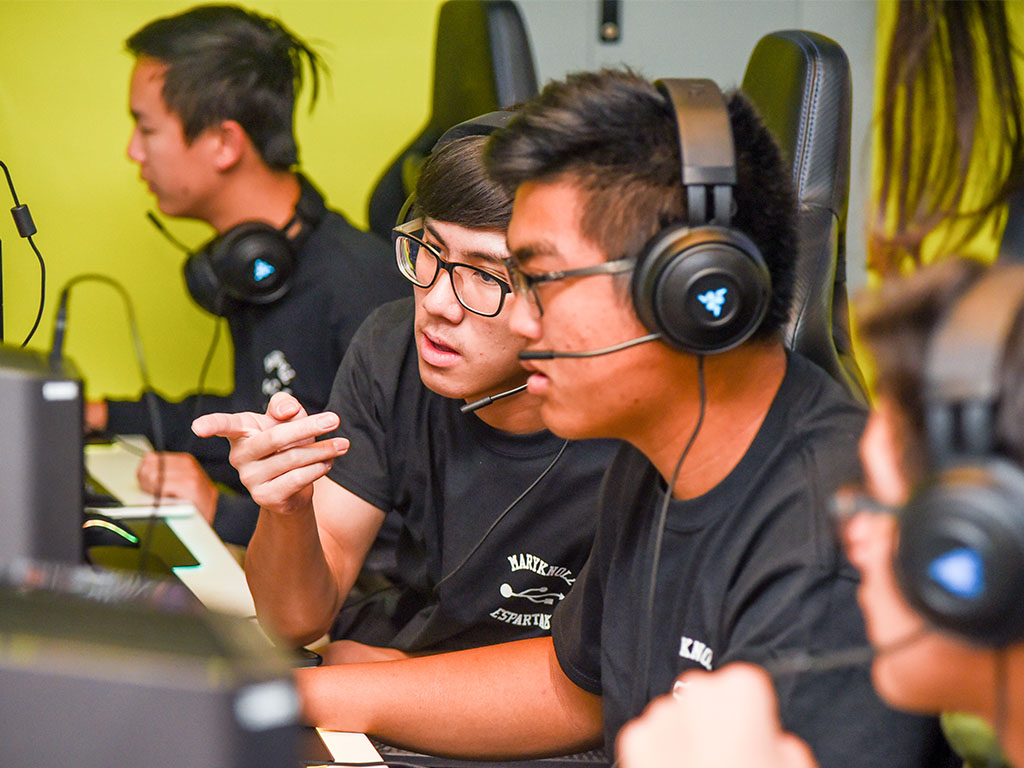 Maryknoll School high school students compete at the HPU esports arena.
The future of HPU's esports arena will see more cutting-edge computers, software, game consoles and continued engagement within the community. Most of the folks that frequent the arena are from the public and Oliver expects that trend to increase as more and more people become interested in esports as the pandemic ends.
"High school students frequently stop by to play tournaments at HPU esports arena and often they're amazed by our space, technology, our computers and consoles," said Oliver. "They want to know how they can attend HPU as undergraduates and that makes me happy to know we are reaching students who are interested in esports, and all this industry offers for future generations of students. 
"The future of esports is bright at HPU," said Oliver. "Feel free to stop by anytime. We really want to meet everyone."
To learn more about esports at HPU, and hosting an event in the esports arena click here.