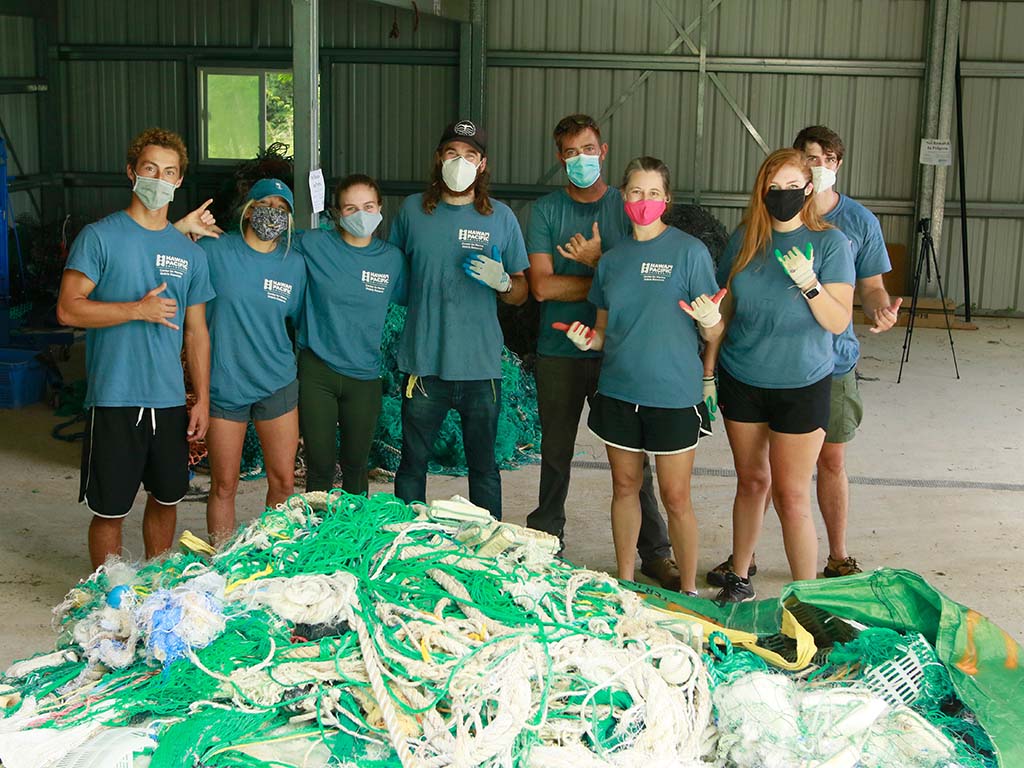 HPU's CMDR team in front of large derelict fishing gear conglomerate.
HPU Center for Marine Debris Research (CMDR) has launched a project that is partially supported by the National Oceanic and Atmospheric Administration's (NOAA) Marine Debris Program to remove derelict fishing gear from the ocean.
This type of marine debris is made of both lost and abandoned fishing gear, including ghost nets. Derelict fishing gear is primarily made of plastic and constitutes most of the plastic pollution washing ashore on Hawaiʻi's beaches. Before reaching the shoreline, ocean currents tangle up derelict fishing gear into large masses. These masses of plastic debris entangle and drown marine animals and smother and kill Hawaiʻi's precious coral reefs as they drift to the shoreline.
Derelict fishing gear is one of the most harmful forms of marine debris to marine animals and habitats.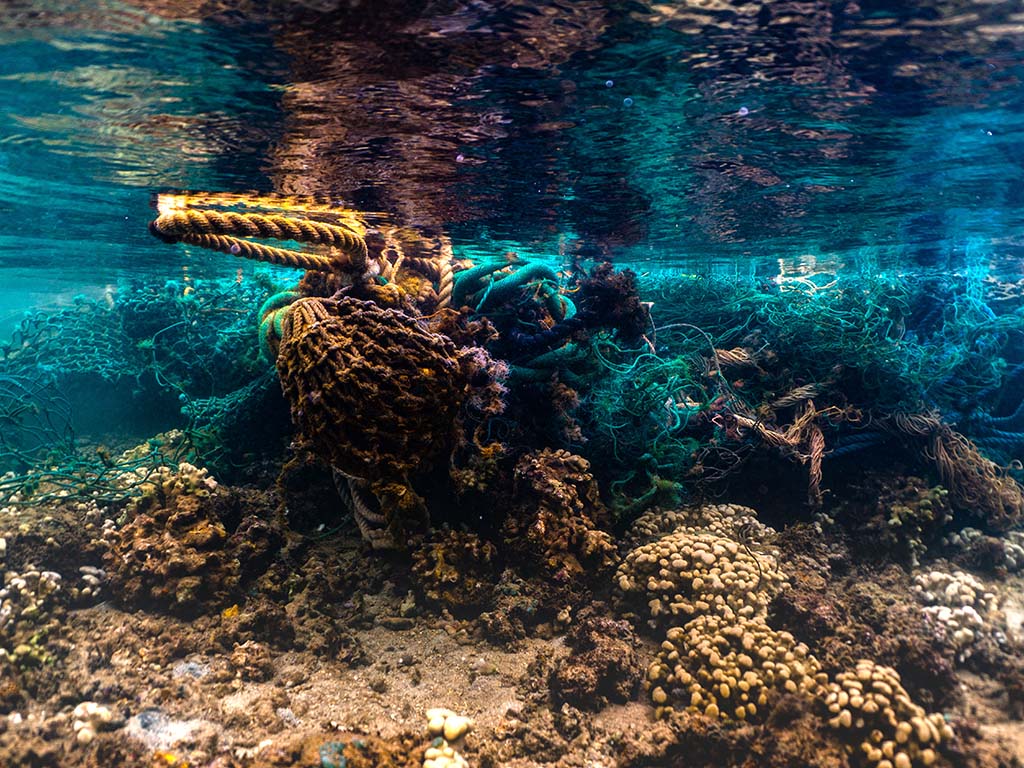 Derelict fishing gear conglomerate harming coral in Kane'ohe Bay. Image By Rachel Sandquist .
"When I first saw the damage caused by these large ghost nets on corals in Kāneʻohe Bay I was motivated to prevent it from happening," said Research Manager of HPU's Center for Marine Debris Research Raquel Corniuk. "This project is poised to be a win-win for fishermen and our beautiful ocean environments."
HPU has partnered with the Hawai'i Longline Association and Hawai'i's Department of Land and Natural Resources' (DLNR) Division of Aquatic Resources (DAR) to accomplish the ambitious goal of removing 100 metric tons (220,462 pounds) of derelict fishing gear from the ocean over two years.
A bounty will be paid to eligible commercial fishers to remove derelict fishing gear at-sea before it strikes Hawai'i's coral reefs. Fishers registered in the bounty project will be paid between $1 to $3 per dry pound for derelict fishing gear found at sea and brought back to O'ahu.
HPU ran a trial bounty project from 2020 to 2021 with the Honolulu-based longline fleet. "For decades, Hawaii longline vessels have been bringing back derelict nets/ropes encountered at sea, and since 2010, disposing the debris at the dedicated bin at Pier 38," said Executive Director of Hawaii Longline Association Eric Kingma. "Derelict ghost gear is a serious safety at sea hazard and when entangled with fishing gear, lost time and economic impacts result. HLA is excited to partner with HPU in this project and contribute to its objective."
HPU's partnership with NOAA will enhance the success of the bounty project. "Derelict fishing gear and ghost nets continue to be a persistent economic and ecological threat to Hawai'i. Our ultimate goal is to have a sea free of debris," said Coordinator for NOAA's Marine Debris Program's Pacific Islands Region Mark Manuel. "NOAA is proud to support removal and data gathering efforts like this that get us all a step closer to realizing our shared vision."
HPU staff, students, and volunteers will collect the debris from fishers at the dock and document, measure and weigh debris in the net shed. The debris will be repurposed first by artists and educators and recycling researchers. The remaining debris will be converted to electricity for the City and County of Honolulu through the Nets-to-Energy Program with assistance from Schnitzer Steel Hawai'i Corporation and H-Power (Covanta).
A current study at HPU is nearing its completion and initial reports indicate that most of the derelict fishing gear washing ashore in the islands is not from Hawaiʻi-based fisheries. These findings will be used to discuss best practices with those fisheries in hopes of preventing the loss of fishing gear in the first place. 
How to get involved:
Commercial fishers with appropriate vessels and experience lifting or towing debris at-sea are encouraged to register by February 28, 2023, on HPU's project website.
Learn more on DAR's website.
Community members on Oʻahu interested in volunteering are welcome to sign up on CMDR's online volunteer form.