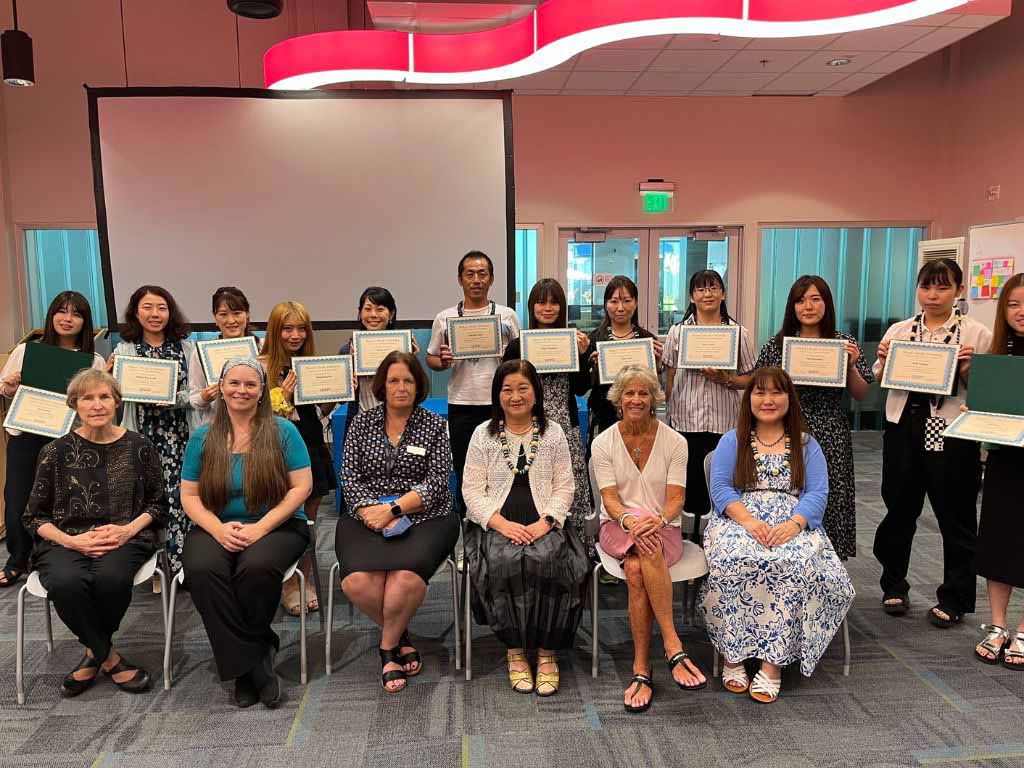 Ibaraki Christian University (ICU) English Teacher Program participants and ICU administrators with HPU program and college administrators at the program completion ceremony. .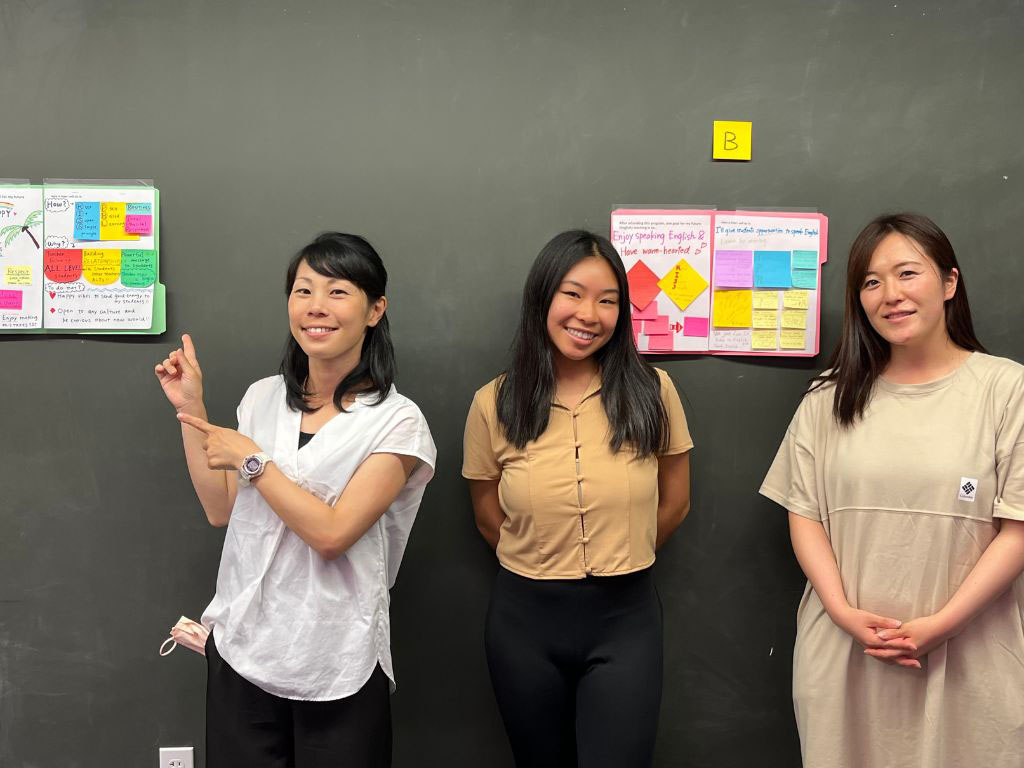 Program participants Minny and Yumi and HPU's Amanda Chhour conducting a poster session..
Summer 2022 brought signs of a "new normal" and pre-covid practices in social events, larger public gatherings, fewer masks, and more visible smiles!
From August 8-19, HPU welcomed the return of an International Group Program in collaboration with Ibaraki Christian University, hosting eight Japanese in-service English teachers and four students majoring in education. All participants were eager to learn and experience as much as possible during their two-weeks in Hawaiʻi!
"This program was wonderful. I was able to improve my English and teaching skills. I was impressed with the personalities and leadership of the teachers, who were very knowledgeable, kind, and supportive. My time here was very fulfilling, but I'd like to keep learning more…" wrote one of the teachers in the culminating program evaluation. Ibaraki Christian President Naomi Ueno and Dean of Academic Affairs/Program Supervisor Miho Murakami are hopeful that this program becomes an annual opportunity for both IC and HPU. HPU Provost Jennifer Walsh, College of Liberal Arts Dean Allison Gough, and Department of English and Applied Linguistics Chair Christy Williams echoed this sentiment in a meeting to celebrate our mutual and budding relationship.
The English Teacher Education Program was developed and delivered by TESOL faculty from the Department of English and Applied Linguistics: International Group Programs Director Barbara Hannum and Academic Coordinator Jean Kirschenmann. Adjunct Kalehua Kamakawiwoole and additional guest speakers who presented in a Special Topics Series as part of the curriculum assisted. Intensive morning classes included instruction and practice in Principles of Teaching English as a Foreign Language (TEFL) and Teaching English in English (TEE). HPU MATESOL students assisted with fluency-building sessions and interactive materials workshops, highlights of the program thoroughly enjoyed by participants and volunteers alike. Additional features included co-curricular activities and experiential learning excursions such as a historic downtown Honolulu guided walking tour, a picnic and concert by the Royal Hawaiian Band on the 'Iolani Palace grounds, and an afternoon at Foster Botanical Garden. 
In their free time, some of the visiting teachers chose to visit the Polynesian Cultural Center, while others hiked Diamond Head, shopped at Waikele Outlets, and enjoyed a hula lesson in Kapiolani Park.  The showcase event in the final week was a poster session in which participants shared key themes and principles from their learning, along with ideas for their own teaching upon return to Japan. The program concluded with a celebratory Completion Ceremony and Aloha Lunch of ono Hawaiian plates at the  Pier 9 Private Dining Room at Aloha Tower Marketplace.
Mahalo to all who supported this program…we're looking forward to more!
Photos Courtesy of Barbara Hannum