HPU students arrive at Aloha Tower Marketplace ready to move into their residences.

HPU President John Gotanda with a new HPU student and her father.

HPU Provost Jennifer Walsh with new students and families on move-in day at Aloha Tower Marketplace.

HPU students move into their residences at Hawaii Loa campus.
HPU celebrated and welcomed new students to campus for undergraduate orientation week that began bright and early on August 23, 2023, with Move-in Day. Students arrived at their residences to meet their roommates and begin the memorable and exciting fall 2023 term. HPU faculty and staff were onsite at the Aloha Tower Marketplace and Hawaii Loa campuses to assist students and their parents with moving into residences and were available to answer any questions students and their families had for the academic term.  
Throughout orientation week, interactive group activities and breakout sessions took place on campus. The aim was to provide valuable information to students and their families and address inquiries related to financial aid, academic assistance, student well-being, and the adjustment to college life.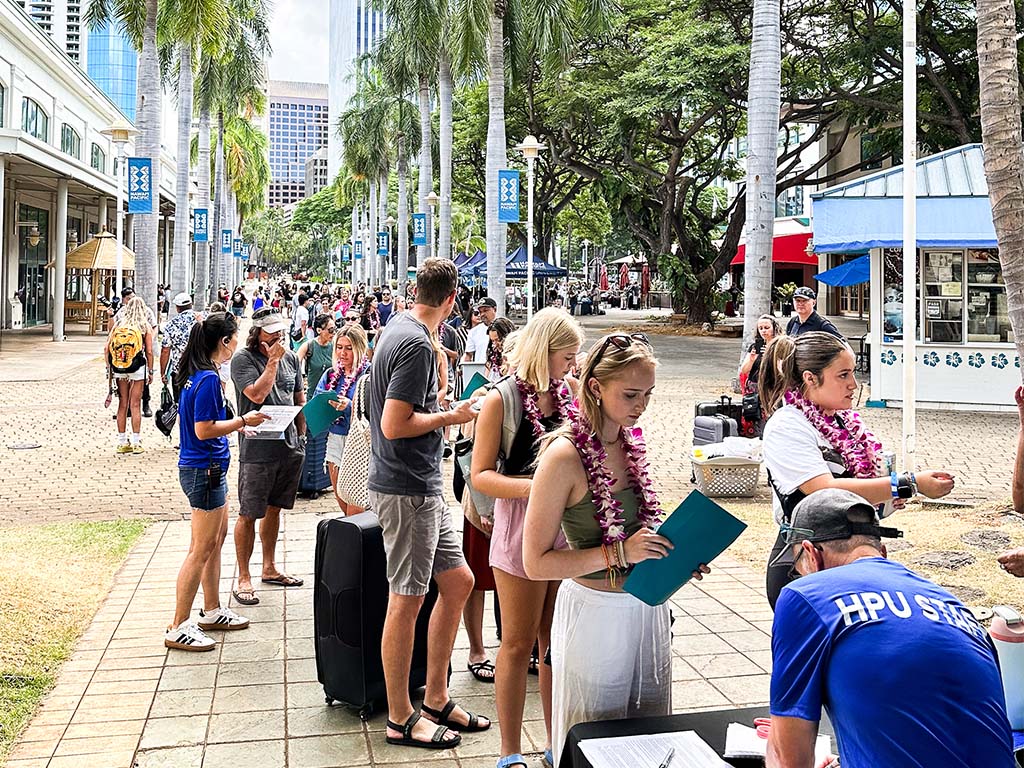 HPU students checked into their residences at Aloha Tower Marketplace.
Students had the opportunity to connect with their HPU community advisors, who acquainted them with the intricacies of residing in the campus halls. They also received guidance on fostering a positive outlook, adapting to life in the Aloha state, and gaining insights into the rich tapestry of Hawaiian culture and life in the islands. Students and their families met with academic deans, where they discussed specific programs in detail and many important topics related to students' academic and career pathways. 
On a cool and tranquil late afternoon on August 24, students and their families attended a luau at Aloha Tower Marketplace, where a host of local food vendors lined the promenade of the Tower with a variety of delicious pupu (appetizers) from eateries across the island. Students met new friends, engaged in traditional Hawaiian and Polynesian customs, and enjoyed an entertaining show that highlighted songs and dance from across the Pacific, including an electrifying Māori war dance and a fire dance that had everyone on their feet.  
The vibrant afternoon transitioned into a breathtaking evening. At dusk, as the sun gradually dipped below the Pacific Ocean and pink bands of light washed across the sky, the annual candle lighting ceremony began. This year, out of respect for the community and people of our neighboring island of Maui and the devastating wildfires battery-operated candles were used.  
A luau at Aloha Tower Marketplace for HPU students and their families.
HPU President John Gotanda and HPU Senior Vice President and Provost Jennifer Walsh, Ph.D., led the ceremony and the reading of the new-student and university pledges. This ritual symbolizes the commencement of a new and exciting journey, and all the wonderful experiences students will engage in during their years of study at HPU. Wrapping up the week-long flurry of activities was a lunch cruise on the Star of Honolulu where students had the opportunity to experience inspiring views of Honolulu from the sea.   
Being a student at HPU is certainly filled with exhilaration. There are fresh friendships to forge, novel adventures to embrace, well-earned degrees to attain, all within the educational expedition that defines life at HPU. Go Sharks!