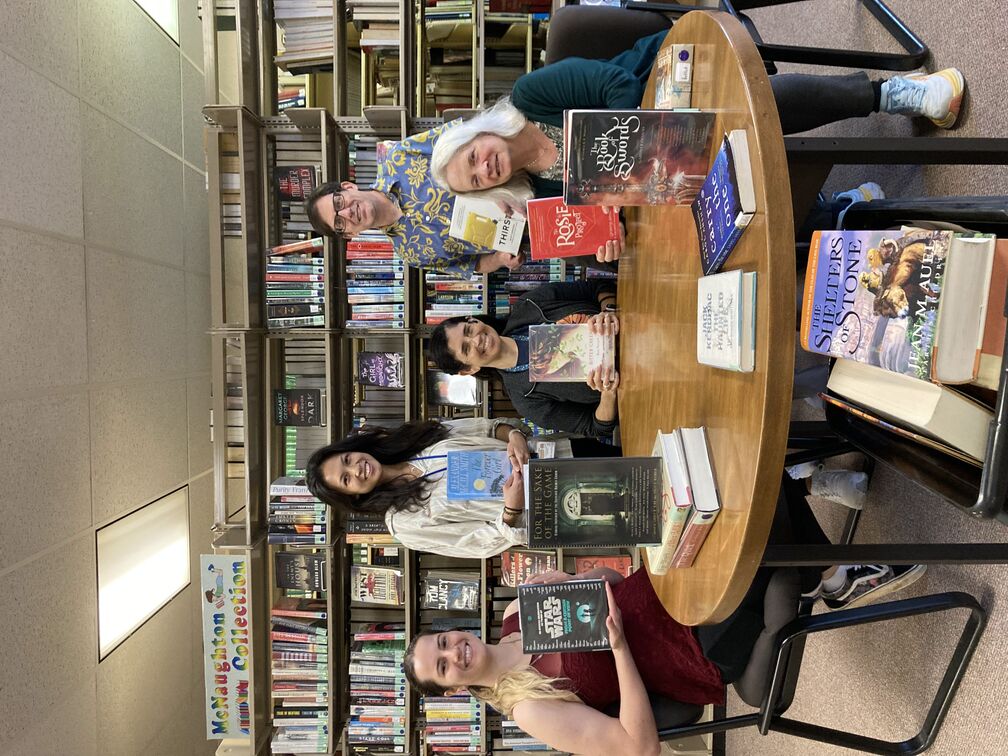 Pictured from left to right: HPU Student Kellen Chevalier, Hawaii State Hospital Occupational Therapists Brianna Hernandez and Fran Macalintal, HPU Librarians Trenton Tubbs and Ruth Hanlon.
The HPU Libraries were delighted to donate books to the Hawaii State Hospital for their Patients' Library. HPU Librarians, Ruth Hanlon and Trenton Tubbs, and HPU student, Kellen Chevalier, coordinated the donation with Hawaii State Hospital Occupational Therapists, Fran Macalintal and Brianna Hernandez.


The new building at the Hawaii State Hospital, Hale Hoʻōla (Hawaiian meaning: hale - house; hoʻōla– to give life; to heal), opened in 2022 and included a beautiful library. Macalintal has been collecting books since the summer of 2022 and began running patient classes to set up the library in January 2023. Patients receive Newsletter OT class in the library, work in the library, and are given time to read in library.


The Patients' Library and the resources within it will serve many purposes:
Patients will gain the knowledge and skill set for organizing and maintaining a small library. They will work individually and may have the opportunity to collaborate with other members of the group.
Give patients resources to read in their free time on the unit
Encourage literacy by practicing reading
Increase vocabulary
Reading about the experiences of others builds empathy/compassion/understanding of others
Increases self-awareness
Empowerment/freedom of choice to read what appeals to them
Bring new information and knowledge
Be a quiet place to study and read
Source of leisure exploration - learn some new trades/hobbies/upgrade a skill

The donation consists of both fiction and nonfiction books from the HPU Libraries' collection of deselected books. The HPU librarians continuously review the HPU Libraries' collections to ensure the currency and vitality of the University's books and learning materials. The Hawaii State Hospital Occupational Therapy Department is so grateful for the opportunity to obtain more books for the Patients' Library. They have also collected books from private donors and Friends of the Library of Hawaii. This donation highlights the HPU Libraries' commitment to bringing people and information together in innovative ways in the service of society.