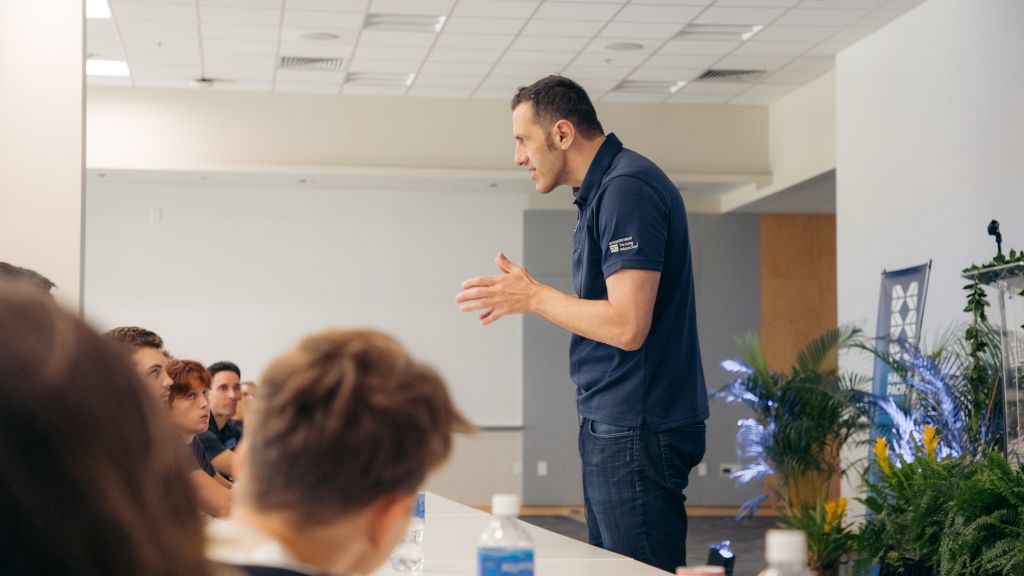 Nash Subotic.
HPU held its first of many HPU Talks events last Wednesday, April 12, where double-alumnus Nash Subotic gave an impassioned presentation on his journey from fleeing the Bosnian War to becoming the CEO of WestPac Wealth Partners – one of the fastest-growing businesses in the financial services industry.
The event started with introductions from HPU Vice President and Chief Marketing Communications officer, Jeffrey Rich, as well as a warm welcome from HPU President, John Gotanda. Afterwards, Subotic spoke of his early life in his hometown of Sarajevo, Bosnia. When he was just 13 years old, he fled the Bosnian War with his family and later developed a passion for basketball.
"Basketball was my ticket in to pursuing higher education," says Subotic. Looking to play basketball and study for his degree, Subotic enrolled in HPU's business program and graduated once in '02 with a BSBA and again in '03 with his MBA. "You have to maintain the drive and energy to pursue something beyond your degree in order to help people. Energy drives passion, and my passion is in helping others."
After graduating from HPU, Subotic sought after opportunities to help people amid the development of the financial crisis in 2007. During this time, he founded WestPac Wealth Partners, a wealth management company that has generated over $2.5 billion in assets and has been called one of the best places to work by Fortune and Inc. magazines.
In Wednesday's event, he shared with HPU students that what makes a good leader is someone who can make everyone win together. "Life is good here," says Subotic. "There are no wars to worry about here. And 95% of the time, you end up worrying about things that never happen. So, don't worry too much, and don't take yourself too seriously."
After Subotic's presentation, HPU students had the opportunity to ask questions about leadership, entrepreneurship, and maintaining a competitive edge in the professional world. Students gained first-hand insights about how to make the most out of their college experience and how to pursue their passions after graduation.
"There are only two things in life that you can't control," says Subotic. "Those are death and sickness. Everything else, you have the power to create for yourself. Follow the direction your passion is taking you, and lead with empathy."