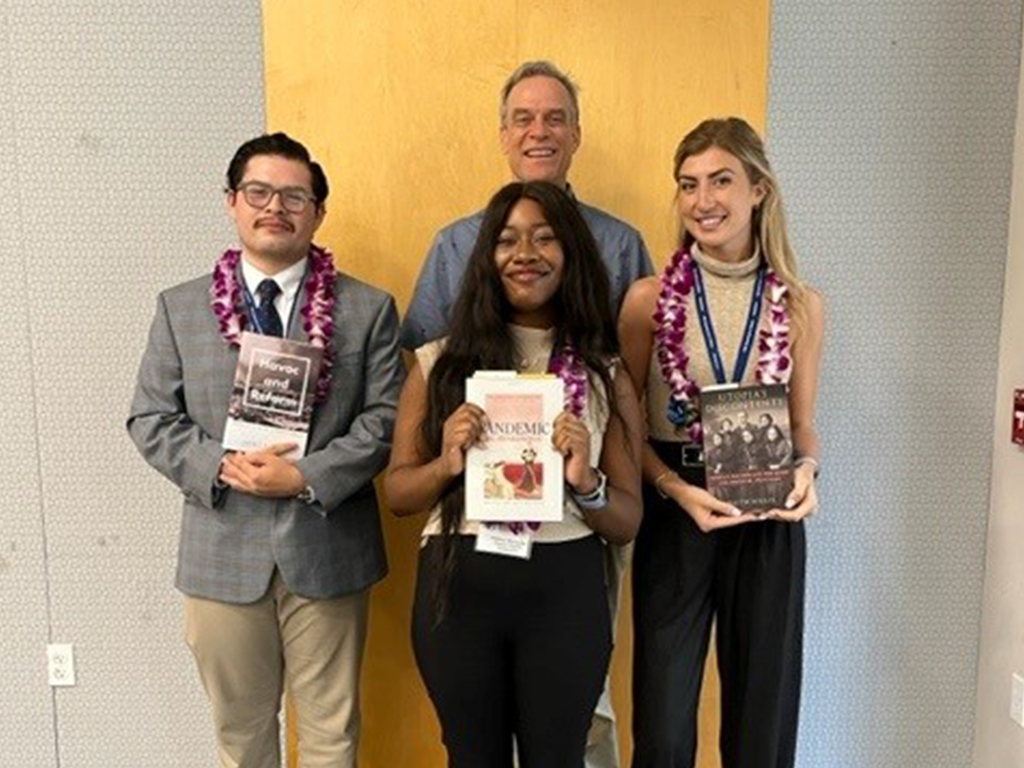 Pictured (front row, left to right): David Arteaga DeSantiago, Thabiso Motumhe, Sophia Garrido; (back row) Jon Davidann.
On April 1, the annual Phi Alpha Theta History Honors Society Hawaii State Student Conference was held at Aloha Tower Marketplace. Three HPU students gave papers at the Conference, and all three won prizes.
Master of Arts in Diplomacy and Military Studies student Sophia Garrido (HPU) won the MARC JASON GILBERT PRIZE (global conflicts/search for peace) for her paper, The Power of Priorities, a study of the failed Triple Alliance between Great Britain, France, and the Soviet Union in 1939.
David Arteaga DeSantiago (HPU) won the GFWC WOMEN'S HISTORY PRIZE for Pecan Striking, a paper about the Pecan industry in San Antonio, Texas before World War II.
Thabiso Mutumhe (HPU) won Honorable Mention for the JERRY H. BENTLEY WORLD HISTORY PRIZE for Diversity Gone Wrong: Analyzing how the Removal of Cultural and Linguistic Barriers Feeds into the Globalization of Transnational Crime.
Professor of History Jon Davidann, Ph.D., the HPU Phi Alpha Theta Faculty Advisor, served as host and gave the keynote speech.