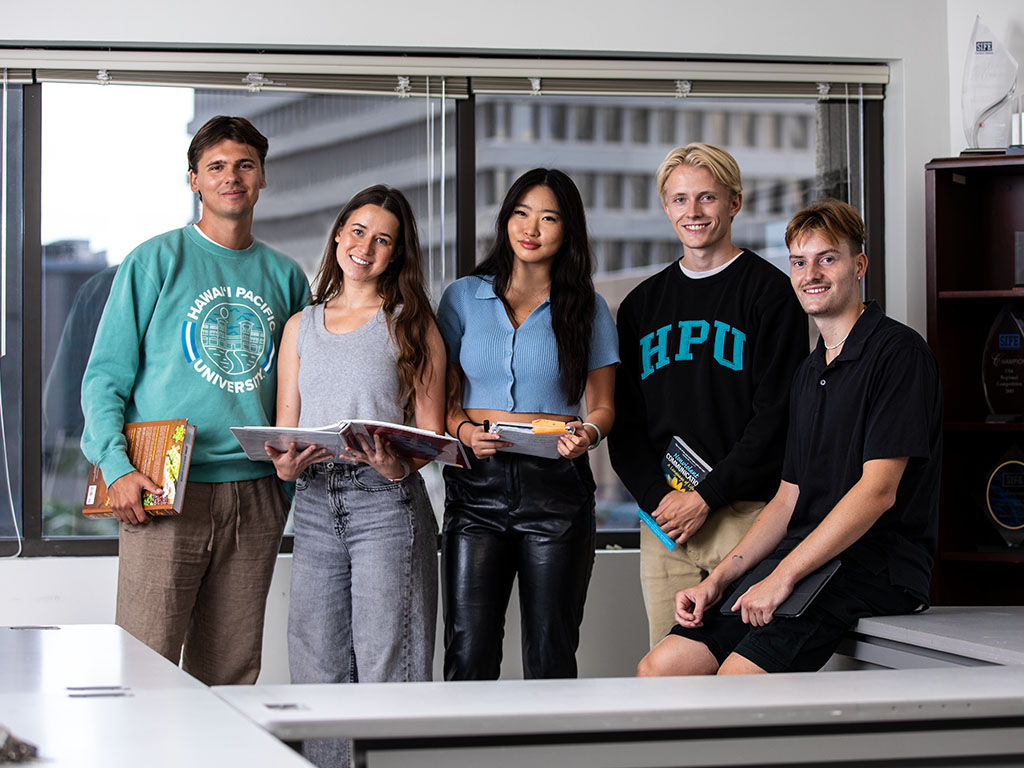 HPU business students at the HPU College of Business in Pioneer Plaza.
The HPU College of Business recently announced it will be relaunching the Delta Mu Delta (DMD) honor society at the University after a two-year hiatus during the COVID-19 pandemic. HPU established the original charter of DMD in 2003.
Under its new charter, and with new faculty advisor HPU College of Business Lecturer Leslie Blood, J.D., M.B.A., there is a strong emphasis on inclusion, diversity, equity, and belonging.
"The DMD honors society is dedicated to high performing university scholars and is an academic distinction at HPU," said HPU College of Business Dean Mark Rosenbaum. "We will be inviting over 50 junior and senior undergraduate business students with a cumulative G.P.A. of 3.7 or higher to join the DMD this spring. Additionally, we are inviting slightly over 50 graduate students, with a cumulative G.P.A. of 3.75 or higher. We are strongly interested in fostering a community of scholars at HPU."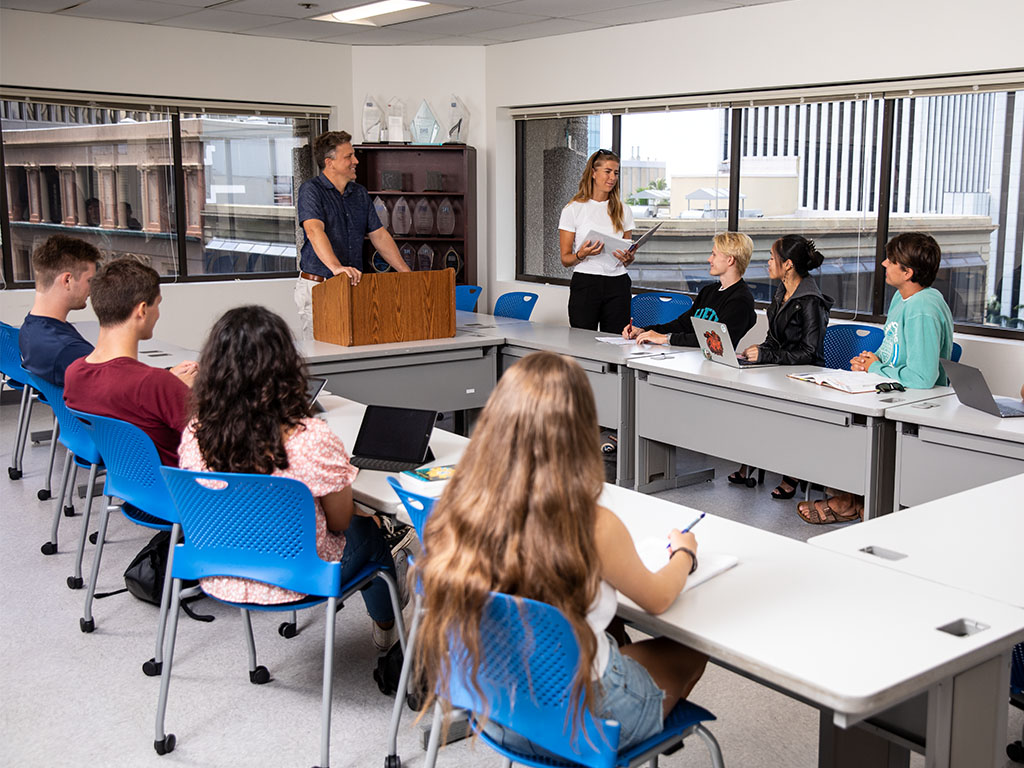 HPU business students in a classroom at the HPU College of Business at Pioneer Plaza.
Members of the DMD honor society will have many opportunities to network with professionals and attend special events and presentations. Members will also have their achievements recognized on their resumes and professional social media profiles.
"I am excited and honored to assist in the DMD, Delta Iota Chapter relaunch and acknowledge the achievement of our extremely bright HPU students," said Blood. "We plan to support and strengthen our diverse community by hosting events, including professional speakers, network mixers, volunteer work, and more."
The DMD was founded in 1913 at Harvard University, along with four professors at New York University and Yale University. According to the DMD website, their mission is to recognize "academic distinction of students at select colleges and universities by acknowledging the achievement of its individual members who support and strengthen the communities they serve."
HPU business students who have a cumulative G.P.A. of 3.7 are strongly encouraged to join HPU's newly chartered DMD honor society. To get information on joining DMD at HPU email Dean Rosenbaum at mrosenbaum@hpu.edu.