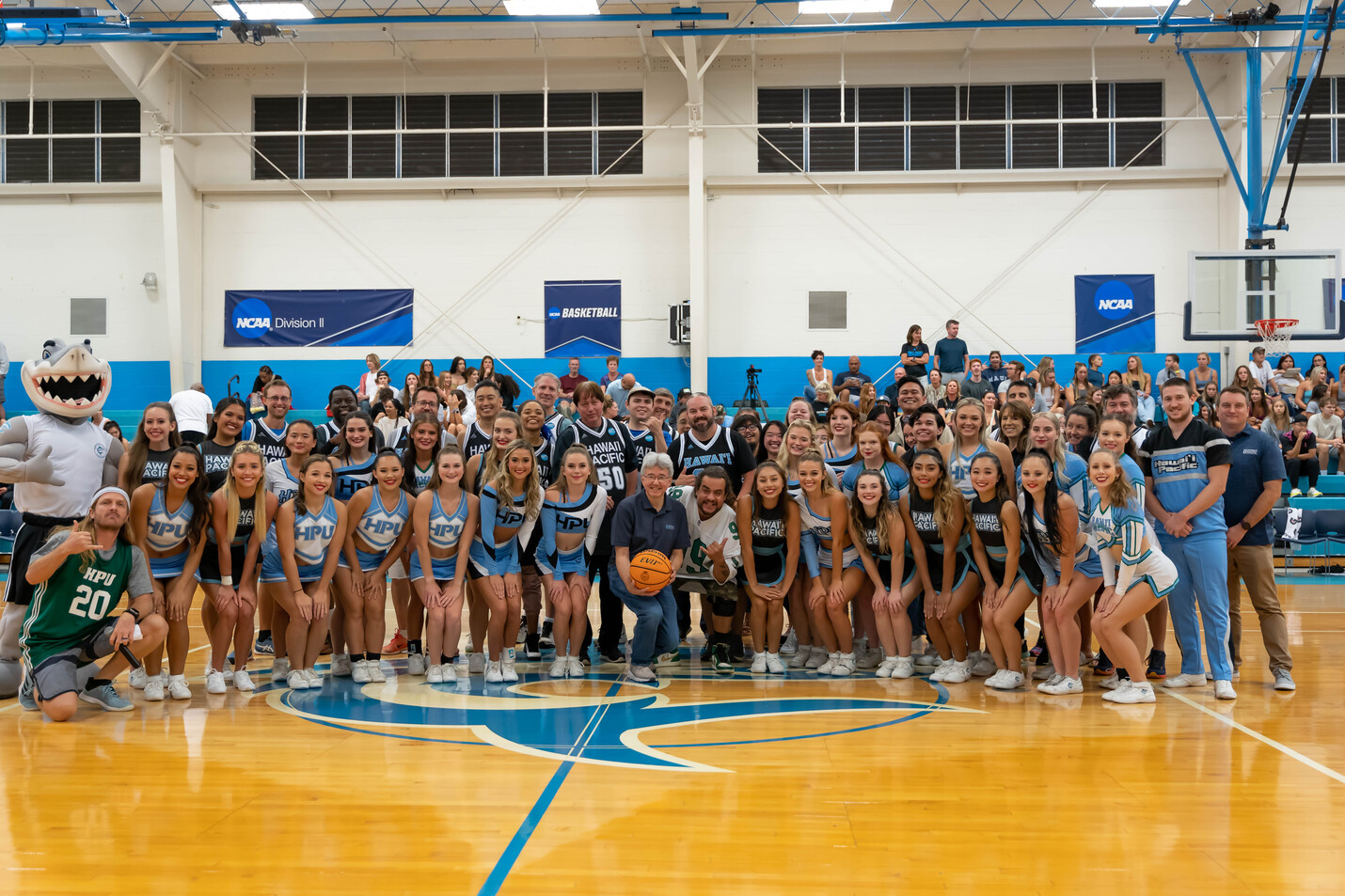 Photo Courtesy of the HPU Marketing team.
Over 40 HPU faculty and staff teamed up in the annual Faculty and Staff basketball games, supporting HPU athletics, student success, and Homecoming held from Feb. 10-12.
President John Gotanda tossed the ceremonial tip-off. "Celebrity Coaches" included Dr. Jennifer Walsh (Provost), David Barrowclough (Registrar), Chris Martin (Head of Security), and Dr. Roger Kiyomura (Professor of Education). Player MVP awards were voted as follows: Jan 18th warm-up game: Clarence Ncube (Facilities, Sustainability & Master Planning). Homecoming Women's halftime game: Melissa Matsubara (Study Abroad Director). Homecoming Men's halftime game: Levi Kuhaulua (IT Department). Melissa Azzalina (IT Department) was voted "HPU SuperFan."

Mahalo to HPU Athletics (Debbie Snell, Mo Roberson, Michelle Taylor, Barb Hannum) and the participants: Matt LoPresti, Greg Fischbach, Clarence Ncube, Marc Gilbert, Greg Grauman, Mani Seghal, Adam Burke, Bert Shimabukuro, Alec Schumacker, Ryan Johnson, Melissa Matsubara, Keith Watanabe, David Horgen, Jan Boivin, Michelle Taylor, Taylor Shown, Dale Burke, Levi Kuhaulua, Layla Lam, Xenia Barnes, Noah Hull, Kasja Pyk, Rose DeGrange, Emma Scheel Jensen, Nhu Lam, Melissa Azzalina, Ryan Yamamoto, Jillian Steinat, Alter Calubana, Barb Hannum.

Contact organizer Adam Burke (aburke@hpu.edu) for inclusion in next year's game.